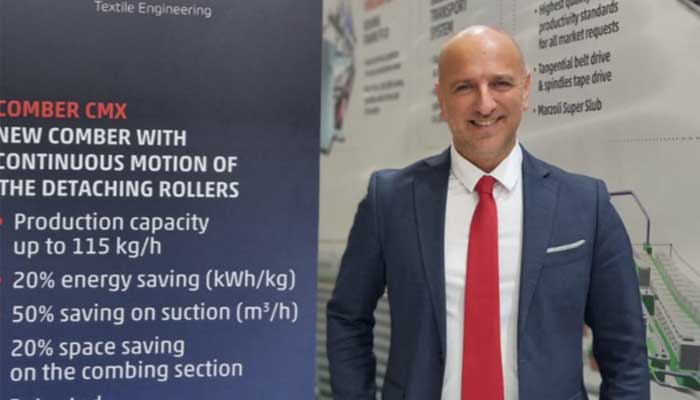 Nonwovens and circular economy are areas of innovation and investment for us
Marzoli designs and manufactures textile machines from 1851.  Today it represents the textile division of Camozzi Group that combines the historical competence on fibres preparation and spinning process with the most advanced technologies. The company is a unique partner for the manufacturing of the complete line of machines for the opening, preparation and spinning of natural, man-made, technical and blending fibres. Cristian Locatelli, the General Manager of Marzoli Machines Textile, in this conversation with Shami Lalwani and Divya Shetty, shares the company's latest innovation, focused areas and future goals. 
How does your company support the textile and apparel (T&A) sector?
Marzoli supports the T&A sector with the quality, competence and high tailoring that stand out the company for over 170 years of history. During these years, we have always supported our customers, offering the best solutions for their needs, holding the latest market trends in high regard, becoming the global partner for the textile industry of the future.
Every single effort is aimed at developing advanced technology for the production of Outstanding yarn Quality. I joined the company almost 20 years ago, I have always been struck by the passion and commitment of Marzoli people. Our history, our heritage and our people are our Identity. We want to continue to develop the future.

What makes the Italian textile machinery market a leader worldwide?
Made in Italy is and has always been synonymous with excellence and quality.
Relying on Italian machinery suppliers means relying on a partner with great competence and superior technical skills. This is why Italy is among the leading textile machinery manufacturers.
Italian companies are renowned for their innovations. Could you tell us more about some of your recently launched products & machines?
In Marzoli, we are focused on the development and creation of exclusive concepts dedicated to 4 different and complementary areas: Spinning technology, Digital textile, Nonwoven solutions and Circular Technologies.
Nonwovens and circular economy are two areas of constant innovation and investment for us: we are developing new projects and cutting-edge technologies, always focused on the specific requirements of our customers, with special attention to the emerging trends such as the adoption of sustainable practices. The experience gained in 10 years of research and developments dedicated to circularity of fabrics, allows us to have an extended competence on processing 28 different types of fibres and related blends.
Customers can rely on Marzoli experience for the implementation of different types of nonwoven lines, able to create a wide range of products: wipes, medical /surgical, disposable and filtrations. Being one of the leading manufacturers in Europe of complete line, the spinning technology still represents our core business. The latest technical innovation introduced in the market by Marzoli is CMX, the new state-of-the-art 10 heads combing technology that, with a capacity of up to 115kg/hour, guarantees a level of productivity 25% higher than the previous model, along with an extended energy savings of- 20% kW/kg.
Continuous improvement and special focus in our Leading-edge Roving frame technology (FTD) which is pushing the limits of the performance: wide flexibility, high productivity, quality, space savings, power savings, full integration into any kind of spinning sections. High degree of automation and digital integration.

A mandatory topic, especially in this historical period, is addressing energy consumption and the related cost. The R&D activities of the last 30 years has allowed Marzoli to halve the energy consumption (-47%)with the adoption of innovative power-saving technologies. The digital solutions Marzoli proposes, further improve the energy efficiency, by optimising in a continuous and proactive way the process parameters. With Marzoli's Brain Box, it is possible to increase productivity (+ 5.5%), and efficiency (+8%).

The current buzzwords are automation and industry 4.0. How is your company tapping these trends?
Digitalisation, as well as artificial intelligence (AI) are, today, fundamentals technologies for enabling the creation of autonomous factories and supporting the continuous improvement of machineries and process performance which, in turn, help in increasing productivity, reducing power consumption and decreasing wastage. Augmented Reality and Cognitive Platforms are introducing new standard for the user experience. New ways to interact with the production technology. 
We strongly understand, believe and envision the role of technology in knowledge management. Especially textile know how. In Marzoli we started to develop digital solutions for the textile sector starting from 2010, and in 2015 we launched the first cloud platform for the monitoring of spinning mill. Now, we are able to offer 5 different solutions that can digitalise the whole spinning mill, from the predictive maintenance of components to the smart monitoring of full plants, with focus also on the sustainability and reduction of waste, thanks to special applications for the analysis of fibre trash.
Since 2010, we cooperated with Camozzi Group competence centres, Berkeley university, Italian Institute of Technology and European relevant Research institutes and University to defining and deploying cutting edge innovation into the textile industry.
Another significant development in the T&A sector is sustainability. How does your company assist its clients in achieving their sustainability objectives?
The circular economy, embracing sustainability, recycling and other green disciplines, is a very important topic for the textile industries. For Marzoli, developing and adopting green technologies means carefully balancing business needs with environmental sustainability, Circularity through fabrics regeneration, is creating a synergetic value chain that benefits all stakeholders. The new paradigm of a circular fibre supply chain will accelerate learning and development of know-how pushing innovation and opening up to new potential.
Since 2012, Marzoli has focused on continuous innovation in the mechanical regeneration of textile fibres. Marzoli focuses on the mechanical transformation of post-industrial and post-consumer textile waste, creating high-value recycled fibres to be processed through ring spinning technology.
What are some of the newest trends in the field of textile engineering?
The history of innovation and engineering in textile has anticipated and driven the global history of industrial and social innovation during the last three centuries. The macro trends we are monitoring, understanding and envisioning for production processes and textile products will result in progressive improvements of the B2B and B2C dynamics as well as emerging in disruptive and completely, new, concepts.
concerning production processes, the main trends, are: obviously digitalisation, AI, cognitive applications and augmented reality. Automation and robotics.
Fundamentals: Circularity and Sustainability. With regards to the textile products, the main trends we highlighted, are: sustainability (development of new and eco-friendly fibres and materials as well as the design of products with lower energy content and extended life time). Lifecycle management (circularity). end to end traceability. development of new materials and special treatments, to enable T&C products to tackle the climate changes. New customer approaches able to combine physical and virtual experiences, through the adoption of AR tools, cognitive applications, etc…
Marzoli, as a Textile Engineering company, want to intercept these trends and opportunities in order to work closer with the customer supporting them to create value, providing the know-how enabling the customer throughout all phases of the process: from feasibility and preliminary studies to plant construction, line start-up, optimisation, management and subsequent commissioning. Added to this: Staff training and organisation of maintenance activities; turnkey solutions and support in financing activities; business plan development; automation level analysis and project management.
What are your short and long term growth plans?
We are increasing our production capacity for the whole product portfolio. By the end of 2023, we'll be able to reach out the full increment of 40%.
We developed local warehouses, dedicated logistics and supply chain for improving spare parts services, reliability and reducing delivery time.
During the Covid period, we increased by 15% the number of field engineers and PM dedicated to installation, service and technological support. Investing in recruiting and training activities. We want to further increase by another 10% in the coming year, to have local professionals growing with us in the market. On this regard, India represents a huge source of competences and knowledge for enhancing and developing our design and engineering concepts.
Ensuring a global presence with local service will help us to shorten the deliveries of our latest technologies.Thanks to the new branches we established in Turkey and Uzbekistan in 2021, we can better serve our customers, in an effective and timely way.
What does India contribute to your whole business? Please provide us a brief overview of your operations in India.
We launched Marzoli India more than 10 years ago and we're growing continuously. India is playing a key role in the present global textile scenario and continue to be the enabling ground for the textile machinery manufacturers. We are going to announce our 23-25 strategic roadmap at India ITME in December 2022. We are waiting for all of you in Hall 1 – Booth C17.   Very excited to meet our customers in person.