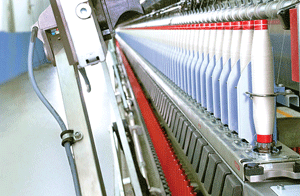 New ZinserRing 72 ring spinning machine
What is the best equipment for textile companies that want to grow? Schlafhorst answered this pressing question at ITMA ASIA in Shanghai with proven technology on course for a successful future - the Zinser 72 series, which combines decades
Thanks to its sophisticated machine concept, the new spinning machine from Schlafhorst can spin at up to 25,000 rpm at all spindles.
What is the best equipment for textile companies that want to grow? Schlafhorst answered this pressing question at ITMA ASIA in Shanghai with proven technology on course for a successful future – the Zinser 72 series, which combines decades of experience and acknowledged reliability with innovative performance. The new ZinserRing 72 ring spinning machine and the ZinserImpact 72 compact spinning machine offer spinning mills a highly productive and commercially compelling platform for increased growth and profitability.
For strong growth
Ring spinning mills in textile growth markets currently enjoy excellent prospects if they resolutely pursue their market strategy. The new Zinser 72 product family gives companies the necessary thrust to realise ambitious growth plans successfully. The Schlafhorst experts have created the optimum technological basis for promising quantitative and qualitative growth strategies with a quick return on investment with the ZinserRing 72 and ZinserImpact 72. Schlafhorst has consistently designed the new ring spinning machines for high productivity and efficiency as well as outstanding yarn quality. ¨We have developed a machine for growth oriented customers,¨ says head of development Dr Jnrgen Meyer. ¨Growth phases offer opportunities but also pose new challenges for companies. Growth doesn´t simply mean more of the same. Growth means striking out in new directions, opening up new markets, mastering new challenges. To do that, companies need machines that are flexible, productive and reliable. We have succeeded in creating this with the Zinser 72 series.¨
High-speed, economical production on up to 1,920 spindles
With up to 1,920 spindles, the ZinserRing 72 produces yarn extremely economically. At a production capacity of 30,000 spindles comprising roving frames, ring spinning and winding machines, production costs fall by 9 per cent compared with machines with 1,200 spindles. Its footprint is 12 per cent smaller. The ZinserRing 72 utilises the available production space to the greatest effect, ensuring a quick return on investment. Similar savings can be achieved with the ZinserImpact 72 compact spinning machine, which can be fitted with up to 1,728 spindles.
Spinning at high speed
Thanks to its sophisticated machine concept, the new spinning machines spin at up to 25,000 rpm at all spindles. It is a marathon machine, delivering full power over its entire length. The sensor-controlled drive technology guarantees top speeds and the lowest yarn break rates. Shift for shift, the high delivery speeds of the Zinser 72 series offer more yarn. Thanks to rings that can be centred, high-speed spindles and the high-speed spinning software OptiStep, the ring spinning machines produce perfect bobbins with more yarn and optimal unwinding properties in the package winding department. The ZinserRing 72 series spins up to 160,000 kg of fine yarn (Ne 60) per year. For growing companies, this means: a guaranteed ability to deliver, even with high order spikes.
Energy requirement reduced to 55%
The new ring spinning machines saves energy. The new bilateral suction system in combination with OptiSuction, the intelligent sensor-monitored yarn break suction system, reduces the energy requirement to 55% of the energy otherwise needed.
Economical down to the last detail
The Zinser 72 series is economical down to the last detail. Bilateral pneumatic filter screen cleaning reduces the need for operating staff. Increasingly expensive fibre raw materials are also conserved. The material accumulated can be prepared afresh and spun again. Rival compact spinning machines do not offer this option.
Constant and reproductive ya