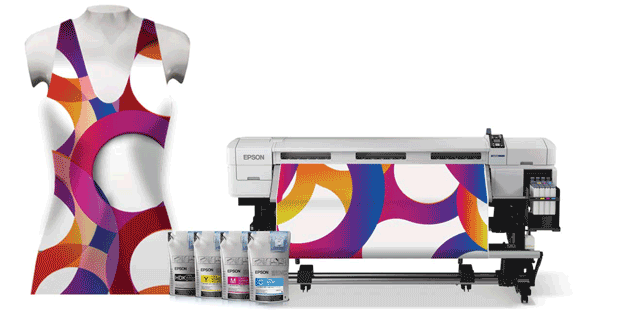 New dimensions
Textile is an 'art' and it involves a lot of colours and artistic designs. Sometimes it is not possible to weave or knit certain kind of designs; in such cases, printing makes the job much easier.
The printing technology has basically introduced different dimensions and directions to the dyeing technology, says Avinash Mayekar.
Textile is an 'art' and it involves a lot of colours and artistic designs. Sometimes it is not possible to weave or knit certain kind of designs; in such cases, printing makes the job much easier. The introduction of printing into textiles has provided new dimension to the fashion aspect of textile industry. It has given a wider scope for creativity and innovations. This invention has opened doors for endless possibilities of designs in textiles. Fashion in textiles prior to printing faced difficulties in coming up with new innovations due to limitations in patterns and formations that can be either weaved. The printing technology has introduced new design possibilities by applying colours in desired patterns and portions on fabric surface. There is no longer need to cut and stitch different colourful patterns of fabrics to get a unique colourful design but a single garment can contain a variety of colours with smallest possible dimensions. Today what a camera can capture is what can be transformed into digitally printed fabric, thereby opening doors for possibilities from printing mesmerising scenery to actual human and animal photos. Just one command and beautiful colour patterns are printed with the digital printing technology.
The printing technology has basically introduced different dimensions and directions to the dyeing technology. This printing technology can be basically characterised depending on its approach of application into three type's namely direct printing, discharge printing and resist printing. Direct printing involves the use of applying dye to fabric through stencil, bock engraved roller or screen. In discharge printing the entire fabric is first dyed and then pattern is printed by stencil, roller, screen etc. with the help of chemical that removes or changes colour in the intended pattern. In resist printing the bleached fabric is printed with a resist paste in desired parts and then dyed thus allowing colour to be penetrated in non-exposed areas. The resist paste is removed once the fabric is dyed leaving patterns on dark background. The various types of printing are block printing, roller printing, screen printing, flat screen printing, rotary printing, transfer printing, stencil printing, batik printing, tie and dye and digital printing.
Though there are several ways of printing being used let us focus on some most popular methods which still have presence in the industry on a wider scale. Block printing is the oldest method and involves manual operations, ample amount of time and highly skilled labour. It has limitations on patterns that can be printed as these patterns are carved on the wooden surface. This type is still practiced in traditional handloom sectors. For a larger scale and economical productions the roller printing machine was introduced way back in 1785, which involved engraving the print patterns on rollers which prints it on to the fabric.
Thereafter screen printing was introduced to facilitate the possibility of printing more lively figures on to the fabric. Initially screen printing involved single screen later on for mass production advanced type named flat screen printing was developed. In flat screen printing huge space is needed as the number of screens is increased. It is the best suited for small width fabrics. To increase the productivity and flexibility Rotary screen printing was developed bringing in the combination of roller and screen printing allowing continuous printing process using a perforated cylinder or spherical screen for larger width fabrics. It allows mass productions and provides speed of 30 to 50 m/min and the space utilisation is also much less. Up to 24 colours can be printed. Though the cost of rotary screen printing is much higher it is compensated and preferred over the screen printing due to its productivity which is three times higher than screen printing.
Although the rotary screen printing is highly used and economical for large productions with each print run typically several thousand yards, it is not recommended for printing smaller yards as the high cost needed for engraving the screen will not be compensated. This is where the development of digital printing comes for the rescue. As in case of digital printing, there are no screens involved so there is no cost of design on screen and thus small print runs of each design even less than a yard is possible. Also printing directly on garments is possible.
With digital printing the trend of customised goodies are incorporated into the fashion industry. From having printing specific dates, company logo's to specialised images for dear ones. There are garments, pillow cases printed with customer designs. The capital cost of digital printing is though on the higher side today but a moderate scale of production of say 150-200 t-shirts with brand name and logo becomes economical. Thus digital printing allows designs to be introduced from advanced creative software like Adobe Photoshop, CoralDraw, etc.
Over the years, printing machines are evolved and new add-ons are introduced to these basic concepts. Some of the innovations seen during ITMA 2015 were:
Epson has latest Epson Stylus Pro 4900 spectro proofing edition with wide colour range, accurate remote proofing and greater productivity, can process material up to thickness of 1.5 mm and also saves energy. Epson SureColor SC-F9200 which is dye sublimation printer coming with Epson Precision Core with the two Thin Film Piezo (TFP) print heads, two high-capacity tank loading systems and ultra-Chrome ink and this is used for clothing, sporting items, home accessories. Epson SureColor SC-F2000 is a direct-to-garment (DTG) Printer ideal for direct printing onto clothing and customised T-shirts, cotton polo shirts
SPG Prints offered new highly accurate but user-friendly print-bar technology, specialised electronics ink conditioning and ink delivery system, i.e., "Archer technology" where head plates are situated 4 mm away which reduce the risk of 'head strike' and assures fine line detailing, blotches and tonal curves, with its high resolution, large drop-size range and high jetting frequencies. They also innovated 1st PIKE printer, a six colour machine, in which each colour is represented by an Archer print bar containing 43 print elements, giving a printing width of 1850mm. PIKE offer 80 per cent more ink delivery.
Mimaki is the Tx300P-1800, which now features dual ink capability that allows users to simultaneously load textile pigment ink for cotton and hemp materials, as well as sublimation dye ink for polyester-based fabrics.
Reggaini Pro is the new machine by EFI Reggaini which has robust inkjet array. It can print with reactive, acid, disperse, sublimation and pigmented ink and has Essetex 2m wide washing box which is ideal system for knitted and light fabric. ReNOIR NEXT printer is another machine that can prints onto fabrics and papers using the same ink set with a 1.8m beltless digital printing system
Durst launches Alpha series new generation multi-pass inkjet printers offers print widths of 190-330 cm and which is more economical, more efficient and more reliable printing technology
ValueJet 1938TX is product by Mutoh, which has 75-inch wide dual staggered head and suitable for upholstery, fashion, swimwear, home textiles and flags. It has it has print resolution up to 1,440 dpi and head gap up to 6 mm. Also one can print directly on to t-shirts, caps, canvas bags and shoes.
Conclusion
No doubt printing has given a new life to the textile world. The introduction of print designs has given numerous choices especially in the apparel and home textile segments. Both these segments demand high level of uniqueness and creativity. In the garment sector print designs are more prominently used for women and kids clothing. A single print pattern with varied color combinations can create numerous designs options by simply changing the orientation, color and area where the design is introduced. This property makes possible to generate new prints without much of hassle. As far as men segment is concern print designs are preferred for the casual t-shirts but the printable design is of smaller widths. All though there are endless applications of printed fabrics when it comes to innovation not much has taken place especially from the point of view of economical factor. Digital printing is also in line with global environment concern and will help reducing carbon footprints to a large extent with latest developments. Printing was always an "Art" and it would now be a "Smart Art".
The article is authored by Avinash Mayekar, MD and CEO, Suvin Advisors Pvt Ltd