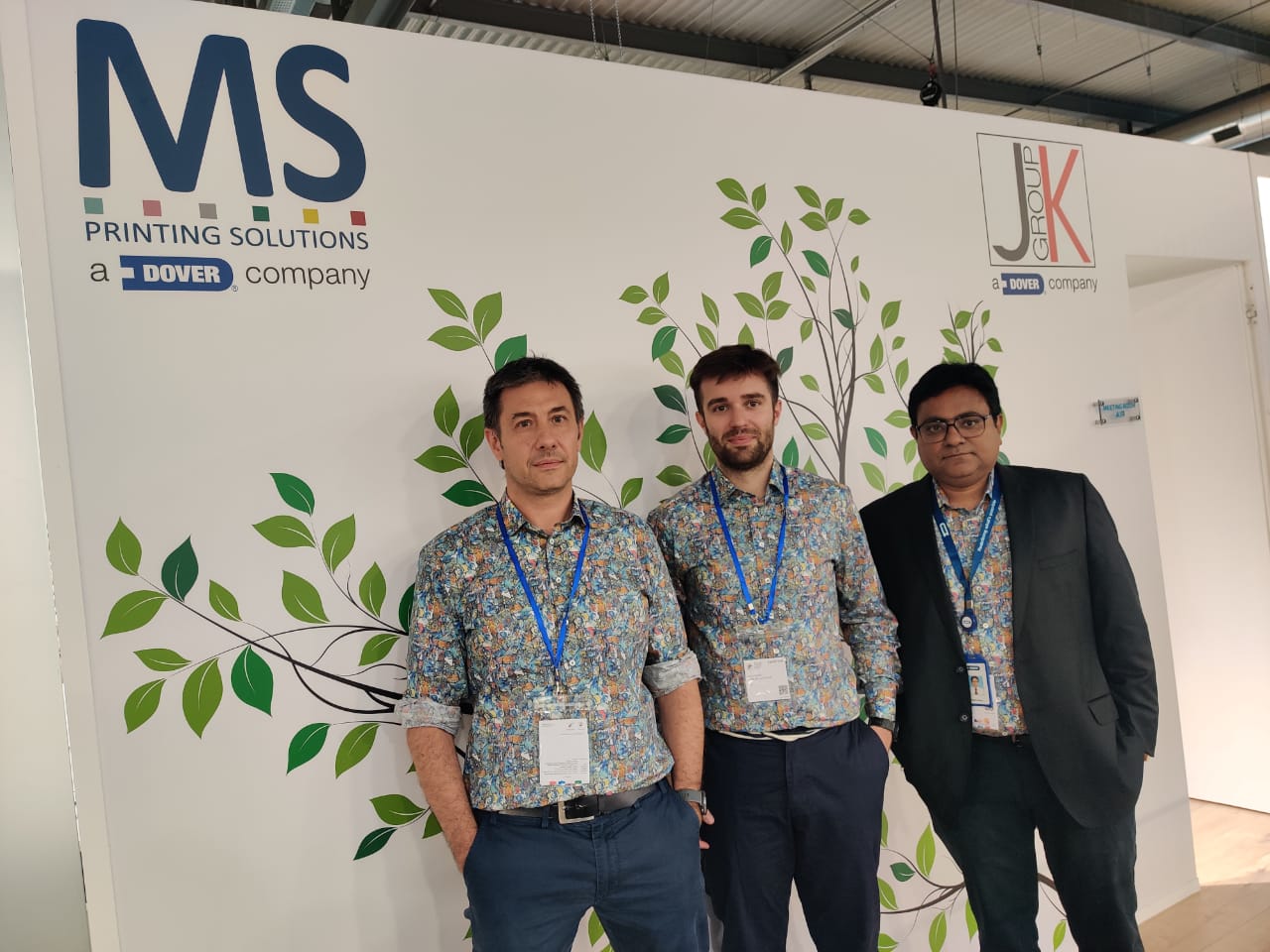 MS Printing presents sustainable digital printing solutions at ITMA 2023
With sustainability at its core of every development, the company offers high-quality printing solutions with lower environment impact.
MS Printing Solutions and JK Group (both a part of the Dover Company) presented itself as one-stop-shop solution provider for digital printing at ITMA 2023 by showcasing innovations in machines, inks (pigments) and software. "We offer complete printing solution – which includes chemical, machinery and services. Pigment printing is gaining traction in the textile industry. At ITMA 2023, we are showcasing new integrated solution, which include patented ink and machine (that is adapted to print the new ink), with special focus on sustainability. The new solution reduces the CO2 emissions and the water consumption of the entire process, thanks to integrated innovative solutions, as it decreases printing process steps with a chemistry that does not require pre- and post-treatment. Rise in usage of digital printing is increasing demand for pigment," commented Davide Dragoni, Ink Product Development Manager of the company.
The company's new solutions provide ever-increasing sustainable advantages and environment respect. "Sustainability is at the core of every development in our company and we offer high-quality printing solutions with lower environment impact. After invented the first single-pass printer 10 years ago, we are displaying at ITMA 2023 a compact single-pass technology that can reduce footprint of the machine by 10 times," explained Matteo Forte, Product Marketing Manager, MS Printing Solutions and JK Group.
The company also offers System Plus Software, the new management software that integrates calibration, printing software and ink for a perfect colour management, thus guaranteeing a colour yield up to 20 per cent higher, while improving efficiency. Matteo Forte said, "Today, one cannot talk about innovation without artificial intelligence (AI). We are applying AI on the single-pass digital printer for textiles that increases the print quality output by reducing waste and improving accuracy."
Potential of digital printing in India
At ITMA, the company's offerings showcased developments in three main elements – machine, ink and software. Matteo Forte opined, "By combining these three elements, we always get the best result. Being one-stop solution provider for printing, we make life of our customers very easy."
Speaking about India market, Davide Dragoni said, "India is a busy market for rotary printing at present. But we believe penetration of digital will increase in the near future as it offers lot of advantages in terms of print quality, reduced wastage, lower environmental impact, etc. Digital printing delivers more value for customers."
Future is digital and that is the reason why MS Printing Solutions and JK Group have been investing heavily in digital technologies. In fashion industry, 30 per cent of total garment produced (i.e. approximately 40 billion garments) are going waste as more apparels are produced than required by the market. "With digital technology, we can reduce waste as companies will be in a position to match production with demand. At the same time, growing personalisation (customisation) trend is also leading to growth in need for digital printing. With big global brands looking to India for manufacturing their products, companies in India will have to adopt digital technologies to meet the international standards," informed Matteo Forte.
He added, "India is one of the top markets for us as we see huge opportunities with many companies switching over from analogue printing to digital in the short-to-medium term. India is surely an appealing market for us."
Sustainability is about traceability across the supply chain. "So by using internationally certified system/machine (for sustainability), like our solutions, Indian textile companies stand a good chance to increase exports or be a part of supply chain of global textile brands," stated Davide Dragoni.