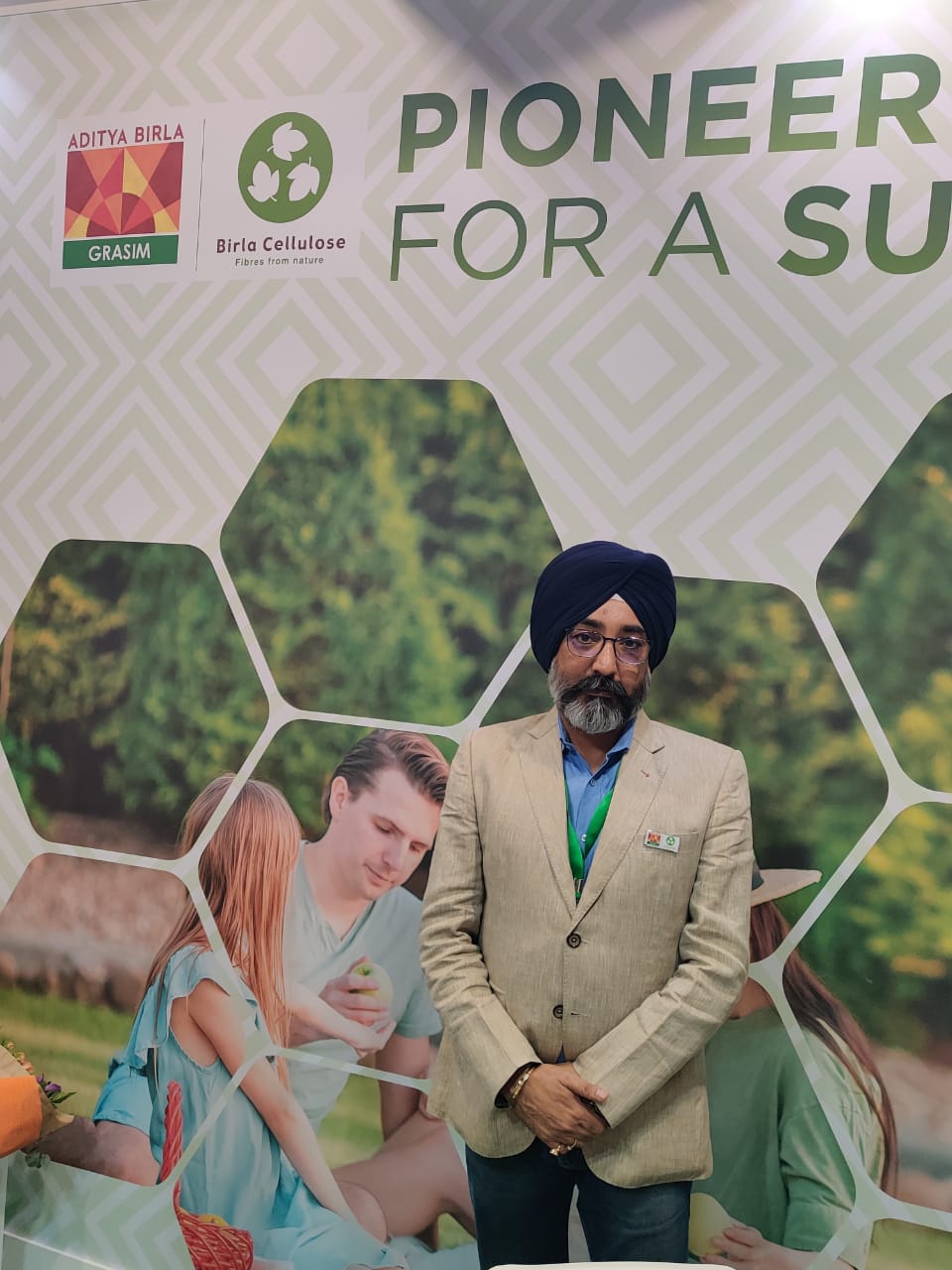 Birla Cellulose is focusing on sustainable fibres for textiles
In this interaction with Rakesh Rao at ITMA 2023, ManMohan Singh, Chief Marketing
Officer, Grasim Industries Ltd, explains the potential of Indian market and the company's future
plans.
Birla Cellulose, a unit of Grasim Industries Limited and part of the Aditya Birla Group, is a global leader in producing man-made cellulosic fibres. At ITMA 2023, the company launched sustainable flame-retardant fibre, Birla SaFR. In this interaction with Rakesh Rao, ManMohan Singh, Chief Marketing Officer, Grasim Industries Ltd, explains the potential of Indian market and the company's future plans.
What are you focusing at ITMA 2023?
Birla Cellulose makes manmade cellulosic fibre such as Lyocell, modal and micro-modal, and Eco-enhanced viscose (i.e. Livaeco). In addition, we have specialty products like anti-microbial, nonwovens, dope-dyed and Liva Reviva (which comes with 30 per cent recycled content and 70 per cent fresh pulp), among others.
At ITMA 2023, we are launching Birla SaFR – a phosphate-based flame-retardant, sustainable cellulosic fibre – for making flame retardant fabrics. Birla SaFR marks a significant milestone in Birla Cellulose's strategic vision to offer products for the technical textile industry.
What kind of opportunities are you looking at in technical textiles?
In Advance countries, technical textile industry contributes more than 30 per cent to the overall textile and apparel sector. Currently India technical textile sector contributes ~13 per cent of total textile and apparel sector which is 0.7 per cent of India's GDP. This gives India scope for exponential growth opportunity in technical textile and very likely, by 2047, it has the potential to become world's largest manufacturing and consuming hub for technical textile products.
This market is expected to witness robust growth accounting for 30-35 per cent of the industry in the near future and all fibres (polyester, nylon, Lyocell, etc) will have to contribute to fulfill the growing need of technical textiles. We, at Birla Cellulose, are exploring ways to tap the potential of technical textiles by bringing in innovative products (like Birla SaFR) into the market.
India's garment exports have remained stagnant. How can we increase the exports?
In garments, India has cost disadvantage compared to other Asian countries like Bangladesh, Vietnam, etc.
In woven, India is well established player upto fabric making. But, in garmenting, our productivity level is 15-20 per cent lower and wages are almost 20 per higher compared to other competing countries. India also has duty disadvantage (as other countries are able to export their products at zero duty to the developed markets). All these factors result in cost disadvantage of about 30 per cent for India.
In home textiles, India is one of the largest producers and exporters in the world. Home textile model, which Indian companies adopted in 1993-94, worked in their flavour as home textile manufacturing was shifting from the US to other countries. This helped the entire home textile value chain in India to increase their presence in the international market. India accounts for over 40 per cent of home textile imports into the US.
Home textile manufacturing plants in India are highly automated; thus giving these companies the advantage of economies of scale. On the other hand, garment industry lacks this advantage as it requires lot of human interventions in the manufacturing process.
Government policies need to be aligned to encourage cluster development and PM MITRA Parks scheme is one such initiative which can help India to scale up the garment industry. At present, the supply chain of apparel manufacturing in the country is dispersed as yarn, fabric, processing, etc are produced at different locations adding to the overall cost of production, logistic and long order turnaround time. Integrated MITRA parks will not only lower the production and logistic cost by bringing together all companies in the garment supply chain at one place but also offer sharper lead time. The speed of implementing PM MITRA Parks scheme need to be increase for the industry to benefit and multiply such efforts at faster pace.
How is the market at present?
Market remains dull at the moment due to various factors geopolitical & macroeconomic factor like Russia-Ukraine war, high inflation, low consumer sentiments, etc. One should also keep in mind that post Covid market grew at unsustainably high rate (about 30-40 per cent) and now inventory correction is taking place. We expect by the end of H1 FY23 things may start picking up gradually and better retail performance during festive.
What are the company's growth plans?
We had capacity expansion two years ago by adding 600 TPD (tonne per day) line at Vilayat (Gujarat) and now we have a total production capacity of 3,450 TPD for all fibres. Globally, we have three fibre units in Indonesia, Thailand and China. We are moving our offerings from generic products to sustainable products. Continue our focus on offering our circular / green product range – especially "Eco" products including recycled fibre.