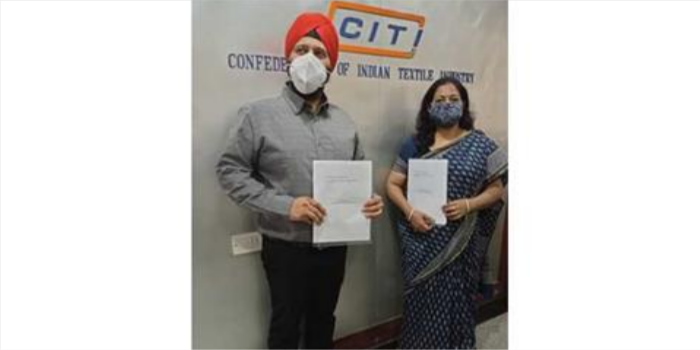 Messe Frankfurt India joins hand with CITI for Gartex
Gartex Texprocess India aims to explore business opportunities for faster recovery and growth of the industry with the strategic support of CITI (Confederation of Indian Textile Industry).
New Delhi
In a bid to provide strong business
push to the textile
and apparel sector, CITI has signed an MoU with Messe Frankfurt India
and MEX Exhibitions Pvt Ltd, organisers of India's leading textile and garment machinery and
accessories fair. The strategic partnership aims to reconnect the
textile and apparel value chain for business at the first hybrid edition of
Gartex Texprocess India and support the sector as it recovers from the effects
of the pandemic by enabling reach to domestic and international buyers through
the show's new multimodal format.
S Sunanda, Secretary General,
Confederation of Indian Textile Industry stated that, CITI is happy to partner with
Gartex Texprocess India, which has proven to be a credible platform for
business and are confident that with the organiser's vision and the platform's
hybrid format, they can facilitate the growth, development and business
collaborations within the industry.
Gaurav Juneja, Director, MEX
Exhibitions Pvt Ltd, said that, by partnering with CITI, they intend to bring
greater participation and product showcases on the show floors of Gartex
Texprocess India. The support and reach of CITI will go a long way in bringing
the industry together and creating opportunities for trade and investment.
The organisers have also announced
that the fair will be held from December 03 – 05, 2021, instead of its
originally planned schedule in August 2021. This move ensures better planning
flexibility for exhibitors and will render a stronger B2B engagement experience
through its physical and virtual platforms.
According to Raj Manek, Executive
Director and Board Member, Messe Frankfurt Asia Holdings Ltd, they believe that
the support and reach of CITI will bring in strong value to the fabric segment
of their trade fair while opening doors to lucrative business engagements for
the industry.
Messe Frankfurt India and MEX
Exhibitions Pvt Ltd are set to host a Digital Symposium series on crucial
industry topics for the hybrid edition. The symposium will play a significant
role in highlighting emerging trends and keeping business players engaged in
the field of textile and garment manufacturing so they can prepare themselves
according to the changing dynamics of the industry.
Given that the textile and apparel
manufacturing is changing with more focus and demand for sustainable solutions
and circular economy, a wide set of industry topics will be addressed covering
the changing trends across global fibre and yarn business, benefits of
recycling in textile and retail segments, denim design, as well as insights
depicting the way forward for garment wet processing manufacturers.
While both the physical and virtual
platforms will showcase a plethora of products with live demonstrations, the
physical show will be divided in major zones – Embroidery Zone, Garmenting and
Apparel Machinery, Digitex Show, Denim Show, India Laundry Show and Fabrics
& Trims Show.
The virtual show, will place emphasis
on product showcases as well as exhibitor search. Both of these segments will
be driven by an "AI matchmaking tool", enabling visitors to connect with the
exhibitors based on their individual product requirements.
CITI represents the major leading
regional and industry associations and 18 major corporate members, thus,
covering the entire textile value chain from farm to garments and made-ups and
the textile machinery industry. It is the only National Association which
covers the entire spectrum of the T&C Industry spanning both domestic and
export market.
The Messe
Frankfurt Group is the world's largest trade fair, congress and event organiser
with its own exhibition grounds. One of the Group's key USPs is its closely
knit global sales network, which extends throughout the world. The wide range of
services includes renting exhibition grounds, trade fair construction and
marketing, personnel and food services. With its headquarters in Frankfurt am
Main, the company is owned by the City of Frankfurt – 60 percent% and the State
of Hesse – 40 percent%.
MEX Exhibitions Pvt. Ltd. is an international
exhibition company with a strong presence of over four decades in the
advertising industry, over 25 years in publishing and 19 years in exhibitions.
The company has produced more than 100 market-leading trade exhibitions for
various segments in addition to publishing various magazines and advertising
trade directories of repute. Successful exhibitions are conducted all over
India, Dubai, Singapore and Thailand.
Source: Gartex Press Release
Also Read:
https://indiantextilejournal.com/latest-textile-industry-news/welcome-our-new-captain–shri-piyush-goyal-ji-
https://indiantextilejournal.com/latest-textile-industry-news/pspcl-move-to-exempt-textile-industry-questioned