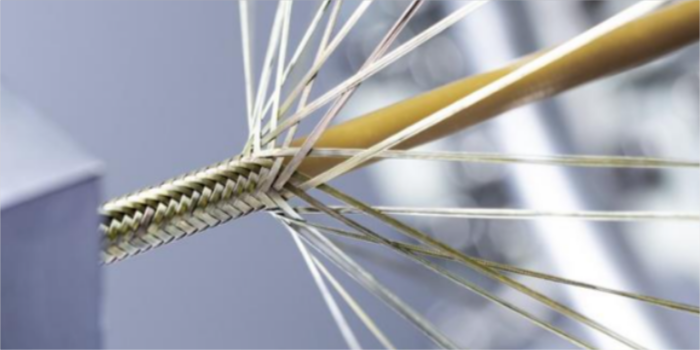 Mayer Braidtech merges with parent company Mayer & Cie
Mayer Braidtech GmbH has merged with Mayer & Cie. Braiding machine production and sales will be a separate division of the former parent company.
At the end of 2020, Mayer Braidtech GmbH has merged with Mayer & Cie. Braiding machine production and sales will be a separate division of the former parent company. With this move, the circular knitting machine manufacturer has formally completed the integration of Mayer Braidtech at the company's Albstadt headquarters. It began in January 2019 when the production of braiding machines got under way in Albstadt. Mayer & Cie's sister company Mayer Industries had previously manufactured in Orangeburg, South Carolina, the braiding machines that make reinforcements for high-pressure hoses.
"By integrating Mayer Braidtech into Mayer & Cie we have formally completed a process that for us has long been accomplished on a day-to-day work basis," said Patrick Moser, Managing Director of Mayer Braidtech and future Head of Mayer & Cie's braiding division.
The production of braiding machines in Albstadt has been under way at full capacity since the beginning of 2019; sales of the machines had long been based in Albstadt. Moser said, "that is why the braiding machines are old friends, as it were, at our main factory." It was gratifying, he added, that there had been, as hoped, synergy effects of circular knitting and braiding machine production. "We definitely benefit from one another, be it in manpower, logistics or simply in sharing news and views."

Current market requirements for tried and tested technology
Mayer & Cie has implemented various further developments since the machines have been made in Albstadt. The most important is the improved drive system, which is operated and controlled via a servomotor. Each deck of a double- or triple-deck braiding machine is driven separately. Braiding machines are to continue to be further developed and optimised. The division has its own development department where several designers are working on improvements. The team has already applied for a patent for the revision of a module. "We have thereby laid a firm foundation for the further development of our machines to meet market requirements," Patrick Moser said.

Entire Machine Portfolio "Made in Albstadt"
Mayer & Cie's portfolio currently consists of seven different types of braiding machine. The Albstadt pilot series of six of them have been manufactured over the past two years. All of them are available in single-, double- or triple-deck versions. Customers can also configure their braider lines individually. The acoustic protection booth, for example, is available on demand with either a swing or a sliding door.
Mayer & Cie Braidtech's most popular model is the MR15-24 Carrier, which has accounted for more than half of the machines made and sold over the past two years. "The MR15-24 Carrier," Patrick Moser said, "is a very flexible machine. Hoses large and small can be braided on it. A special machine like an MR15-18 Carrier is more productive for making small hoses, for example, but the MR15-24 Carrier can be put to a wider range of uses."
Mayer & Cie sees standard hydraulic applications as the main use area for its braiding machines. Well over half of the machines make reinforced hydraulic hoses for excavators, construction or agricultural machines. Automotive applications account for a smaller share, followed by offshore uses.

100 per cent exported
Braiding machines are manufactured for export even more than circular knitting machines. In 2019 and 2020, Mayer & Cie. Braidtech's largest sales markets were China and the United States, and Italy, traditionally an important target market, followed at some distance in third place.