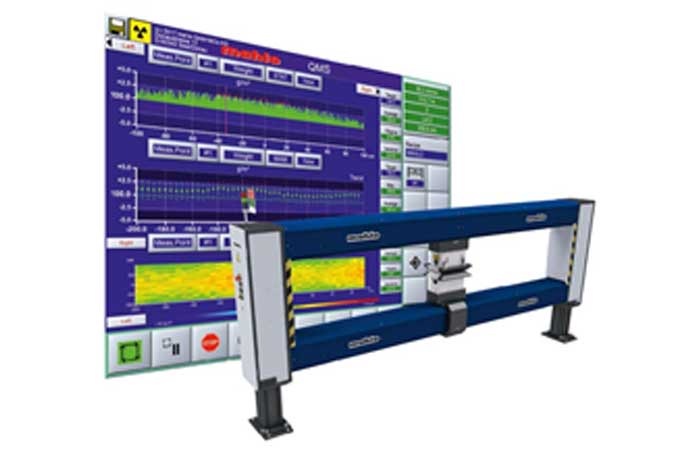 Make quality a habit with Mahlo Qualiscan quality control system
The QMS-12 can be used virtually in every area of industry in which products are produced or finished (including coated products) as a web.
With Indian textile manufacturers taking centre stage in the global textile industry, it has become essential for them to ensure top-notch end product quality over large volume production. Rising raw material costs make it even more necessary to ensure consistent quality of the end product, as rejections affect the economy of manufacturing and can quickly turn a textile processor's operations unremunerative. Therefore, rather than the sample-based statistical quality control processes followed in the past, continuous monitoring for quality and other control functions has now become the norm in the industry.
The Mahlo Qualiscan QMS-12
The Qualiscan QMS-12 is a modular system for the measurement, logging, and control of critical process parameters over the entire width and length of a running web.
The QMS-12 can be used virtually in every area of industry in which products are produced or finished (including coated products) as a web. The versatile sensors and measuring devices of the QMS-12 can sense, log, and continuously control (in-process) parameters as weight per m2, coating weight, moisture, or thickness of web-type products. The sensors of the Qualiscan product family can scan the following parameters:
Basis weight
Humidity
Thickness
Layer thickness
Air permeability
Ash content
Product temperature
Gap temperature control
Principle of operation
Different sensors (also called modules) – either stationary or traversing – measure the desired parameters across the entire working width. The sensors are installed in measuring frames or traversing frames. Depending on the frame version, up to five sensors can be installed simultaneously. The measured values are generated directly in the real-time processors of the sensors and measuring frames. These data are transmitted to the central PC in the base station via network lines. The PC handles the control of the measuring frames, visualisation via touchscreen, logging of the data, recipes, and communication with host systems.

Highlights
Modern construction with intelligent sensors and traversing frames
Based on industry standard hardened computers running Windows embedded operating system
Components communicate through digital interfaces
Benefits
Savings in raw materials and/or energy at the manufacturing stage
Improvement in product quality, especially in conjunction with control functionality
Uninterrupted monitoring and logging of actual product quality
Mahlo offers a range of quality control systems for technical textiles and non-woven manufacturing.