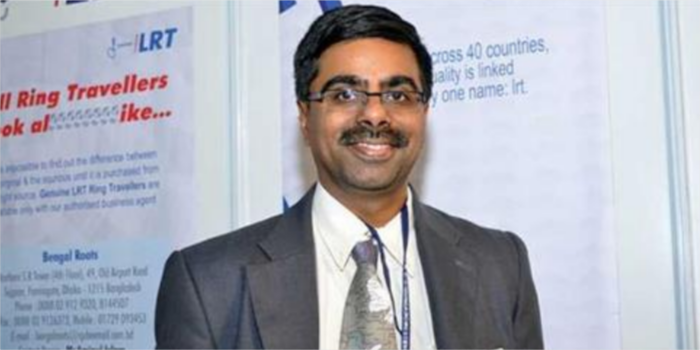 LRT is three times bigger than its nearest competitor: JM Balaji
Lakshmi Ring Travellers, Coimbatore (LRT) was incorporated in 1974. LRT's operation has been organised into independent business specific clusters. Each of these business unit has its own facilities for market coverage and service to customers.
Lakshmi Ring Travellers, Coimbatore (LRT) was
incorporated in 1974. LRT's operation has been
organised into independent business specific
clusters. Each of these business unit has its
own facilities for market coverage and service to
customers. Today LRT is a market leader globally in ring
travellers and catering to the requirements of over 4,500
spinning mills in over 40 countries. Over 40 million
spindles are working with LRT.
JM Balaji, Head – Marketing, LRT, speaks on the
companies are focusing on digitalisation and Industry 4.0
technologies.
Being a leader in ring travellers, what do you bring to the table for your customers?
We can say that we are very unique in this segment. We maintain a market share of almost 73.5 per cent in the domestic market. Globally, we are three times bigger than our nearest competitor. To have a monopolistic market, we should be doing something different from others.
Everything depends on three main points: firstly it is about the performance, as we have a wide range of products. Secondly, it is about value for money proposition as this alone is not sufficient with a product like ring traveller. Delivery is important too. We can supply travellers within 48 hours to any part of the world. We have agents across the world. In China alone, we have around 10 agents. So, everybody can reach our customers very fast, and that is what is helping us maintain and grow our market share.
Our technical service team not only focuses on problem solving for the customer but also helps improve productivity. People value us because we are a solution provider rather than just suppliers.
Performance-wise, how was the year so far for LRT?
Apart from April, when the whole country was under lockdown, we have had a very good order book. In the export markets, in the second quarter, we have done exceedingly well. We ave a growth rate of approximately 25 per cent.
During the lockdown, there was a slight shortfall in the domestic market, but our exports market compensated for it. If you see, in the third quarter, we have come back to around 95 per cent capacity as far as the domestic market is concerned. Overall, it has been extremely better. Better than what we had predicted in April.
Our main export markets are the traditional textile spinning markets like China, Bangladesh, Pakistan and Vietnam. We have a tremendous growth in Bangladesh and China. These two countries really helped us to increase our market share. In Indonesia, we have doubled our share, as compared to our previous year. It has been a good quarter for us, and we hope that things will only get better going forward.
Due to Covid, in places like South America, we find that smaller mills have still not restarted, and some of them will soon go out of business. There's a very big advantage for countries like India, Vietnam, Indonesia, and other Asian countries. Countries like Latin America and South America will be affected.
What makes your product unique from those of the competitors?
A lot of modernisation is happening in ring travellers. People are going for super long, reinvents, and higher life of travelers. People are going to spend on monitoring systems, and are going for traveller tools. So the performance of traveler in terms of higher productivity and in terms of longer life is another issue. We have a clear reach with our new products like Express Plus, which has a really good performance when compared to the available products in the market.
The performance and life of travelers in terms of productivity is very important. Another important thing is consistency. People want a traveler that stays the same throughout the year. So even if it is summer or winter, all the travellers should be of same quality. This is where we clearly score over our competitors. Since there is labour shortage, people are looking at travelers which can give them very good quality.
Most of the companies are focusing on digitalisation and Industry 4.0 technologies. How do you see the future of this in Asia, and particularly in India?
Modernisation, directly or indirectly, leads to increase in consumption. There is a huge scope in India for modernisation because most of the spinning mills are more than 12 to 15 years old. We have approximately around 20 to 22 million spindles out of which you can say that more than 12 million spindles are over 15 years. So, there is a scope for modernization as far as India is concerned. All the machinery manufacturers have started to get a good amount of orders. The average age of machinery is slightly higher when compared to other countries like Turkey, Indonesia. Their average age is much lesser. Unless they modernise that they cannot survive in the future. Power costs, labour costs and everything is going up; with old and outdated machinery, you just cannot survive in the market.
I foresee a lot of investment to happen in modernisation. Not only modernisation, people are going for additional machines too so that they can cater to the market demands faster.
What are the current trends in ring travellers market?
Compact installations are decreasing, and value addition is increasing in a big way. You need to have a range of products to compete in the market. Going forward, the percentage of cotton spinning mills is going to slowly come down, and synthetic is also going to increase as you can witness in the European markets. This is a clear trend that is happening in the Indian market.
I don't see the market to increase for ring travellers. But, we will require new travelers for high speed machines. People who are looking for low life travelers are more calm.
In Express Plus, which we launched last year, we have a growth of approximately 50 per cent CAGR. We feel, the demand for this product will go up significantly higher because of the modernisation, and more high speed machines coming in.
We are witnessing more demand from markets like Vietnam, Bangladesh, and other Asian countries. People want a product which has maximum life. We are exporting Express Plus to all the countries, and many people are converting their existing products.
Does your company have any future plans to expand or diversify into other related products? Give some details, if so.
We have an application for cleaning tools. Soon, a battery-operated cleaning tool will be launched. We have another product, which will be launched in a couple of months. Apart from this, we are continuously modernising our plants.
In Express Plus, the performance what it was giving a year back and what it is now is completely different. We are continuously upgrading our process facilities, and install any new machines.
We can further ramp up the capacity by 20 to 30 per cent of our new plant, which was started a few years back.
In some of the export markets, we still feel that there is a good potential. Presently, 60 per cent of our sales in terms of value comes from exports.
Watch full interview with JM Balaji: www.IndianTextileJournal.com