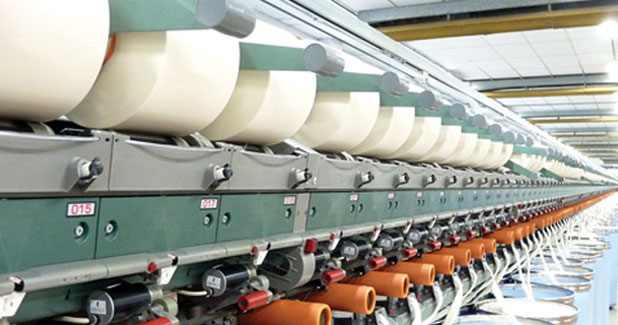 Longest semi-automated rotor spinning machine
The R 36 with the new S 36 spin box is a smart tool, which enables users to reach excellent productivity in line with high yarn quality from a wide range of raw materials. The new optional function Automated Spinning-In (ASI) allows higher machine productivity due to rapid spinning start-up after a machine stop.
The R 36 with the new S 36 spin box is a smart tool, which enables users to reach excellent productivity in line with high yarn quality from a wide range of raw materials. The new optional function Automated Spinning-In (ASI) allows higher machine productivity due to rapid spinning start-up after a machine stop.
The new semi-automated R 36 rotor spinning machine with 600 spinning positions is already successfully running in the field. The R 36 is a smart and economical solution for producing high quality yarns from Ne 2 to Ne 40 with state-of-the-art technology. With up to 600 spinning positions and maximum 200 m/min delivery speed, it stands for better yarn quality and higher productivity compared to its predecessor. The improved AMIspin and the new AMIspin-Pro technology secure excellent piecing quality. The optional AMIspin-Pro with new ASI function simplifies piecing and allows a rapid start-up of the machine after a power interruption by just pressing a button.
Highest productivity in its class
The longest 600 spinning unit semi-automated rotor machine provides maximum productivity in combination with modern, very energy efficient drives and frequency converters. Thanks to the latest spinning technology with the S 36 spin box and the resulting perfect spinning stability, a rotor speed of 1,20,000 rpm can easily be applied. The delivery speed of 200 m/min for full machine length is supported by electronically controlled yarn traverses.
In addition to innovations in spinning and piecing technology, latest technology of motor manufacturers for energy saving was applied to update the drive concept. Compared to older machine models, the more energy efficient main drives reduce the energy consumption per kg of yarn by up to 10 per cent.
Benefits for all applications
The R 36 achieves high productivity, lower energy consumption and good quality with all rotor yarn applications. Customers additionally profit from the following advantages:
Quality Spinning-In (QSI) allows a rapid start-up after power failure with 100 per cent AMIspin piecing quality, and that with all applications. The yarn ends to be pieced can be optimally prepared during the machine downtime. This standard function offers additional power saving during the machine start-up.
Even at maximum speed, perfect package quality during piecing is guaranteed. To this end, the R 36 is equipped with an electronically regulated loop compensator that takes up the surplus feed yarn at the moment of piecing.
Machine operation is made easy by the graphic touch screen. Graphic visualisation helps with setting the quality channels for the proven Q 10 quality sensor.
Thanks to improved spinning technology the new S 36 spin box is able to handle an extraordinarily wide range of materials and yarn counts from Ne 2 to Ne 40. The economic advantage of the semi-automated rotor spinning technology is intensified by greater flexibility in terms of raw material selection.
The S 36 spin box ensures optimised fibre flow to the newly designed rotors. In doing so, sensitive fibre opening is retained which leads to excellent raw material yield and brings benefits in yarn quality and spinning stability. The gentle opening and the innovative fibre guidance are the basis for fewer yarn imperfections, increased yarn strength and perfect evenness.
The raw materials to be processed range from high quality raw fibres and man-made fibres to blends from waste and regenerated fibres. The R 36 is the most efficient answer to the current market requirements – spinning of cotton, waste materials, viscose, polyester, and recycled fibres and their blends. Special applications, like wool, linen and linen blends, are also fully covered.
Easy piecing with AMIspin
AMIspin continues to ensure optimal piecing at consistently high quality. The individual motor for sliver feed ensures that only undamaged fibres are used for piecings. For feeding optimal fibre mass, the controls profit from Rieter know-how of the fully automatic machine. The operators have long since enjoyed the simplicity of the AMIspin piecing process, thanks to which the spinning positions can continue to create excellent yarn piecings in the shortest time possible.
Uniform piecing with AMIspin-Pro
As a new option, the R 36 is available with the AMIspin-Pro function using a single delivery drive for the take-off. AMIspin-Pro adds a further AMIspin advantage by means of more precise, intelligent controlling of the piecing process. This provides more uniform piecing strength. The manual handling of the yarn for piecing became even easier with this option, increasing the success rate.
The new option AMIspin-Pro includes the new function ASI (Automated Spinning-In). This allows a rapid machine restart after a power failure. A simple push of a button is enough to get the machine up and running again.
Renowned machine concept
In addition to the innovations mentioned, all the known outstanding advantages of the Rieter concept for semi-automated rotor spinning machines have been adopted by the R 36:
Low machine height and ergonomic accessibility for easy and time saving machine operation.
Full flexibility with independent machine sides.
Yarn quality control using modern Q 10 sensor concept.
This secures the outstanding position of the R 36 with its well-known sturdy machine concept for easiest and cost saving operation and maintenance.
Initial reactions from the field
The first R 36 machines are already operating in various spinning mills. The feedback given by these spinning mills in India, China and other Asian countries, as well in Europe and America, is very positive: Yarns from waste and recycled fibres achieve better yarn strength and fewer imperfections with the R 36 when compared to other spinning machines.
The longest R 36 with 600 spinning units is in full production. The customer, who also has experience with competitor machines, is going to order more R 36. A customer manufacturing Ne 20 yarns from cotton waste on the R 36 was able to save 10 per cent energy per kg of yarn compared to its R 923 model.
Denim yarn produced on the R 36 for the local Indian market is used by one weaver. He prefers this yarn from our customer to the yarns from competitor rotor spinning machines. ASI makes it easier for the customer to deal with frequent power failures. This customer has also placed another order.
The article is authored by Karel Bonek, Produktmanagement Rotorspinnen, Machines & Systems. Can be contacted on: karel.bonek@rieter.com