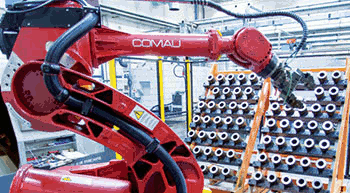 Lonati Group: A 'seamless' transition
Francesco Lonati founded the first production unit of circular knitting machines for men?s and children?s socks in Rezzato in 1946. The Commendatore del Lavoro Francesco Lonati, born in Botticino on February 28, 1911, started working at the age of 12 and by helping himself step by step he also helped many other people.
Francesco Lonati founded the first production unit of circular knitting machines for men?s and children?s socks in Rezzato in 1946.
The Commendatore del Lavoro Francesco Lonati, born in Botticino on February 28, 1911, started working at the age of 12 and by helping himself step by step he also helped many other people. Like other businessmen in his area, he made his professionalism a true passion, a way of exploiting all of his intellectual skill and will. At 35, he founded the company that still bears his name. In 1956, Lonati company presented to the world the first ?dual-feed? machine for the production of women?s stockings and in 1971 a new model of the double-cylinder circular machine for the production of men?s socks. In the 80s, Lonati became world leader producing 90 per cent of machines for stocking factories. As Francesco Lonati said with typical humbleness and irony: ?My generation is the only one in the world that has experienced both starvation and diets.? Work and family ? the two great values that develop in harmony – created his biggest success and represented his very reason for living. Today the family Lonati continues this tradition of growth and progress.
From 1946 onwards the growth of Lonati Group has always gone hand in hand with the technological innovations that it brought onto the market over the years.
The textile machinery industry is the core business of Lonati Group, more than any other activity. The machinery production of Lonati Group covers almost all production of women?s, men?s and children?s socks (60 per cent), sportswear and seamless (90 per cent) and traditional knitwear (60 per cent) in the world. With the acquisition of historical national and international brands, as well as the development and optimisation of technologies and expansion worldwide, Lonati Group has brought local industrial traditions to levels previously never achieved. Francesco Lonati founded the first production unit of circular knitting machines for men?s and children?s socks in Rezzato in 1946. In 1952 the range of hosiery products widened considerably thanks to the construction of machines for women?s stockings in the new factory in Brescia. The new production plant, about 1,000 m2 covered and 30 workers, allowed Lonati to carry out larger orders.
With new business opportunities arising and markets expanding beyond national borders, Lonati machines for women?s stockings were immediately successful because they were the first in Europe with a fundamental technological innovation: dual-feed processing (double production compared to competitors). The new machines were immediately requested in the ECM, especially in England and the Federal Republic of Germany. Between 1955 and 1960, exportation extended beyond Europe: Australia, New Zealand, Japan, Philippines, South Korea, Mexico, Chile, South America, North America and Scandinavia. Worldwide relationships were established. From 1966, expansion continued and penetrated to countries behind the Iron Curtain. This international exchange required a careful assessment of market trends, a progressive technological updating and an on-going improvement of industrial plants. As a result, in 1969, the Lonati factory expanded enormously, enlarging the production area to 30,000 m2, 15,000 of which were covered, and increasing the workforce to 300 workers.
At the same time, Lonati improved its commercial presence internationally by creating an efficient foreign office and an extensive sales network of agents and representatives. Management was also strengthened, and the three sons Ettore, Fausto and Tiberio joined their father Francesco in the management of the company.
The company occupies an area of 80,000 m2, of which 24,500 are covered, in Brescia in the San Polo area and employs around 520 highly skilled employees. LONATI GROUP?s penetration of the international market is equal to 90 per cent of its annual turnover and sales. Special attention is given to new economic powers in the Middle and Far East, while maintaining close ties with traditional markets in North and South America, Turkey, Europe and parts of Africa. With its huge export network covering 50 countries, excellent customer service, nevertheless, remains in line with the corporate image – assuring top quality products and unsurpassed customer satisfaction. Lonati is therefore a solid reality within the economy of Brescia, with an increasingly representative role at the national, European and global levels. Companies under Lonati Group include:
* Lonati SPA
World leader in the sector of stocking machinery, with more than 8,000 machines produced in a year and a production capacity of over 15,000, Lonati boasts the largest selection on the market of machines for the production of men?s, women?s, children?s and sports socks. It is a company certified with the Integrated Management System (SGI) formalised with UNI EN ISO 9001 2008 and BS OHSAS 18001 2007 certifications.
* Santoni SPA
Thanks to Tiberio Lonati?s intuition, Santoni is the absolute leader in the production of electronic circular machines for seamless clothing and meets 97 per cent of the global demand for seamless wear machines for various clothing sectors: underwear, sportswear, beachwear, outerwear and medical wear, up to the recent breakthrough in the field of outerwear. It has an internal training center, the Santoni School, which trains technicians and operators to work with hardware and software technology.
* Tecnopea SRL
Due to accurate on-going technological research, Tecnopea has achieved an absolute level of quality in the production of automatic ironing and packaging machines for men?s, women?s, children?s socks and seamless undergarments.
* MIL SRL
MIL is a company specialised in marketing textile machines for the production of seamless items and traditional knitwear, men?s and women?s socks and machines that complete the entire production cycle.
* Vignoni
A brand for the production of one and two needle-bed machines. Established in 1982, Vignoni immediately became one of the most important manufacturers of circular knitting machines. Over the years the undeniable characteristics of the projects it developed became known for their high quality and reliability. In 1998, Vignoni was acquired by Santoni. Currently the brand Vignoni is used on one or two needle-bed machines for the production of ?basic? items, simple and operated jersey, or plush, toweling, minijack and electronic jacquard, in addition to the traditional interlock and ribs.
* Sangiacomo
A leading brand for over 50 years in the production of circular knitting machines for men?s and children?s socks, Sangiacomo offers a wide range of products: single-cylinder machines, classic linking and circular machines for the production of seamless underwear, nightwear, outerwear, swimwear and sportswear.
* Matec
The company was established in 1974 and in 1978 joined the ENI group. Since its inception MATEC has operated successfully in Italy and abroad becoming one of the leading companies for technology in the market. Later Matec was handed over to Parmec and then subsequently transferred to Lonati Group. Currently the brand Matec is used on machines for women?s tights, single-cylinder men?s socks and for the medical line.
* MEC-MOR
Thanks to over 60 years of experience MEC-MOR is the brand dedicated to the marketing and brokerage of electronic circular and straight textile machines for open and closed panel knitwear.
* ADB SRL
ADB is a market leader for experience, professionalism and technology in light carpentry and job-processing. Specialising in flat laser cutting and 3D modeling, it produces industrial prototypes for any kind of production.
* MP ITALIA SRL
Global innovation: The latest ideas for mobility and leisure are the result of technological research and the opening up of new markets. MP ITALIA is an eclectic and dynamic company which operates in various strategic areas. It created the exclusive MOTOPARKING, a new parking service for motorcyclists already used in Italy and abroad.