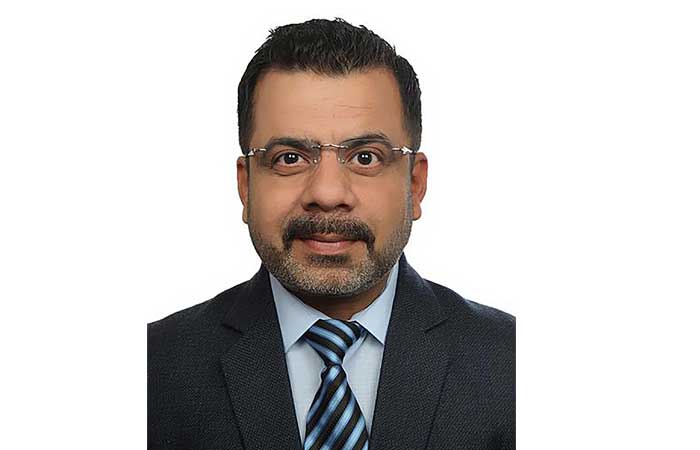 LNJ Denim is ready with next SS'24 collection SWITCH
LNJ Denim, a denim-manufacturing facility established in 2007 under RSWM, has a manufacturing capacity of 25 million metre annually. LNJ Denim has earned an excellent reputation amongst international and domestic brands as an innovator and a quality supplier of denim fabric. Ashish Bhatnagar, Senior Vice President, LNJ Denim, shares why sustainability is important for Indian T&A industry with Divya Shetty.
What does the denim industry's future hold?
As a fashion staple since ages, denim continues to transcend gender, age, and class, and remains one of the fashion industry's most versatile, durable and sought after fabrics.
However, the global denim industry has evolved over the years from just casual wear to a more versatile category making denim an "everyday" product alongside waves of changing customer expectations and advancing technologies.
With rising disposable incomes, increasing focus on rapidly growing e-commerce, ever increasing fondness for denim apparel among all ages specially youth, the global denim industry is estimated to grow at a CAGR of 7 per cent over the next 5 years.
What are the emerging trends in denim industry?
Performance, comfort and hand-feel is amongst the key attributes been sought by the leading brand designers, without compromising on the true denim aesthetics.
Consistent product developments and introduction of various new performance attributes like moisture management, bi-stretches, strong fibres like nylon woven into denim has further increased the scope for the denim mills.
Sustainable denims are another emerging trend in the industry with both the brands as well as denim manufacturers becoming increasingly conscious towards contributing in saving the nature.
What are the key challenges before the denim industry at present?
The entire textile industry including denims is witnessing tough times over the last 6months.
The cash flows are greatly impacted due to liquidity crunch across the unorganised as well organised players.
Indian denim garment industry lacks the scale as compared to its neighbours Pakistan, Sri Lanka and Bangladesh which makes us relatively uncompetitive on the global scale keeping us away from consistent larger volume brand business.
The fluctuation in cotton prices is resulting in instability for the entire supply chain as no one is able to predict and plan their purchases at the right price.
The Indian cotton prices are still higher than the global price which is making it difficult for Indian mills to compete in international market.
Why is sustainability important for the Indian textile & apparels industry? How is your company adopting sustainability?
The textile value chain consumes a huge amount of water and energy, along with the use of various chemicals and harmful substances. Most textile industries discharge a huge amount of harmful waste; posing a threat to natural bodies in other words it is one of the highly polluting, resource consuming and labour-intensive industries. The non-biodegradable and carcinogenic components of the chemicals directly contaminate the nearby water resources and affect the locality severely.
RSWM through its flagship denim division LNJ Denim, is making conscious efforts to contribute towards sustainability for the fashion industry- few key efforts been using sustainable cotton, innovative sustainable yarns & fibres, in-house garneting technology for recycling per-consumer industrial waste & post consumer used garments, state-of-art effluent treatment plant enabling reusing and recycling water.
As member of ZDHC, LNJ reduces the impact to the nature by using non-hazardous chemicals while alsousing solar power to reduce dependency on coal or diesel based power. RSWM also boasts of an in-house PET bottle recycling unit which supports the yarn and denim fabric business.
What do brands expect in terms of sustainability from the manufacturers, and how are you addressing it?
The environmental conscious brands are looking for suppliers who are equally committed towards sustainability and have necessary certifications in place.
Some brands are doing consistent audits on the mill facilities to ensure compliance towards water saving initiatives, no use of hazardous chemicals, transparency on the supply chain, no use of restricted cotton and chemicals.
In terms of products the brands look for sustainable fibres like Hemp, Refibra, Ecovero, Organic cotton, recycled polyester & cotton, biodegradable polyester etc. Also products made using less water and natural indigo.
Any new products in the line-up? If yes, please elaborate.
LNJ Denim is ready with its next SS'24 collection "SWITCH" focused on the versatility of denims across various occasions in everyday life. The collection focuses on various sustainable fibres like Hemp, Refibra, Recycled polyester, Bio-degradable polyester as well as performance and comfort centric collections developed using Bi-stretch, Robic Nylon fabrics, moisture management fabrics, woven knit-look constructions. We would officially launch the collection during Denim PV on 23rd November 2022.