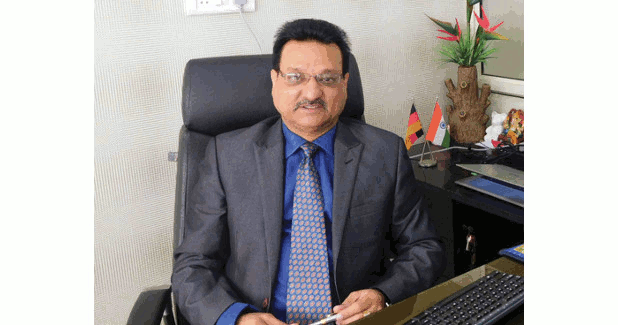 Kusters' newly-designed, more efficient washing compartment
Kusters Calico Machinery manufactures and installs the most affordable and excellent machines to the textile processing industry.
Kusters Calico Machinery manufactures and installs the most affordable and excellent machines to the textile processing industry. KCMPL manufactures the textile processing ranges such as singeing, de-sizing, bleaching, mercerizing, dyeing, print washing and others for both woven and knits.
Sushil Verma, Managing Director, Kusters Calico Machinery, speaks on the upcoming plans for ITMA, and the products to be exhibited during the event.
How many ITMAs has your company attended. Please share your company's experience in the international markets with reference to participation in other exhibitions too.
Being leader in textile processing machinery, we are attending ITMA since 1996. I can say that since we started our manufacturing facility, we have been attending important exhibitions like ITMA and others.
For machine manufacturing to sustain growth, it is must to have a presence in the international market. And as our market share on export business is significant, we prefer participation at international exhibitions. This helps us to get in contact with customer and showcase our latest technology.
What are the machinery/accessories your company will be displaying during this ITMA Barcelona? What are their unique features and applications?
From Kusters Calico, we are going to exhibit our newly-designed washing compartment. With newly-added concept of fabric transport and better washing efficiency with minimum consumption of water, steam and power.
From our group company, Jagenberg Textile, Germany we are going to exhibit Padder 222.11, which is one of the best dyeing padders.
How have your company's products been doing in the global export markets? In which year did the company make a breakthrough and how has this progressed through the years?
Kusters Calico was started as a joint venture company of Eduart Kusters Maschinenfabrik GmbH & Co. KG (EKK) of Germany and Calico Industrial Engineers of India in 1996. Hence since inception, Kusters Calico was able to get good hold of export market due to a number of machines already supplied in various countries by Kusters Germany. The superior technical features enabled Kusters Calico to supply machines to same and other new customers from India at reasonable price but with same technology and quality.
In the recent past, has your company entered new markets, and if so, which are the ones and for which products?
Predominantly textile processing machines are supplied to countries like Bangladesh, Egypt, Vietnam, Indonesia, Turkey, South America and India. We are vigorously following up and developing new markets in Africa and Eastern Europe. With our state-of-the-art installations, products and reliable business partners worldwide, we are very sure that we will get our share of business from these new regions and countries.
Is your company fully or partially dependent on foreign technology or inputs? Or are the products totally indigenously made? Give your comments on your competitive strength.
To have manufacturing set up in India is to get the advantage of cost effective solutions to our customers. Kusters Calico is German company having manufacturing set up in India. Most of our products are manufactured in India only. Some of the important products/ components we procure from our sister company in Germany. Being a part of Jagenberg Group gives us the access to other group companies where we share information and get best solutions that help us to improve the products and technology.
With some new countries entering textile production and also a few reshoring & revival of textile industries, do you see any rise in demand for your products globally?
As I mentioned earlier, we are exploring our business in new territories like Africa and Eastern Europe and getting good response from these markets.
Due to stringent norms of effluent treatment and preservation of natural resources, now a days customer do understand and accept technological advantage of our machines which consumes less water and electricity.
What are the future prospects and problems that your company is facing in raising its share for its products/machinery in the global market?
At Kusters Calico, we are increasing our product portfolio for textiles and coming up with new machinery. Our other division where we manufacture converting lines for coating and laminations is doing extremely good. We are also entering wastewater treatment business with proven technology from our group company Zima Corporations, USA. We have restructured our organization enabling us to concentrate on each product portfolio effectively. It is important to have diversified product portfolio and market segments for long term sustainable growth.
Our first and foremost priority is to provide best quality product, timely delivery and services to our customers. This is mantra of our success.
Promoting products/machinery effectively through exhibitions abroad is very important for the industry and the country in these days of globalization. Do you have any suggestions/advice for the industry and the Government in this regard?
We see exhibitions to showcase our products and opportunity to meet customer personally at one platform. With today's business practice it is important to remain in close contact with customers and get their valuable suggestions, which motivates us to provide innovative solutions to our customer's demand.
For mother machines or just machine manufacturing there are very few companies in India and no big business house wants to enter this field. The business is cyclical, long manufacturing time is required, no R&D facilities are provided as most companies can't afford costs. Government support in R&D is required, since individual companies afford, as today's technology will become obsolete after 10 years unless improvement is done or new technology is developed.