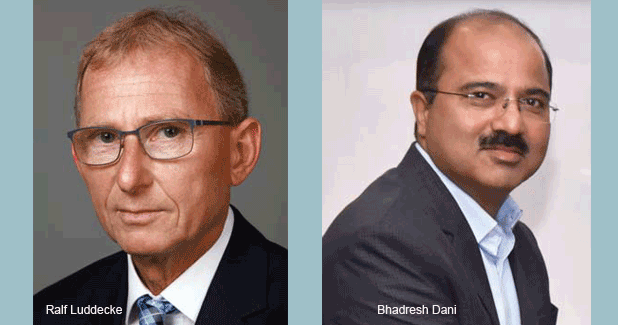 KEB-BB tie-up a boost to AC drives
In June 2007, Bharat Bijlee Ltd BB entered into an agreement with KEB of Germany to market and service the KEB range of AC variable speed drives
In June 2007, Bharat Bijlee Ltd (BB) entered into an agreement with KEB of Germany to market and service the KEB range of AC variable speed drives. This is an exclusive marketing arrangement and BB is the sole distributor for KEB drives in India.
A comprehensive range of drives up to 900 kW (690 volts) is presently available.
Bhadresh Dani, Vice President – Drives & Automation of Bharat Bijlee; and Ralf Luddecke, Manager – Export Sales Electronic, KEB Automation KG, speak on their 'exclusive' partnership, and other activities of KEB for the Asian market.
Excerpts…
When did BB's partnership with KEB begin and how did it progress? Why is it called 'exclusive'?
Ralf Luddecke (RL): The partnership with BB began in 2007 with a sales and service agreement. After the initial starting period, we succeeded to gain major market share in some vertical markets in India. The combination of world-class KEB products together with the expertise of the BB sales and application team was the formula for success.
As a further commitment to the Indian market, in 2010, KEB and BB decided to establish a local drive production under a license agreement. Today BB locally produces KEB drives under license from 15 kw to 800 kW. We are convinced, that for such a close relationship, only a sole or exclusive collaboration works.
Bhadresh Dani (BD): "Know-how, Engineering, Benefit" is another way of looking at the KEB initials. It is for these values that customers regard KEB as a reliable partner for applications in so many areas of machine and plant building as well as in plant, system and process technology.
BB initially partnered with KEB in 2007 for distribution and for developing solutions around KEB drives. From 2012 onwards, have been assembling drives under licence for the Indian market as well for Sri Lanka and Bangladesh. Our drives facility at Airoli, Navi Mumbai is a modern IS0 9001-2008 compliant plant for assembly and testing of part of the Combivert F5 range of KEB drives. Last year, we turned out 3,000 drives, and this year, we expect to deliver 4,000 drives.
The tie up between BB and KEB is almost a decade old? What have been the developments in AC drives over the years?
RL: KEB has developed drive solutions for many vertical markets. Most of the special features are still state of the art. Of course, we always updated our drives with newest hardware components and software modules. We see major development steps in real-time bus communication systems, enhanced motor model algorithm and higher integration with compact design.
BD: Like many industrial electronics products, drives are continuously evolving in capability and features. KEB is a technology company that prides itself on superior product performance, outstanding manufacturing facilities and versatile features. Continual innovation means that the drives keep advancing in function, communication and integrated safety, and are uniquely suited for difficult applications in various industries. More than10 per cent of KEB's employees work in research and development.
KEB has a strong presence in the Indian market with its tie up with Bharat Bijlee. What are the other activities of KEB for the Asian market?
RL: KEB is aiming to be present in all major markets worldwide to serve and support our OEM customers. In Asia, we have production sites in China and Japan. For other countries, we work with local partners for sales and service.
What are the specific offerings from this tie-up for the textile industry?
RL: KEB has a long standing history in the textile industry with deep know-how and good reputation. Special features of our drives for this market offer a high level of value addition for textile machine makers.
Together with the expertise of the local BB application team, customers can benefit significantly. This results in an improved machine design to match international standards at economical costs.
BD: KEB have traditionally been strong partners to the textile industry, with flexible drive systems suited to most segments, including spinning, processing, dyeing and printing. Flatbed printing, for example, needs very high repetitive positioning accuracy. The drives we supply offer remarkable accuracy for this application even at high speeds.
Also, our new Super Premium Efficiency IE4 motor works in combination with the KEB drive, and can provide dramatic energy savings even in partial load conditions. We already have a sizeable installed base in the textile industry.
The customer list for KEB and Bharat Bijlee now includes global giants as well as domestic leaders in various segments of the textile industry. We can serve them directly or through our wide network of specialist Solution Partners.
BB provides a comprehensive range of KEB drives. What are its unique features over that of the competitors? BD: We don't sell just products: We sell a solution. KEB is a specialist player for the textile industry in Europe and, given the powerful product features, it is also a focus area for us. Our organisation includes a textiles vertical with sales and development teams to ensure we bring focused application knowhow to the textile industry.
Textile machinery often works in harsh environments, due to our climate and the ambient dust and fibre fluff. This demands high product/component reliability and special cooling solutions. All these factors are taken into consideration in the KEB product.
PCBs are specially coated, and a special cooling design for the drive structure allows heat to be dissipated outside the panel. Power fluctuation is another problem. Our drives can work at 240 V DC, compared to 300 or 350 V for most conventional drives. Besides, when there is a power failure, our kinetic energy function mode will regenerate energy and stop the machine slowly to prevent yarn breakage. Once power returns, it will restart the machine. Smooth operation, and high performance in positioning, synchronisation and energy savings are basic product attributes.
As an OEM for textile machinery, how has KEB-BB tie-up helped? Can you provide briefly a couple of case studies in this area?
RL: Spinning technology is one of our strongest applications. We have developed drive and filter solutions for highly productive, energy efficient and reliable production. Special design options and software solutions are available to address the challenges of tough environmental conditions and unstable power supply.
BD: We have a strong application team who use their textile domain knowledge to fully exploit the strengths of the KEB drive. We program the drive software to suit application requirements. This can bring about unique benefits: improvement in yarn quality, reduced processing time, elimination of external power back-ups like UPS, etc. Our wide service network, especially in textile clusters like Surat, Ahmedabad and Coimbatore, offers immediate support to OEMs and end users to ensure maximum machine up-time.
How is the market for drives and controls in the Indian textile industry and also for industries that you represent?
BD: The overall market for low voltage AC drives and servo solutions in India is estimated to be about Rs 2,000 crore, (of which servo solutions contribute 25 per cent), and growing at around 11 per cent per annum. Servo solutions are penetrating conventional solutions, and may grow at a faster rate in the near future.
The Indian textile industry is mature, well placed in segments like spinning, and moving up the value chain. As with other sectors of the economy there have been headwinds recently, but Textile Policies announced by many states could lead to fresh investment and jobs.
The opportunity we see is the trend towards plant modernisation – and in upgradation via retrofit – to improve productivity and quality by use of automation.
We receive a lot of enquiries from textile OEMs where the application's demands are very stringent and difficult to fulfil. Usually we are able to deliver on the requirements using the KEB drive's superior performance. Presently we are working with a few large OEMs for highly demanding applications, and look forward to help them achieve their efficiency and quality objectives.
Recently BB commissioned a facility for Magnet Technology Machines. Tell us more on this.
BD: We were one of the first companies in India to make permanent magnet (PM) machines for the elevator industry. In the last decade this line of business has seen healthy growth, and the new plant can cater to a four-fold increase in volumes. We are now looking at other PM direct drive applications, especially to help machine builders or users improve one or more of precision, productivity and energy efficiency. There are many potential synergies with our KEB drive systems, including in certain textile applications, and this is an exciting new focus area for us.
BB is also known for its strength in after-sales? How does the establishment facilitate this with its set-up?
BD: Equipment up-time is a priority concern for our customers and users. Failures are inevitable sometimes, even with the most reliable product, and it is our job to respond and resolve the complaint at the earliest.
We have a one-stop system-driven customer service helpdesk called ServiceLINE. ServiceLINE executives are responsible for registering, assigning, escalating and closing all service calls for industrial system products. They notify our service teams almost immediately of a customer complaint, following which service is delivered locally by technicians close to the site.
We have clear SLA targets for key events in the complaint resolution cycle: from an engineer reaching site, to closing the complaint by putting the machine back up, right through to CAPA. Open calls are monitored and escalated real-time, and SLA target achievement is reviewed weekly.
Our service centre is supported by a network of authorised service centres across India, with locations selected based upon density of the installed base. This hub and spoke model helps us to minimise response time.
BB is currently focusing on digitalisation as part of Industry 4.0. What are the current developments?
BD: This is another exciting new field, with the potential to transform how industry works. The power of enterprise software, cloud computing, and the internet has already made it possible for machines to interact intelligently with each other – and with humans – in ways that we can hardly imagine. Our immediate plan is to develop IIoT solutions with rich analytics that will enable our customers – and their customers – to remotely monitor the condition, up-time and productivity of a machine, or of an entire plant. We will also provide intelligent predictive maintenance algorithms that can alert the user of an impending and costly breakdown before it occurs. These solutions will be customised, and can add tremendous value for both OEMs and end users in the textile industry.