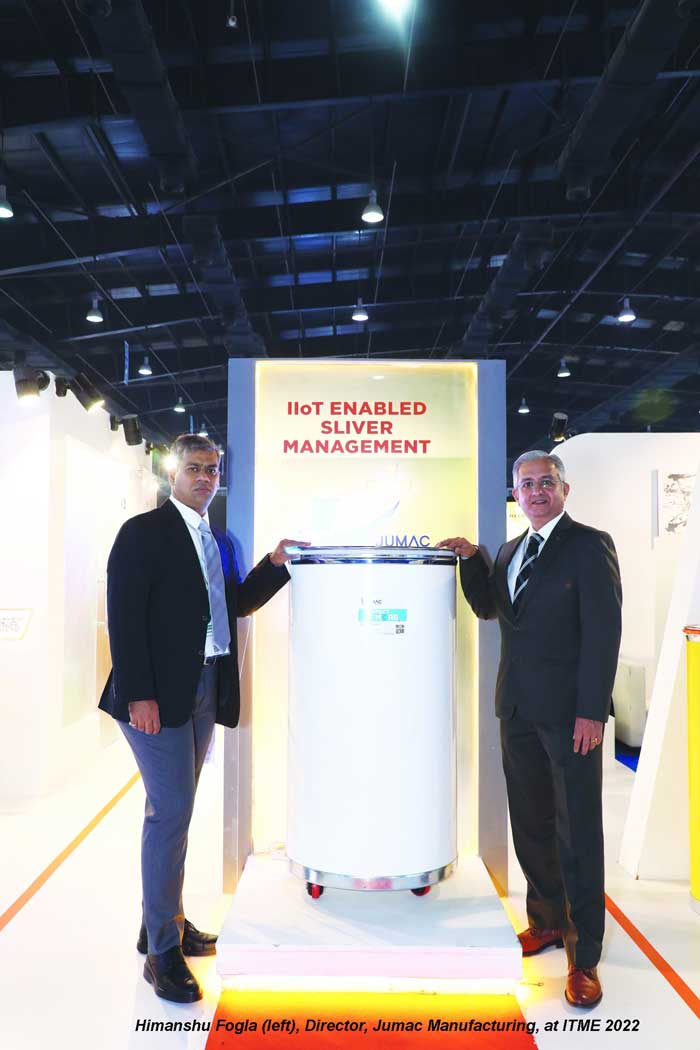 Jumac will more than double its capacity from March 2023
In this interview, Himanshu Fogla, Director, Jumac Manufacturing Pvt Ltd, talks about the company's latest product range for the textile industry and its future plans
At ITME 2022, Jumac Manufacturing, one of the leading manufacturers of sliver cans for textile industries, displayed a wide range of innovative products – including its IIoT (industrial Internet of things) based sliver handling system called Ji+. In this interview, Himanshu Fogla, Director, Jumac Manufacturing Pvt Ltd, talks about the company's latest product range for the textile industry and its future plans.
What are the highlights of your stall at ITME 2022?
Jumac had come up with the biggest stall till date – i.e. 81 sq mtr – in this year's ITME. In the market since 1974 and always keeping innovation at the forefront, Jumac had come up with quite a few new things such as the Ji+, Supremo Wheels, Trolleys and our Smart Can. Our entire domestic partner was present in their full strength & vigour and we had a fabulous six days of meeting & greeting the who's who of the industry.
Also, another first was the display of our cans in the leading OEMs stall such as LMW & Truetzchler highlighting the acceptance of our product among the OEMs.
Could you please elaborate more about your launches at ITME 2022?
Ji+ was the definite show stopper of not only our show, but of the whole event. With IIoT enabled sliver management system enabling last mile traceability, data backed automation and centralised control, Ji+ was very well received and accepted by one and all. A revolutionary product, Ji+ will enable a smarter spinning mill with decision making tools and more data transparency & control. It is a seamless technology integrating breakthrough hardware and proprietary software solution to provide real time monitoring.
Besides, Supremo Wheels were launched for the Indian markets as the true fluff free caster because of the customer demand and also introduced Trollies as a natural extension of our sliver management product basket.
What is your outlook for the industry in 2023?
The outlook for 2023 looks challenging with road blocks. However, the domestic market will certainly do better with the new schemes such as the PLI (Production Linked Incentive) and the China Plus One outlook of the buyer giving the desired fillip to the industry.
Jumac will also be there to support the industry and serve in every way possible with their innovations & value for money servings.
What are your growth plans?
Seeing the bullish outlook going forward, we are in the process of enhancing our production capacity from 18,000 cans per month to 40,000 cans per month from March 2023 onwards with a state-of-the-art plant coming up in 30,000 sq m of space, right opposite our existing setup. We will be exploring new geographies with special emphasis on Africa and South America continents and of course maintain our leadership position in the Indian markets.
Innovation has been the core value here at Jumac and we are looking forward to expand Ji+ in phases wherein the can will be a source of huge data and transformation of a spinning mill. There will be a paradigm shift in how a spinner looks at a spinning can in the whole sliver management system.
One thing is for sure, exciting times are ahead and we are ready in the full earnest.