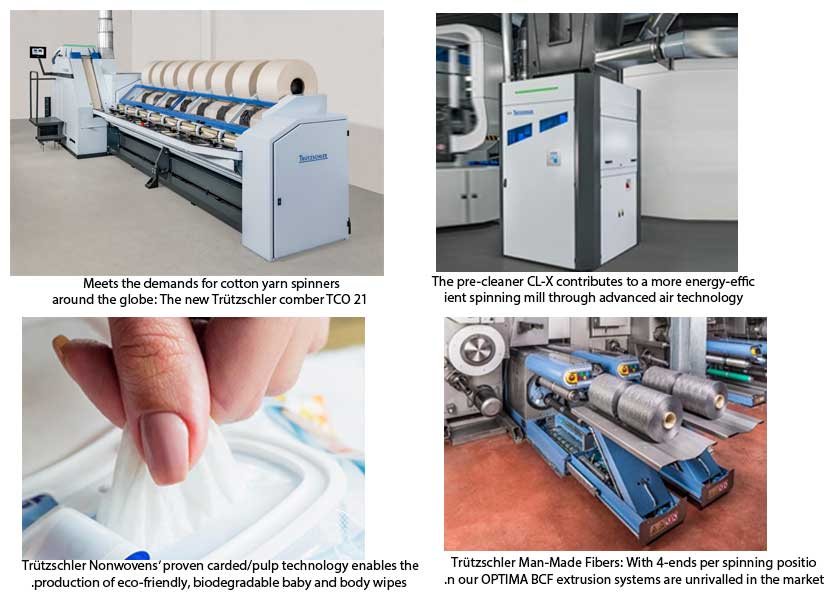 Join Trützschler Group at ITM 2022
The company will display its products in booth 308 A (Hall 3)
Industry experts and innovative solutions from Trützschler Group will be available for visitors at the ITM 2022 trade fair in Istanbul from June 14-18. At the interactive exhibition booth 308 A (Hall 3), the team will present the state-of-the-art sustainable technologies for the textiles industry – including all business areas: Spinning, Card Clothing, Nonwovens and Man-Made Fibers.
Sustainability and automation
Trützschler is driven by its vision of smart and sustainable solutions. Visitors to ITM 2022 will experience exactly how they bring this vision to life with the technologies. With regard to spinning preparation, the booth will feature the new and easy-to-use combing machine, TCO 21, which maximises productivity and automation to provide excellent process efficiency and yarn quality. Based on various graphics and animations, guests get the latest of the pre-cleaner CL-X and the intelligent card TC 19i, which utilize advanced air technology and contribute to more energy-efficient spinning mills. Visitors will also get a chance to see and touch card slivers made from recycled materials at the booth. They can then talk to Trützschler experts about the specially designed recycling card, TC 19i for Recycling. It empowers customers to achieve highest possible quality when carding secondary fibers from torn waste through continuous self-optimization.
Models and samples will also showcase our unique range of wires for card clothing, including solutions for recycling applications. Trützschler Man-Made Fibers will present news about all variations of the OPTIMA platform for Bulk Continuous Filament (BCF) carpet yarn manufacturing. Whether BCF standard qualities, low dpf, high-count or tricolor yarns – OPTIMA delivers highest productivity and yarn quality. Further, our booth will offer touchscreen movies that share interactive information about our technologies for nonwovens – with a special focus on our efficient cotton nonwoven lines as well as our proven carded/pulp technology. Both concepts allow for manufacturing eco-friendly wipes from renewable resources, for example pulp and re-generated cellulose fibers, such as viscose and lyocell. Moreover, Trützschler Nonwovens will introduce its new digital solution, T-ONE, which enables our customers to keep an eye on the quality of their products as well as their line performances.
Solutions and services for the strong market in Turkey
Trützschler views Turkey as one of the top markets worldwide. The demand for innovative textile machinery solutions is very strong – and it is growing all the time. This trend is driven by the constant push for saving energy and boosting resource efficiency, while cutting costs.
Visual Footage:
Meets the demands for cotton yarn spinners around the globe: The new Trützschler comber TCO 21.
The pre-cleaner CL-X contributes to a more energy-efficient spinning mill through advanced air technology.
Trützschler Nonwovens' proven carded/pulp technology enables the production of eco-friendly, biodegradable baby and body wipes.
Trützschler Man-Made Fibers: With 4-ends per spinning position our OPTIMA BCF extrusion systems are unrivalled in the market.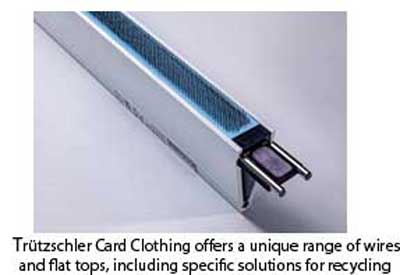 Trützschler Card Clothing offers a unique range of wires and flat tops, including specific solutions for recycling.
About Trützschler:
The Trützschler Group SE is a German textile machinery manufacturer headquartered in Mönchengladbach, Germany. The company is divided into four business units: Spinning, Nonwovens, Man- Made Fibers, and Card Clothing. Trützschler machines, installations and accessories are produced and developed in ten locations worldwide. This includes four factories in Germany (Dülmen, Egelsbach, Mönchengladbach, Neubulach), as well as sites in China (Jiaxing and Shanghai), India (Ahmedabad), the USA (Charlotte), Brazil (Curitiba) and Switzerland (Winterthur). Service companies in Turkey, Mexico, Uzbekistan and Vietnam and service centers in Pakistan, Bangladesh and Indonesia provide customer proximity in key regions for the textile processing industry. For more information visit: www.truetzschler.com.