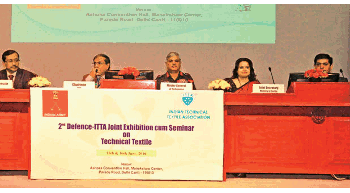 ITTA organises 2nd exhibition-cum-seminar on technical textiles
The Indian Technical Textile Association (ITTA) in association with Indian Defence, organised a two-day exhibition-cum-seminar on technical textiles on June 15-16, 2016 at Manekshaw Center, Delhi. This is the second edition of the Defence-ITTA joint exhibition-cum-seminar on technical textiles, which was attended by more than 250 delegates from both the Indian Army and the technical textiles and footwear industry.
The Indian Technical Textile Association (ITTA) in association with Indian Defence, organised a two-day exhibition-cum-seminar on technical textiles on June 15-16, 2016 at Manekshaw Center, Delhi. This is the second edition of the Defence-ITTA joint exhibition-cum-seminar on technical textiles, which was attended by more than 250 delegates from both the Indian Army and the technical textiles and footwear industry.
The exhibition showcased the entire technical textile and footwear products developed by various manufacturers showing the possible improvements of the different products used by the Indian Army.
Session 1
The two-day seminar-cum-exhibition was inaugurated by Lieutenant General Ravi Thodge, PVSM, AVSM, SM, VSM, Master General of Ordinance. The initiation of the first event in February 2015 was his brainchild along with ITTA, which resulted into more transparency, entry of new vendors with latest technology into defence supply. He expressed his happiness on the achievements of the earlier interaction and wanting the scope to be widened with inclusion of buildtech, collective protection, meditech and footwear this year.
Anu Garg (IAS), Joint Secretary, Ministry of Textile, was the guest of honour. She congratulated Thodge and the entire Defence team for seizing this opportunity and to ITTA for organising the event. She informed that ?technical textiles is a huge priority for the government as an emerging sunrise sector. We want technical textiles to get their rightful place in the overall basket. At present India represents only 3 per cent of the global technical textiles industry, less than 5 per cent of the global technical textiles production, 4 per cent of the exports of technical textiles world over, imports $1.4 billion worth of technical textiles. Our per capita consumption of technical textiles is 1.7 kg viz-a-viz 10-12 kg in developed countries and technical textiles comprises only 11 per cent of Indian textile industry as compared to 27 per cent globally and 50 per cent in some developed countries. Having said that, one can see possibilities for ?Make in India?, for import substitution, for export promotion and for increased consumption.
The Government of India has taken several initiatives to harness this potential, such as in the recently-launched amended technology upgradation fund scheme (TUFs), technical textile has been identified as one of the four priority segments and 15 per cent capital subsidy is being provided, schemes for promoting agro textiles and geotextiles in North East, recently duty rationalisation for select specially fibres was announced. Pramod Khosla, Chairman, ITTA, welcomed the delegates and highlighted that the seminar had been highly successful resulting in close cooperation and indignation of large number if products. He also narrated ITTA?s contributions during the last couple of years to the growth of various segments of Indian technical textile industry and the objective of this seminar.
Dr SK Sundararaman, Vice Chairman, ITTA, spoke about Defence & ITTA relationship. He also talked about ITTA being a group of more than 300 technical textile companies has the capability to provide the required solutions to the defence sector, the exhibition provided the necessary for a successful partnership between the defence forces and the technical textile industry.
Dr Anup Rakshit, Executive Director, ITTA, said that with the support of the Ministry of Textiles and its members, ITTA has attained a new height. ITTA created a platform to connect the technical textile industry with defence sector by organising three seminars- cum- exhibitions during the last one year with Indian Army and the Navy. He also extended a vote of thanks to all dignitaries, speakers, exhibitors and delegates who have participated the seminar.
Session 2
The second session was on army requirements of clothing SCME & footwear. This session was chaired by Major General BV Rao, Additional Director General, Equipment Management. The following presentations were made during this session.
Budget outlay by JS Sidhu, Director Budget Cell spoke about the army budget for the FY2016-17. He informed that the budget for GS&C is Rs 2,857 crore out of which the DGOF got Rs 2,100 crore and Ex-Trade got Rs 757 crore budget. But a large proportion of the cloth & accessories are purchased by DGOF from the industry.
Defence procurement procedure by GS Shan, Deputy Director General OS (GS&C) briefed about the objective of type of procurement, procurement setup, sources of supply, DGQA, revenue procurement and payment terms for sellers.
Special Clothing & Mountain Equipment and Extreme Cold Climate Clothing Items by AS Chonker, VSM. He highlighted that the requirement of special clothing and mountaineering equipments will increase to 38,229 sets for Indian Army. He spoke on procurement procedure for SCME EX Import and also added the some products improvement, introduction of new products i.e. avalanche airbag, tugger shoes, etc.
Outsourcing of products, product improvements, purchase of raw material, entry into ordinance factories and expectations from industry by Prakash Agrawal, Jt GM, OFB emphasised about the OFB and its operations. He also explained about the OEF HQ, Kanpur with its product profile and also informed that they will achieve a projected growth of 18.39 per cent in FY2016-17.
Session 3
Session 3 was on collective protection, tentage, load carrying fabrics & induction of products into CSD. The session was chaired by SC Tandi, Commandant COD, Kanpur and four papers were presented.
Requirements of collective protection & load carrying fabrics by Sanjay Sinha, Director OS (GS&C) highlighted about the inventory management, types of stores which maintains an inventory of 4.5 lakh items. He also spoke of Life cycle Clothing (LCC), trade items and product improvement.
Recommendation for collective protection & load carrying fabrics by SJ Rao, Sr VP, Garware Wall Ropes, highlighted the definition of collective protection, types of fabrics, its properties and criteria for selection, types of material used and its different application for Indian Army.
Improved synthetic camouflage nets by Naresh Ummat, Barracuda Camouflage (P) Ltd. He spoke on the improvements done in the products like synthetic camouflage nets, synthetic camouflage nets with IR protection and C-90 net-reinforced static camouflage used by the Indian Army.
Assistance from industry to ensure quality and quick clearances by Arunabh Chawdhury, Controller, DGQA. He explained that quality assurance for defence textiles involves womb to tomb responsibility. He also spoke on technological advancements, indigenisation of specialty products, industry assistance and DGQA services.
Session 4
Session 4 was on medical textiles and protective clothing. The session was chaired by Subodh Mulgund, Dy DGAFMS (Standardisation) and five papers were presented.
Medical textile by Col Rishi Raj, Jt Director, Armed Forces Medical Services Directorate, highlighted about the First Tri Service Organisation of the Armed Forces i.e. Armed Forces Medical Services. He talked about the medical textile ? its challenges, future requirements like smart textiles and its market estimated to be $289.5 million in 2012 and expected to exceed $1,500 million by 2020.
Recommended medical textiles for defence forces by Alan D?Abreo, KOB Medical explained about the different medical textiles products which can be used for defence such as compression bandage for trauma, absorbent wound dressing pads, foam dressings, hydrogel dressings, silver dressings, etc. and its benefit.
Protective textiles by Dr Arindam Basu, Director General, NITRA, briefed about the need for protective textiles, detailed description about the extreme cold weather clothing, electrically-heated garments, flame-retardant garments, interactive camouflage, sensor and energy-storage fabrics, smart uniforms used for defence.
Latest on protective clothing by Dr TH Goswami, DMSRDE (DRDO), Kanpur. He emphasised about the products developed by DMSRDE, i.e., NBC protective textile items, tent glacier (10-12 MEN), synthetic camouflage nets, functional shelters/tents for army, synthetic life jacket, blast protection suit, boot antimine infantry and anti riot helmet with visor.
Formation of condensation in breathable performance clothing system and latest concepts by Arlene Kidd, Group Director, Ardmel Group, UK. He explained about the breathability concept and double glazing concept for clothing system. He spoke on the future of smart clothing in the defence like printed textiles, development of nano-technology, printed batteries, combatants, etc.
Session 5
Fifth session was on geotextiles. The technical session was chaired by SPS Kohli, ADGW (Army). The following presentations were made during this session.
Geotextile requirements by Aditya Sharma, Engineers (BRO). He talked that BRO has grown with 18 projects till now. He also spoke about the importance, its role and tasks, achievements and deployment of BRO projects and its recent initiatives. He highlighted some of the geotextiles projects such as Deepak, Vartak, Swastik, etc.
Geotextiles recommended for BRO by Shahrokh Bagli, Chief Technology Officer, Strata Geosystem. He highlighted the importance of geosynthetics, i.e., geotextiles, geogrids, geocells, geonets, etc. and its applications. He also presented the whole range of products produced by strata and added their clients names such as Indian Army Rajasthan, Defence, Gujarat, etc.
Buildtech requirements by MA Ruperee, Director Arch, E in C Branch presented the buildtech products currently being used by various departments of defence, difficulties faced by them in this sector and invited solutions of these problems from the industry.
Buildtech recommended for defence by Sheelam Seth, Sr VP, SRF Ltd. He explained about the buildtech products used for defence. He highlighted that globally technical textiles is $140 billion business and different products of buildtech such as tarpaulins, disaster tents, auto canopies, etc. and the recent developments in India.
The seminar ended with summing up the proceedings by Thodge. Amit Agarwal, Secretary, ITTA, extend a vote of thanks to all defence sector officials.