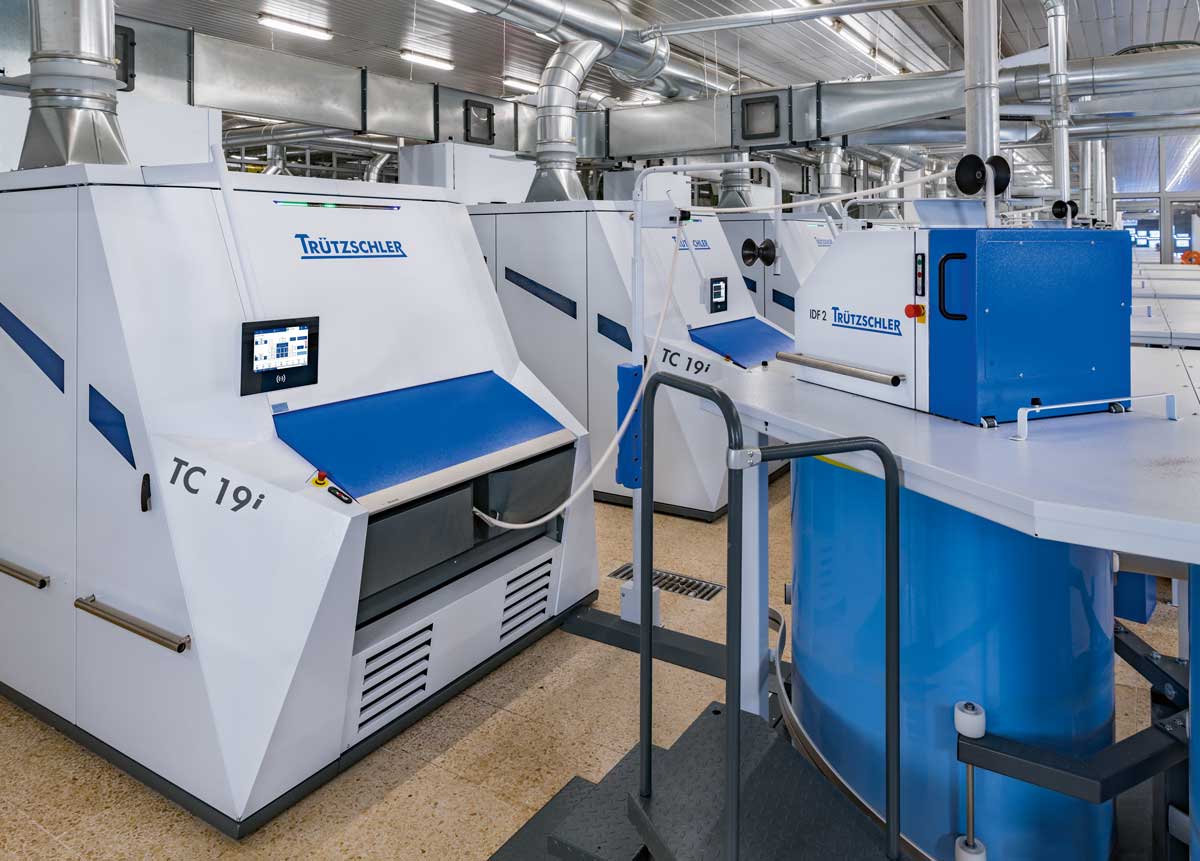 It's almost time for India ITME – visit the Truetzschler Group
The Truetzschler Group is attending the India ITME textile machinery trade and will showcase the latest machines and technologies from each of their business areas: Spinning, Card Clothing, Nonwovens, and Man-Made Fibres.
A team of Truetzschler experts from Germany and India will be available to describe and discuss the innovative solutions for the textile industry and will be supported bythe experienced sales team from our agency A T E Enterprises.
Exhibits from our Spinning business
The TC 19i card: The TC 19i is the first intelligent card, and opens up new opportunities for productivity and quality with its self-optimisation function. Using data from the tried and tested T-CON 3, the T-GO gap optimiser permanently and automatically keeps the carding gap at the optimal position, even under changing production conditions. Wastecontrol helps to minimise the loss of good fibres, and Nepcontrol constantly monitors the nep count.
The integrated IDF 2 system: This versatile system offers a cost-efficient and resource-efficient way of producing rotor-spun and Vortex yarns. The key benefits include improved economic efficiency through process cutting, higher flexibility with shorter throughput times, cost reduction through less operating work and lower investment cost through reduced space requirements and saving of cans.
The TC 12-1 Scard: The TC 12 sets the benchmark in one-meter cards. It boosts quality and productivity thanks to its highly precise flat setting system (PFS 40). Wastecontrol can reduce loss of good fibers by up to 2 per cent (for cotton). The state-of-the art Smart Touch and T-LED remote display provides easy operations. And the new coiling solution T-MOVE 2 with Jumbo Cans can increase can filling by up to 50%.Our synthetic version of TC 12 card on booth with special execution with tailor made Technology components andstainless-steel parts offers highest productivity with lowest energy consumption. The TCO21 comber: This innovative combing machine maximizes productivity and automation, whilealso providing excellent process efficiency and yarn quality. With Dual Drive and 2-Twin-Drive, the TCO 21 is the only comber that offers direct drives on both sides. As a result, it guarantees top combing performance. The unique self-optimization of the Piecing Optimiser perfectly adjusts the piecing time and detaching curve. Smart Touch, RFID and T-LED ensure easy operation.
The TD 10 spinning draw frame: This ultramodern auto leveller draw frame features the latest digital levelling technology. Due to its smart design, the TD 10requires on an average 20 per cent less space than comparable competitor's model. It is also equipped witha highly efficient suction system. The intelligent Smart Creel and T-LED remote display offer superior functional reliability. Special features like Auto Draft and OPTI SET deliver significant performance improvements.
The pre-cleaner CL-X (exhibited as scale model): The new high-performance pre-cleaner offers higher productivity and lower energy consumption. Its improved grid geometry and 2.60-metre cleaning section achieve superior cleaning and separation at high production rates. The flexible machine is able to run two mixing lots at the same time, while different sizes of waste can also be separated. It features stepless speed adjustments for the opening rollers and individual adjustments of grid bars for each opening roller. An additional "Wastecontrol" sensor is also integrated into the CL-X, which avoids the unnecessary loss of valuable good fibres.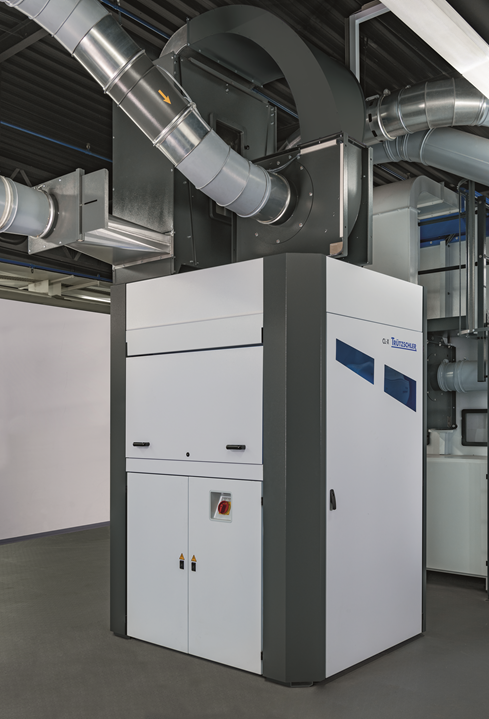 Sustainability / recycling table: Visitors will get the chance to see and touch various stages of recycled material processed with our machines – from fibres to sliver and yarns. They can then get information on ourspecially designed recycling card.
Exhibits from the Card Clothing business
Truetzschler will present a new type of clothing for different processing needs and special applications. The new Supertip series of cylinder clothing offers improved fibre guidance and allows optimal fibre transfer, which significantly improves nep removal efficiency. Its special metallurgy also helps to achievemuch "longer working life". The NOVOTOP series of flat tops makes a significant positive influence on the carding process. At the stand, you will be able to see models and samples of our unique range of wires. Truetzschler's card clothing experts will be available to answer any questions.
Exhibits from the Nonwovens business
Thenew T-SUPREMA solution for needle-punched nonwovens will be part of exhibit at India ITME. Mechanically needled nonwovens are highly functional textiles used in construction, transportation and industrial production. T-Suprema production lines make the needle-punching process easier than ever. Truetzschler Nonwovens partners with Texnology, an expert in needle looms and other needle-punching machinery. The offer includes efficient machinery for manufacturing top-quality geotextiles, filtration media, automotive textiles and nonwovens for special applications.
Exhibits from the Man-Made Fibres business
The Optima platform is a key part of our presence at India ITME. The Optima for Bulk Continuous Filament (BCF) concentrates on the needs of carpet yarn producers. With the four-end MO40-C, MO40-E and TO40 extrusion systems, customers benefit from outstanding productivity, top-quality yarns and low production costs. The new variant Optima forIndustrial Yarn (IDY) transfers these advantages to the production of industrial and technical yarn. The TEC-O40 and TEC-O80 systems allow for the efficient manufacturing of high-tenacity, low-shrinkage, low-denier and semi-industrial filament yarns. Applications cover tire reinforcements, airbags, belts, geotextiles, ropes and nets, as well as tents and travel luggage.
Innovative and sustainable solutions for the market in India
India ITME 2022 offers a fantastic opportunity for our experts to speak to people from across the textiles industry in India and around the world. At Truetzschler, we view India as a market with exciting potential for further growth and we have a long track record of providing this market with innovations that cut costs, improve quality and productivity – and support progress for sustainability.
Truetzschler is looking forward to meeting new and existing customers at India ITME in December.
Visual Footage: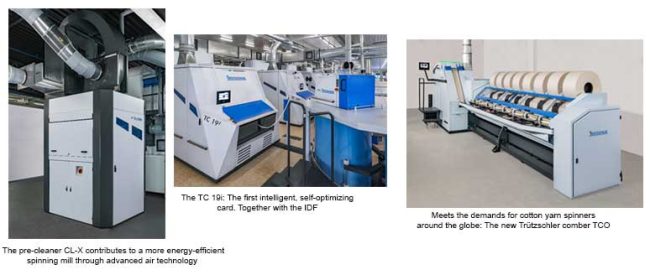 The TC 19i: The first intelligent, self-optimizing card. Together with the IDF system, it provides a lot of benefits including improved economic efficiency through process cutting, higher flexibility with shorter throughput times and lower investment cost.
About the Trützschler Group
The Trützschler Group SE is a German textile machinery manufacturer headquartered in Mönchengladbach, Germany. The company is divided into four business units: Spinning, Nonwovens, Man-Made Fibers, and Card Clothing. Trützschler machines, installations and accessories are produced and developed in ten locations worldwide. This includes four factories in Germany (Dülmen, Egelsbach, Mönchengladbach, Neubulach), as well as sites in China (Jiaxing and Shanghai), India (Ahmedabad), the USA (Charlotte), Brazil (Curitiba) and Switzerland (Winterthur). Service companies in Turkey, Mexico, Uzbekistan and Vietnam and service centers in Pakistan, Bangladesh and Indonesia provide customer proximity in key regions for the textile processing industry.Formore information visit: www.truetzschler.com.