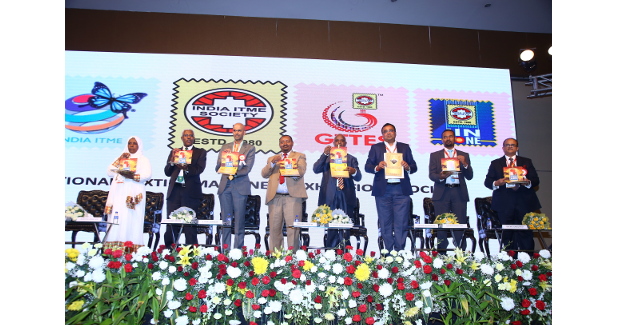 ITME AFRICA 2020 launched at GTTES
Organised by India ITME Society, the first edition ITME Africa is to be held in Millennium Hall, Addis Ababa, Ethiopia from February 14-16, 2020.
Organised by India ITME Society, the first edition ITME Africa is to be held in Millennium Hall, Addis Ababa, Ethiopia from February 14-16, 2020.
India ITME Society has launched ITME AFRICA 2020, an unique and exclusive business event with the theme ?Prosperity for AFRICA through Textile Technology? during GTTES 2019 event in Mumbai. Set to initiate a revolution in generating employment, encouraging skill development, motivating entrepreneurship in textiles, ushering investment, economic growth and thus bringing new aspirations for younger generation of African countries, 1st edition ITME Africa is to be held in Millennium Hall, Addis Ababa, Ethiopia from February 14-16, 2020.
During the launch of ITME Africa during the recently-concluded GTTES 2019 event, S Hari Shankar, Chairman of India ITME Society, said that the Society is coming together of a historic partnership between India and Ethiopia to propagate ?Prosperity for whole of Africa through Textile and Textile Technology?.
He added, ?India ITME Society and the Ethiopian Chamber of Commerce & Sectoral Associatio (ECCSA) together promise intelligent and influential audience in terms of governments, policy makers, industry leaders, consultants and experts to power faster social and economic development, create collaborative opportunity and stimulate industry growth.?
Melaku Ezezew, President of the Ethiopian Chamber of Commerce and Sectoral Associations, had this to say: ?ECCSA proudly join hands with the India ITME Society to assist the shared purpose of contributing to the development of Ethiopia through textile and textile technology industry. Together, we aim to provide a common platform to congregate the leading strategists, experts, innovators and management developers across the globe and promote technological advancement in the Africa textile industry.?
Adds Ezezew, ?We strongly believe that Africa is the next global manufacturing frontier. Textile can effectively capitalise Africa?s industrialisation, if it is given the necessary attention. The legitimate and nation-wide voice of the Ethiopian business community, ECCSA, is, thus, is partnering with ITME in hosting the African chapter here in Addis Ababa the political capital of Africa, to guide this continental purpose.?
Gherzi was the knowledge partner for the event, while supporting organisations included: the Textile Machinery Manufacturers Association of India (TMMA), the Confederation of Indian Textile Industry (CITI), the Textile Association of India (TAI), the Cotton Textile Export Promotion Council of India (TEXPROCIL), Indo-Arab Chamber of Commerce & Industries, India Textile Accessories & Machinery Manufacturers Association (ITAMMA), Bureau of Indian Standards, EEPC India, the Synthetic & Rayon Textiles Export Promotion Council (SRTEPC), Federation of India Export Organisations (FIEO), the Ethiopian Chamber of Commerce and Sectoral Associations, Ethiopian Textile and Garment Manufacturer?s Association, Afar Regional Chamber of Commerce and Sectoral Associations, Benishangul-Gumuz Regional Chamber of Commerce and Sectoral Associations, Gambella Regional Chamber of Commerce and Sectoral Associations, SNNP Regional Chamber of Commerce and Sectoral Associations, Tigray Regional Chamber of Commerce and Sectoral Associations, Ethiopian Chamber of Sectoral Associations, Addis Ababa Chamber of Commerce and Sectoral Associations, Amhara Regional Chamber of Commerce and Sectoral Associations, Dire Dawa Chamber of Commerce and Sectoral Associations, Oromia Regional Chamber of Commerce and Sectoral Associations, Somali Regional Chamber of Commerce and Sectoral Associations, and Indo-African Chamber of Commerce and Industries.
?I congratulate India ITME Society and ECCSA for this endeavor. The Embassy of India, Addis Ababa would continue to extend its fullest support to promote such sectoral cooperation as well as for further enhancement of trade and investment ties between the two countries. I am confident that ITME Africa 2020 will be rewarding experience for all participants and would provide fillip to the bilateral commercial partnership while we celebrate the 70th anniversary of establishment of diplomatic ties between the two countries,? Anurag Srivastava, Ambassador.
Demeke Atnafu Ambulo, Consul General of the Federal Democratic Republic of Ethiopia, Mumbai, said that history shows that textiles is one of the prime gateway for industrial development and has played a major role in economic growth of many countries. He added, ?An event of such prestige and magnitude shall definitely open up gates to many opportunities.?
Participating countries will include: India, Europe, USA, Ethiopia, China, Turkey, Egypt, Korea, Japan, Uzbekistan, Sri Lanka, Bangladesh and all other African countries. There will be a total of 27 chapters, covering the entire spectrum of textiles – from fibre to yarn and textile machinery and accessories.
Sileshi Lemma, Director General, Ethiopian Textile Industry Development Institute (ETIDI), said, ?Event like ITME Africa 2020 shall address the need of the industry and also inspire them to generate innovative ideas to facilitate quality production. The event will be a landmark for not only the textile industry, but the education and research institutes as well and shall prove to be a catalyst for the technology growth in the whole of Africa.?
?It is a matter of great pleasure and pride that after successfully organising a series of state-of-the-art exhibitions like ITME, which creates a global platform in India for national and international textile engineering manufacturers, they now spreading its wings at international market with a strong, confident, potential and dynamic team under a truly outstanding visionary leadership,? said Kaizar Z Mahuwala, President, ITAMMA.
Why Africa, why Ethiopia?
Despite an enormous untapped potential for trade expansion between India and Africa, India?s trade with Africa is concentrated in certain sectors and countries and is dominated by exports of primary commodities. While the potential for export diversification exists, it may not be realised without targeted intervention.
India is today the second largest textile industry globally and has a strong base in textile engineering, thus is well-positioned as a partner to improve the productive and export capacities of Africa. With the growing importance of South-South cooperation, India?s expertise can be leveraged to build textile industry in Africa through the sharing of knowledge, technology and lessons learnt.
In this context, the United Kingdom of Great Britain and Northern Ireland?s Department for International Development (DFID) mandated the International Trade Centre (ITC) to design and implement a project, called ?Supporting India?s Trade Preferences for Africa? (SITA) with specific objective of Increasing value of business transactions between India and selected African countries with the ultimate objective to create jobs and income opportunities. This initiative shall benefit East African businesses exporting to India, Indian companies importing from or investing in Africa and national trade and investment support institutions (TISIs). The give and take involves India, Ethiopia, Kenya, Uganda, Rwanda, The United Republic of Tanzania.
India ITME Society, non-profit organisation with single objective of promoting trade and technology in textile and textile engineering industry has signed an MOU with International Trade Centre (ITC) and Ethiopian Chamber of Commerce and Sectoral Associations (ECCSA), Ethiopia now towards this end.
In a first-of-its-kind joint venture, India ITME Society and ECCSA, a premier organisation in Ethiopia, along with International Trade Center, brings this unique and exclusive business facilitator opening up an entire continent of new opportunities.
Thus, ITME AFRICA 2020 is supported by Ministry of Textiles, Government of India, Federal Republic of Ethiopia, Ethiopian Textile Development Institute and International Trade Centre as Trade & Investment partner.
Human life and history is intricately woven with textiles, which was not just extension of our skin but also technology, more ancient than bronze and as contemporary as nanowire. The story of technology is in fact the story of textiles. From the most ancient times to the present story of economic development and global trade has textile at its core. As much as spices or gold, the quest for fabrics and dyestuffs drew sailors across strange seas, origins of chemistry lie in the coloring and finishing of cloth, the textile business funded the Italian Renaissance and the Mughal Empire. Most conspicuously, the Industrial Revolution started with the spinning jenny, the water frame, and the thread-producing mills in northern England that installed them. Before railroads or automobiles or steel mills, fortunes were made in textile technology.
In ways both subtle and obvious, textiles made our world. Its right tool to livelihood, prosperity, creativity for both genders, across cultures and geography weaving cultures, communities and nations together. That?s the base of ITME Africa 2020 – A signature event by India ITME Society. Not just creating business, but harmony and prosperity together.
History shows that textiles is one of the prime gateways for industrial development, as it played the major role in the industrial revolution of countries like India. Ethiopia being home to the African union has the potential to be the gateway to bring prosperity to Africa through textile and textile engineering products. This business exhibition shall showcase complete range of textile and textile engineering with a total of 27 chapters. Four broad categories are covered Textiles, Textile Technology, Textile Engineering, Financial Institutions and allied segment. Showcasing complete spectrum ITME AFRICA hopes to be instrumental in establishing Africa?s textile footprints prominent globally.
ITME AFRICA 2020 is poised to be more than an event or an exhibition and propose to bring to table complete solutions to textile industry development in the continent through affordable technology, International exposure, learning and experience, confluence of business houses, Investment opportunities, joint ventures, Access to Finance, Networking with technocrats, educators, thus paving way for a wave of knowledge, progress, growth and prosperity. Conceived and developed by India ITME Society ITME AFRICA is designed to serve as a gateway to all of Africa.This event shall bring multiple growth effects for not only to the textile industry but also the airlines, hotels, transport, tourism etc. and shall contribute to the development of the region in many ways.
With over 80 years of development and fastest growing economy in African continent, Ethiopia is showing potential to become Africa?s textile and apparel hub. Also being seat of African Union and one of the major countries in the continent of Africa with growing textile industry, Ethiopia shall host this international event in 2020, strengthening its position as a pioneer in modernisation its textile industry and positioning itself as a pivot for technology sourcing for Africa. And it hopes to be instrumental to make Africa?s textile presence more and prominent in the days to come.
Africa: One stop destination for textile
A huge growth opportunity for the textile and clothing industry, current and future. The foundation for this growth mainly rests on the strong economic indicators, attractive growth potential and the fact that the African continent is now the No. 1 destination for business prospects.
African countries provide investment opportunities to different partners and countries under the available trade agreements mainly through the African Growth and Opportunity Act (AGOA), under the EU?s Economic Partnership Agreements with African countries.
Africa?s current model has performed well, yielding strong economic and social returns. However, a progressive shift to a new strategic model is required to remain competitive. The industry must unite and evolve in order to leapfrog into higher growth and value addition.