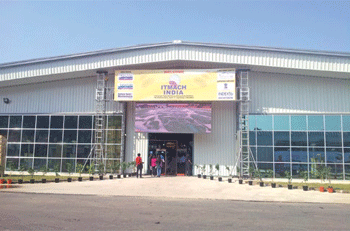 ITMACH and 2014 ends on a hopeful note
Gujarat today is a hub of industrialization and the State happens to be the first choice for potential corporates, industrialists and investors.Gujarat
Gujarat today is a hub of industrialization and the State happens to be the first choice for potential corporates, industrialists and investors. The State has always been a symbol of success in economic development – be it infrastructure or construction. In fact, the development of its textile sector is a contributing factor to its economy. With government announcing an additional 7 per cent subsidy to spinning units in Gujarat under the Gujarat Textile Policy, more and more textile companies are focusing on Gujarat as a primary production site.
To showcase excellence in textile technology and innovations, ITMACH India [for the second time this year after the runaway success of ITMACH Bhiwandi in January same year] was held between 10-13 December 2014 at Gandhinagar, a city at the outskirts of Ahmedabad. A similar kind of event, ITMACH Bhiwandi, was held to showcase technologies and machines for weaving and weaving preparatory, spinning and accessories, processing and finishing, printing, and other related segments. A concurrent event titled ´intexcon 2014´ was organised by Diagonal Consulting between 10-12 December parellel to ITMACH. Speaking during the launch of intexon 2014, Saurabhbhai Patel, Gujarat´s Minister of Finance Energy & Petrochemicals, Mines & Minerals, Cottage Industries, Salt Industries, Printing & Stationary, Planning, Tourism and Civil Aviation, said, ´Gujarat is moving towards becoming the textile manufacturing hub of the country. At such a time, an exhibition like ITMACH India is very much the need of the hour.´
Saurabhbhai Patel added, ´We hope that ITMACH India will be an annual event in Gandhinagar´s Exhibition Centre. I hope to see ITMACH India show grow from one hall today to several in the next one year, with full support of the state government.´ A few of the companies to whom our Assistant Editor had an informal chat during his visit to ITMACH India event in Gandhinagar, hoped that the year 2015 would bring back the lost smile to the entire textile industry in India. Some expressed that 2014 was not a good year for their company as well as the industry. However, they hoped that the launch of Textile Policy early next year would provide the much-needed boost to the otherwise ailing industry.
P Kasiviswanathan, Director, Picanol India, hoped that next year should be better for the company as well as the industry as compared to 2014. Kasiviswanathan, with a positive look on his face, said, ´Things are looking positive with the formation of the new government.´
Narendra Kumar Babel, Chairman of Coimbatore-based B. Tex India, a manufacturer of machinery for woven and nonwoven fabric inspection, felt that the textile industry is currently stagnant. Even big players like Vardhman, Oswal are a bit low key. However he hopes that the textile industry would see a positive growth next year. Speaking about the footfalls for B. Tex India at ITMACH event, he said, ´On first day we did not receive much inquires, however we received a few on the next two days.´ When asked about the textile industry in Gujarat, KL Mathur, Director of Universal Textile Industries and UniNvention Testing Equipments Pvt Ltd, said that the textile industry in Gujarat looks fine. However, the textile industries in states like Punjab, Maharashtra, etc. are on a slow path.
ITMACH India was organised by ´Textile Excellence´ and supported by the Government of Gujarat and iNDEXTb, an organisation of Gujarat Government and an investment promotion agency of Gujarat. Considering the size and response, ITMACH India has been conferred the status of pre-summit event to Vibrant Gujarat 2015 to stimulate investments in Gujarat. The Indian Textile Journal was one of the media partners for the<