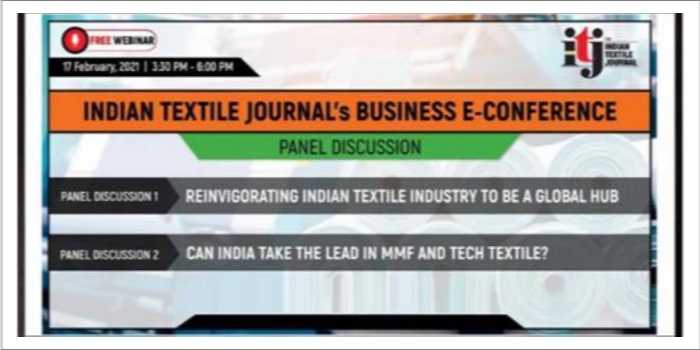 ITJ's textile e-conference discusses industry's growth map
Exploring new markets, digitisation, state of the art infrastructure and boost in R&D can reposition India as a leader in the global textile industry.
The Indian Textile Journal hosted "Textile
Business E-Conference" on 17th February 2021 with an aim to provide
a platform to all stakeholders to exchange ideas, collaborate and draw the
roadmap for the future. The E-Conference – comprised two panel discussions and was
addressed by key industry leaders who provided an insight into the Indian
textile industry.
The first panel discussion titled,
"Reinvigorating Indian textile industry to be a global hub", was moderated by
Prashant Agarwal, Co-founder & Joint Managing Director of Wazir Advisors.
The speakers at the discussion included head honchos of the textile industry
namely Ashok Juneja, President, Textile Association of India, Gurudas Aras,
Director, A.T.E Enterprises, Dr Jairam Varadaraj, MD, Elgi Equipments Ltd, and
Rahul Mehta, Chief Mentor, Clothing Manufacturers Association of India.
The first panel discussion focussed on
topics like India's standing in the global textile industry, capitalising on
supply chain disruptions, new challenges & opportunities in the post-COVID
era, can China's loss be India's gain, and suggestion to make the Indian
textile industry a global textile hub.
In the beginning of the discussion Prashant Agarwal said, "India's exports
have been stagnant for the last 4-5 years to about 38 billion dollars. The
domestic market in India is growing and the availability of manpower can
strengthen India's position in the global textile hub. However, India is
missing the bus. Countries like Bangladesh and Vietnam have taken over and are
riding the bus. Bangladesh's exports account to 40 billion dollars, Cambodia's
exports account to 15 billion dollars and Vietnam's exports have reached 38
billion dollars."
The
budget talk
Agarwal then touch upon the topic of Union
Budget 2021 and asked the panellists to share their thoughts on the hits and
miss about the budget. Responding to which Rahul
Mehta said, "The hits of the budget are the two schemes – PLI & Textile
Mega Park that were announced. If the execution and the fine prints of these
two schemes live up to the expectations these can be game-changers for the
Indian textile industry especially for the apparel sector. He further said, "The
government has hit the head of the nail by addressing the biggest weaknesses
with the Budget 2021 for the apparel export sector. However, it is the
execution that will determine if the goals that have been setup are envisaged
or not. The miss is the 10 per cent import duty levied on cotton. Overall, this
has been the most far reaching and boldest budget."
Ashok
Juneja, said, "The focus of the budget is to
improve the competitiveness of the textile industry. There is not much to
criticise the budget. A lot of promises are made to the demands from the industry.
The budget however does not address the textile engineering industry, which is
not as big as the apparel industry but accounts to Rs 15,000 cr. We import over
50 per cent of the textile machines. The government hasn't done much to boost
the textile engineering sector. If this industry is taken care of, we can be
self-dependant and even be a big exporter of machines and spare parts supplier
hub. Another area that needs grave attention is waste water management, which
has not been touched upon."
Agarwal said, "The textile ministry is
working closely with the textile machinery sector to create a mega machinery
manufacturing park. It is a work in progress. This will attract investment."
"There have been aspects of the budget that
are both positive and negative. The hits have been the announcement of the
textile parks and misses are the excise duties which have been levied. The
consequences are difficult to predict since these are all long-term goals. But
if we take a step back and look at it the budget promotes investment and are
strongly in line with it. If you distil it down to textiles once the investment
cycle starts the employment cycle will start. Hence textiles will be one of the
leading beneficiaries. We are beginning to see that already happening. We are
the only country that once a year wait for the finance minister to speak and
hope that something will be announced to transform our lives. I don't think it
works like that. However, this government is making progressively fundamental
transformations, which have a significant impact on all industries," said Dr Jairam Varadaraj.
Gurudas
Aras deliberated on the matter and said, "It is a
very bold budget. Giving the constraints the budget is very visionary and
growth-oriented. The big infra push and the health stimulus provided will
change the direction of the country. The infra push will help textiles too. The
announcement MITRA scheme for setting up 7 textile parks shows that the
government wants to create global champions in textile industry. This will help
the Indian textile industry achieve the size and the scale to be globally
competitive, which was missing. This will create a red carpet for scaling.
Bringing the nylon value chain at par with polyester was also a positive move.
The intention of the government is clear that there has to be shift from cotton
to synthetics. " He also said allowing women to allow in the night shift, will
be beneficial to manufacturers who provide value-added textiles like embroidery
and garmenting. " The big miss was nothing being done to address the issue of
inverted duty structure."
Has
India missed the bus?
In the second league of the first panel
discussion moderator Prashant Agarwal asked the speakers where or which areas
is India lagging behind. Commenting on the topic, Aras, said "India holds a
strong ground when it comes to spinning, with a 25 per cent market share. But
India misses the bus in value addition after the production of yarn. The
technologies are not state of the art. The real value addition happens in finishing
where India misses the bus completely. The finishing plants in Bangladesh are
better than India. Hence Bangladesh is stronger in providing finished in knits
and denims, which makes it difficult for India to beat. Similarly weaving is
another sector where we are losing since 70 per cent of our production comes
from power looms, making it difficult to compete globally. China became a
successful player in the industry because of its domestic machinery
manufacturing. We can also gain immensely if we manufacture textile machinery
in-house."
"Trillion dollars is the size of the global
textile market and India is about 100 billion dollars. So there is a lot
opportunity. You need to have a fundamental aspiration to build a global
business. The architecture of a global business is very different from a
domestic one. There are limitations and challenges. It is a constraint of
aspiration more than it is a constraint of resources. There is a lot of
similarity between the textile industry and the IT industry. Both of them are
price play. We are looking at selling products that are cheap. Then why is it
that the IT industry has succeeded but textile hasn't. To build a competitive
industry you need a larger game plan. If you are able to architecture the
financial intermediation with strategic intent to grow the business globally it
is possible to do so. The government does play an important role but it is
unnecessary to play the victim's role. There are opportunities to imagine and
architect a business in textiles which global in scale. This will help us move
up in the value chain and integrate forward, "said Varadaraj.
Mehta said, "India has never missed an
opportunity to miss an opportunity. One of the weaknesses of the apparel sector
is we see a global event and the re-assure ourselves and become complacent
thinking we will reap all benefits out of it. We do not understand what is
going to be required to make changes in our own operations. This is what's
happening when there's a report of China moving out of the apparel industry.
People often say that the apparel industry is moving out of China, but I think
China is moving out of it. The Chinese government is discouraging higher growth
in apparel, which is a labour intensive industry. They want to shift to more
value-added and technology-oriented industries."
"But why isn't India able to take advantage
of this situation. The main advantage China has is the scale of production,
which India does not provide, but countries like Bangladesh, Vietnam and
Cambodia have been able to setup. We cannot compete with a factory with 10k
machines in China with 50 machines in India. This is where we are losing out.
The other limitation is 70-80 per cent of our exports are cotton-based
products, which is low to mid-priced casualwear. We need to widen our product
basket. We need to diversify into uniforms, speciality performance garments, and
MMF-based apparel. Lastly the lack of availability of advanced technology since
we are a labour dependant country is why we are lagging."
Juneja said, "We need to be
cost-competitive whether it is through productivity or technology or quality,
to be able to survive. We need to adopt new technologies, where the initial
investment is high but the return will be there. Digitalisation and automation
increases the productivity and efficiency and pays off in the long run, but we
need to see and measure at what cost this happens too."
Challenges
& opportunities post-COVID
Speaking on the challenges that the Indian
textile industry needs to encounter post pandemic, Mehta said, "There needs to
be tighter control in terms of inventory, expenditure, and productivity.
Secondly, we need to get used to a changing consumer behaviour which is
increasingly moving online than offline."
Varadraj said, " If the pandemic has taught
us one thing it is not to overtly depend on one this or one country.
Diversifying is better."
"Medical and hygiene textiles hold huge
opportunities. Structural opportunities like looking at newer markets like
Japan, Canada, and Korea and not just the US and the EU. The challenges are
mainly in terms of costing and consistent quality. Entrepreneurs need to
manufacture locally and think globally," said Aras.
Juneja said, "We need to look at
import-substitution. We shouldn't bifurcate between the domestic and export
quality and stick to just one consistent quality. "
India
in 2021 & beyond
Navdeep
Singh Sodhi, Senior Partner, Gherzi Textil Organisation, Switzerland, was the key note speaker at the event and spoke on
"Opportunities for India in the global textile market in 2021 & beyond."
Sodhi provided valuable insights on the below five key trends across the
textile value chain which are witnessing paradigm shift:
·
Global T&C industry
undergoing an accelerated restructuring
·
International buyers keen to
diversify sourcing
·
Emergence of "China+N"
alternatives
·
Digitisation &
sustainability to have major impact on the industry
·
Evolution of new business
models and opportunities for the Indian textile industries
Sodhi also presented the five building
blocks for new textile ecosystem for India 2025 that needs to take into
consideration the following points:
·
Integrate circular economy.
Become a global hub for recycling post-consumer waste and for regenerated
fibres.
·
Widen our production base and
look at forward FDIs.
·
Increase our export market
share from 5 to 10 per cent in the 800 billion dollar textile and apparel market.
·
India can build scale in
technical textiles especially in composites, meditech and geotech.
·
India to be a hub for global
textile machinery. Textile machinery industry needs to be adjacent to where
textiles are being produced. Digitalisation is vital. Water-based technologies
will become increasingly important in years to come.
Can India
take the lead in MMF and technical textile?
The second panel discussion titled, "Can
India take the lead in MMF and Technical Textile?" was moderated by Avinash
Mayekar, CEO, Suvin Advisors. The speakers included industry veterans like
Anjani Prasad, MD, Archroma India, Anup Rakshit, Executive Director, Indian
Technical Textile Association (ITTA), Avinash Mane, Commercial Head, South
Asia, Lenzing, Dr Manisha Mathur, Joint Director, The Synthetic & Art Silk
Mills Research Association (SAMIRA), and Ronak Rughani, Chairman, The Synthetic
& Rayon Textiles Export Promotion Council (SRTEPC).
Avinash
Mayekar in his initial comment said, "As compared
to its counterparts, India's value chain for technical textiles is far behind.
The reasons being unlike Bangladesh, India does not enjoy any Free Trade
Agreements and duty disadvantages of raw materials for this sector. "
India's
position in the global MMF & technical textile sectors
The global pandemic came as a blessing to
the Indian technical textile industry. Deliberating on the topic, Anup Rakshit said, "Before the
pandemic, India produced couple of thousands of personal protective equipment
(PPE) pieces per day which in a matter of three months escalated to 5 lakh
pieces per day. This shows the tenacity of the industry. The basic raw material
was produced by Indian technical textile manufacturers and many apparel
manufacturers who were waiting to resume business, started manufacturing PPE
kits."
"There is no dearth of the raw material
which is basically a breathable film with a polymer propylene thin fabric.
Initially we did compromise on the specifications because of the urgent
requirement of the volume. This is why the product wasn't suitable for export.
We need to understand that such products are not manufactured and exported so
easily. One needs certification and to abide by regulations set by countries
like the US, Japan, and EU. A lot of manufacturers have received Level 4 certifications,
which are high-end. Besides PPE and face masks, we have identified 10 odd
products, which at the 6 HS Code level, which are the largest traded materials
globally. That is exactly why the PLI scheme mentions these 10 products. We
need to grab the share in this pie of the market. There are a lot of players
entering this market now," he further added.
Speaking about the MMF industry, Ronak Rughani, said, "The MMF industry
in India is one of the largest in the world with a large material base and
manufacturing strength across the entire value chain. India is the 2nd
largest producer of MMF in the world i.e. polyester and viscose fibres with the
presence of large plants with state of the art technologies. India is self-sufficient
in producing MMF varieties like nylon, acrylic and propylene. The domestic
industry comprises of polyester and viscose, which together account to 94 per
cent of production in terms of volume. Polyester occupies 77 per cent and the
rest is viscose. Our production capacity at present is 1596 million kg of MMF
and 3550 million kg of MMF filament yarn. "
"China continues to occupy the largest
producer of MMF staple fibre in the global market. The nation produced 14
million tonnes in 2019, up nearly 5 per cent.
Even though India is the largest producer, there is a wide gap between
the two. There is a huge gap to fill and there are plenty of opportunities
available," Rughani said.
Dr
Manisha Mathur disagreed that the pandemic has
bought the technical textile industry in India, she said, "Technical textile is
not new to India, it has been around for over 20 years. SADMIRA has been
contributing by producing white papers and research in this sector. However,
the research and development has been slow in comparison to other countries.
There is a lot of development in terms of research as far as raw materials, new
product or machinery are concerned. Ever since the manufacturing of agro
textile has increased in India, smart shade nets, water shade nets, solar shade
nets have been developed. These developments are on prototypes, it is for the
industry to come forward and take the lead in development of commercial
products. In terms of machinery, we have been testing PPE kits, if SITRA had
not developed the tester in advance, we wouldn't have been able to be doing the
tests today. Similarly for agrotech also SASMIRA has developed shadometers
which are BIS marked. Work is being done but at a miniscule level. The ministry
needs to allocate more funds for research and development."
Avinash
Mane, touched upon the topic of sustainability in
the panel two discussions and said, "Sustainability was a jargon until five
years back but is being put to practice in the last 2-3 years. COVID brought
the hygiene component and sustainability to light in the industry. We have seen
a clear effect of this in the last two quarters as global and domestic markets
started opening. We are seeing sustainability being addressed in terms of raw
material, supply chain, and post consumption. A lot retailers and brands are
now moving away from cotton. They are either moving to organic cotton or BCI
cotton. We at Lenzing launched a range of sustainable viscose anticipating the
future trend. We are unable to meet demands for our sustainable viscose. We are
going to convert our entire capacity to sustainable viscose and we have already
announced zero carbon options for all cellulosic fibres. It is not just
products that are getting certified but processes are also being monitored
today."
"Use of GOTS certified dyes and utilisation
of zero discharge facilities are being practised in the supply chain. Recycling
and closing the loop are also concepts that are being explored by the industry.
Biodegradability which is either product getting completely decomposed in the
soil or in water with the issue of microfibers being addressed is being given
importance. When it comes to cellulosic fibres, we have FSC and Canopy that
monitor our activities to source raw materials sustainably, " he further added.

Anjani
Prasad, said, "There is a lot wood required not
just for viscose but also for the packaging industry. Hence recycling becomes
extremely important. The chemical companies are also working towards it. The
issue with cotton waste is segregating it. It can be converted into viscose by
stripping, dissolution, and regeneration. We are trying to work out the best
possible ways of processing MMF especially for blends. There is a huge demand
for MMF as the prices of cotton are going up. India is far behind in terms of
quality provided by its counterparts like Korea and Taiwan."
Challenges
& opportunities for the MMF & technical textiles sectors
"The MMF segment is where there is high GST
rate due to the inverted duty structure. This makes the Indian products uncompetitive.
Other countries producing MMF products somehow circumvent the WTO guidelines
and over subsidise their products making them cheaper to its Indian
counterparts. This is a big disadvantage. However, the most important is that
we lack R&D which is hampering growth in this segment. Most of our fabrics
are woven while the world is moving towards knits. In India we lack innovation
in materials, " Rughani said while discussing challenges specific to the MMF
sector in India.
Talking about the opportunities the
technical textile sector holds, Rakshit said, "For the last 4-5 decades India
has been a cotton producing nation. We have a share of 30-70 of MMF and cotton.
This is totally reversed in other countries. We haven't really penetrated in
the MMF region and now everyone understands what needs to be done to atleast
reach of 50-50 in MMF and cotton. The domestic market for technical textiles
holds huge opportunity. We see a lot of interest in investment in this sector.
In February 2019, 207 items have been identified by the ministry of textiles
and commerce as technical textiles. In the last year 92 application were
mandated for this."
In addition he said, "We have a huge budget
for railways and roads. These hold big potential for geosynthetics and protective
textiles. We now see flame retardant curtain in railways and soon will see
nonwoven sheets in beddings in trains. In desert and drought prone areas
geosynthetics and membranes are used to make artificial ponds. These are some
opportunities that we can grab. India exports 15-16k crore HS codes to Middle
East, Far East, and the West. With China exiting from the global market India
has a great advantage. India also imports 15-16k crore worth technical textile
in a month. On analysing the data we found that the products made locally are
the ones that are imported the most since imported ones are cheaper and of high
quality."
"India is pre-dominantly is seen as a
cotton producing nation. Very few are aware of India's strength in MMF. We need
to change this perception. We have a strong base for our MMF products. There
needs to be a better communication strategy for buyers. Unless and until that
changes we are always going to be lagging behind. We need a lot of joint
ventures, education and research and development to improve the MMF industry.
We need to be out of solvent based technical textiles. The fluorine-based
industry is also getting into a lot of pressure; hence we need to eliminate
that too. The polymers used as adhesives in the industry are also not
recyclable and better alternatives must be used," said Prasad.
Dr Mathur said, "we have the availability
of young and cheap manpower, one-fifth of China. However, that is alone isn't
enough we need to train them too. We also have the infrastructure and the
movement along the value chain is well placed. We also have the entire value chain
and an active government promoting the field of technical textiles. The biggest
weakness is lack of standardisation and mandating."
Mane said, "Key positions in textile
industries whether they are in Bangladesh, Sri Lanka, Vietnam, or even in the
Middle East across the value chain are held by Indians. We are the best
spinners in the world. We have the technical know-how and the infrastructure.
The pandemic has also created new opportunities. It is up to us to grab them
and covert them. We require a level-playing field in terms of raw material to
make a quality end product to compete globally."
Pratap
Padode, Editor of ITJ, Founder & President,
FIRST Construction Council, unveiled the ITJ Annual 2021 featuring India's Top
50 Textile Companies. He said that "Though India has been taking the lead in
cotton it has been lagging behind in MMF and technical textiles due to
expensive raw materials and high trade barriers. The government is considering
the promotion of the MMF and technical textiles under the PLI scheme, one of
the hallmarks of the current budget. The scheme will provide incentive of 3-15
per cent stipulated incremental turnover for over a period of 5 years after a
gestational period of two year for Greenfield investment and one year for Brownfield
investment."
Ajit
B Chavan, Secretary and CEO, Textiles Committee,
Ministry of Textiles, government of India was the chief guest. In his speech at the virtual e-conference,
Chavan said, "We have seen closely how policies can change the whole scenario.
The government & industry partnership and proper policies can bring about
great growth stories. India's textile and apparel exports stand at 35 billion
dollars for 2019-20; we have been witnessing a downside. The global textile and
apparel sector in the last two decades has seen a good amount of growth from
360 billion dollars in 2001 to 837 billion dollars. Overall, the long term
trend seems positive."
"China is the dominant player with a share
of 32 per cent, followed by Bangladesh with 4.7 per cent and Germany with also
4.7 per cent, Vietnam with 4.6 per cent, India and Italy stand at 4.4 per cent,
and Turkey closely following at 3.3 per cent. If we map China's growth in the
last two decades, its shares have grown from 13.8 per cent in 2001 to almost 32
per cent in 2018. India's textile exports have grown from 10.6 billion dollars
in 2001 to 37.12 billion dollars in 2018 with a CAGR of 7 per cent, which looks
impressive on prima facie. But the last few years have not been a good story.
We are losing out our share in exports and losing out to countries like
Bangladesh and Vietnam. We are inhibited by our skills in production, lack of
competitiveness of products, fragmented MSME setup, and low productivity as
compared to our peers, and over dependence on certain export markets," he
further elaborated.
CATEGORIES Trade Fair