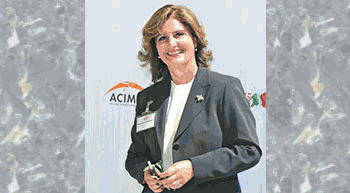 Italian machinery export to India up 14%: Carabelli
If you ask many an Italian textile machinery company, what are the factors behind their success, they mostly point out to two elements: Tradition & Innovation. For years, these companies have upheld the great values of their tradition, and by spending 5 per cent of their turnover constantly year after year on research and development (R&D), they have given priority to innovation.
If you ask many an Italian textile machinery company, what are the factors behind their success, they mostly point out to two elements: Tradition & Innovation. For years, these companies have upheld the great values of their tradition, and by spending 5 per cent of their turnover constantly year after year on research and development (R&D), they have given priority to innovation.
In Italy, there are approximately 300 companies who produce textile machines and related accessories, for a total of about 12,000 employees. Italy is today one of main producers and exporters of textile machinery in the world. In 2015, the production of Italian textile machinery amounted to 2.6 billion of Euro, 86 per cent of which (worth 2 billion Euro) exported in about 130 Countries. Asia (48 per cent) is the main export area, followed by Europe (35 per cent), North America (7 per cent), South America (6 per cent) and Africa (4 per cent).
After their great success at the ITMA Milano in 2015, Italian companies headed by ACIMIT were at the Saingotex, Vietnam and Indo Inter Tex, Indonesia recently — two of their emerging markets apart from India, China and Turkey. Very recently, a total of 26 Italian textile machinery manufacturers took part in the forthcoming roadshow in Iran, organised by the Italian Trade Agency and supported by the Ministry of Economic Development.
"Italy's textile machinery industry is a world leader for the quality of the technology proposed," commented Raffaella Carabell, President of ACIMIT. "We now have the possibility of returning to a market that has a great tradition, with even more success than in the past and with very interesting prospects. Thanks also to the support of Ministry of Economic Development and the Italian Trade Agency, our sector will take on the role of a strategic partner in Iran's textile industry."
Questionnaire for Carabelli has been leading her team to major countries and making roadshows to lure customers for the member-companies. Affable and sociable, she has a striking personality as a business woman. Despite her busy schedules in April and May, when she had been travelling to Asia, Carabelli found time to reply to a Questionnaire from the ITJ Editor through email.
Excerpts:
ITJ Editor: How is the scene post-ITMA Milano for Italian textile machinery industry?
Carabelli: The outlook for year-end 2015 was positive on the whole, with the production of textile machinery in Italy amounting to 2.6 billion euros, a growth factor of 13 per cent. Exports increased by 15 per cent for a total value of 2.2 billion euros. Over the first few months of 2016, the domestic market in Italy experienced a further recovery, with a significant increase in orders. On the other hand, foreign markets proved less dynamic.
ITJ Editor: How was the response from India in results for Italian textile machinery industry?
Carabelli: A total of 3,600 visitors from India attended ITMA Milan, making them one of the largest groups in attendance. However, it's still early to tell how many of the contacts obtained at the fair will translate into actual orders. The Indian market remains one of the primary export destinations for Italy. In 2015, sales of Italian machinery to India amounted to 139 million euros, up 14 per cent compared to 2014.
ITJ Editor: Tell us something about the Green Label initiative. How has it developed over the last few years?
Carabelli: The Sustainable Technologies project, which has as its main focus the Green Label initiative, was launched in 2010. Its main goal is to highlight the commitment of Italy's textile machinery manufacturers in proposing technology solutions that respect the environment while providing energy savings. Currently, over 40 Italian machinery manufacturers have adhered to the project, adopting the designation Suppliers of Sustainable Technologies. For these companies, the process for obtaining the Green Label is subject to controls by an independent certification body, RINA. Customers of Suppliers of Sustainable Technologies can therefore avail themselves of Green certified machinery, guaranteed to provide a low environmental impact and a high level of savings in terms of energy, water and chemical products.
ITJ Editor: What are the plans of the Italian textile machinery industry for the India-ITME to be held in Mumbai in December 2016?
Carabelli: ITME is the main trade show for our industry in India. Once again at this edition, a host of Italian manufacturers will be participating at the event, proving the importance of the Indian market for Italian exports in the sector.
ITJ Editor: This year we have ITMA Asia too in China. How do you compare the two countries — India and China — in the adoption of Italian textile machinery?
Carabelli: Overall, the two countries absorb 26 per cent of Italian exports of textile machinery. In China, we export mostly spinning machines and accessories, whereas in India sales of Italian products are focused primarily on finishing machines. However, beyond these contingent differences, it is essential to note that Chinese and Indian clients who acquire Italian technology do so because they recognise the quality of our machinery. Any company that competes on global markets must be able to rely on machinery that can guarantee satisfactory results both in terms of efficiency and low production costs.
ITJ Editor: How do you visualise the future of Italian textile machinery? Will there be any special campaigns to promote Italian textile in other countries?
Carabelli: Over the course of 2016, ACIMIT's initiatives to promote Italy's textile machinery industry will continue. During the first half of the year, we've received several incoming missions of foreign operators in Italy, organising collective participations at various trade fairs (in Colombia, Vietnam, Indonesia and the United States). Over the second half of the year, our activities will obviously focus on ITMA Asia, which as usual will be marked by a strong presence of Italian manufacturers: 114 exhibitors for a surface of about 5,400 sq m (+12 per cent on previous edition). Lastly, we'll also be present with an Italian business group at IRANTEX (September 2016).
Savio's range of machinery
Turkey is ranked in the top five export markets of Savio, so the attendance at Turkish exhibitions is meant at massive level for being closer to the important customers who are interested in Savio machinery for either their greenfield or expansion projects.
KTM, Kahramanmaras Textile Machinery Show 2016, organised for the second time, opened its doors to the visitors on 28 April. In the event, machinery and technology producers and textile and garment professionals determined their new investments by looking at new technology productions. Savio showcased new Eco PulsarS automatic winder and the drumless Multicone technology. Savio displayed the new Eco PulsarS automatic winder, the new Volufil machine, combining winding and thermic treatment, and the drumless Multicone technology.
At both exhibitions, Savio highlighted breakthrough innovations in winding segment, all representing high-end and niche products with important technological content:
* Eco PulsarS, a quantum leap forward in automatic winding;
* the drumless Multicone technology;
* the Volufil Multicone automatic winder for continuous shrinkage, bulking and heat setting.
Eco PulsarS
After the world premiere at ITMA Milan 2015, attracting a lot of attention from customers, Eco PulsarS was showcased in Turkey for the first time. EcoPulsarS, with its innovative platform can save up to 30 per cent power bill, reduce yarn waste, air conditioning costs & noise inside the spinning room.
Energy is a major cost component in the textile industry. The rising energy prices, affecting fuel and electricity, have caused soaring costs in the process, thus reduced the competitiveness of textile products in some domestic markets, where imported products may be cheaper. Suction represents 75 per cent of the total energy of a winding machine. EcoPulsarS's solution of the "individual and independent suction unit per spindle" represents a real breakthrough versus the conventional system. Each unit operates at optimum suction values without influencing the rest of the spindles.
In addition, independent suction systems are provided to the auxiliary devices for fully automatic machines. This means no more compromises in balancing the suction as in conventional centralised systems, in which the fan is permanently in operation. Since suction is generated only when needed, customer can save up to 30 per cent power bill costs, while a better efficiency, a smoother winding process and overall superior package and yarn quality are achieved too. EcoPulsarS combining all new features and design has created an environment in which each part of the machine can operate at its optimum level.
Spindles and bobbins feeding systems set independently the level of suction required. Suction is generated as needed and used without losses. The new controlled cut system, yarn tension control system, waste collection & separation system and upgraded splicing solutions, each contributing to the overall reduction of process downtimes. Eco PulsarS, with its sustainable eco-green advantage, replies to the market demand of energy saving, together with improved production performances, high quality packages and utmost flexibility.
Polar Multicone
Savio's well proven and the best-selling automatic winder model Polar is still the No. 1 winder in many world markets, for the traditional standard winding platform. This state-of-the-art machine has been designed keeping in mind the demands of our customers in terms of increased productivity, reduced energy consumption, reduced waste and production of yarn package of top high quality. Further emphasis has been given to realise machines friendly use and almost maintenance free for any type of working environments.
All Polar models (manual feeding, automatic feeding free standing and automatic link) represent the utmost technology available: the previous success of the mechanical models has been followed by the last generation of the fully controlled electronic one.
Savio's Multicone digital yarn layering technology (drumless) is available for Polar range and represents the proper solution to achieve flexibility, for an easy and fast change in the winding process to prepare all formats. Packages for dyeing, warping, weft, knitting, twisting, require a different and flexible package formation in terms of geometry, edges shape and density. Polar 'Multicone' system represents today the proper solution to achieve this kind of flexibility in the package formation.
Volufil Multicone
Volufil Multicone combines thermic treatment and winding process on a single machine. The consolidated success of the 'Volufil technology' and the new demand of different yarns for diversified fabric applications, has requested several new developments on the machine technology. The new Volufil Multicone represents the proper reply to the new markets requirements. The new winding system 'Multicone' allows the best solution for any yarn type and package format with different traverse take-up. The Multicone system allows the tailoring of package for different end use with simple settings on a personal computer.
AIRO® 24 high-efficiency dryer
Nearly 60 years, Biancalani, a leader in finishing technology, has been in the market worldwide. It has over 50 patents worldwide and is represented in more than 100 countries.
It has delivered around 2,000 machines and claims to have 100 per cent satisfied customers.
Biancalani's AIRO® 24 is the new and original high-efficiency dryer for continuous and open-width tumbling treatments of woven, non woven and knitted fabrics. A high quality finishing style which has no equal in the world.
The AIRO® has many salient features and the technical data is as follows:
* Production speed up to 50 m/min
* Processing speed up to 2,500 m/min (93 mph or 150 km/h)
* 500 kg/h evaporation capacity (up to 750 kg/h)
* Working width up to 360 cm
The AIRO® 24 principle
Fabric moves at a very high speed, suspended and transported by the air flow, in alternate directions… this is the heart of AIRO® 24 treatment. The special grids placed in front of the channel openings allow the fabric to discharge the accumulated kinetic energy while it acquires body, volume, drape and better stability, getting rid of any excess of humidity at the same time.
Applications
A very wide range of materials are suitable for AIRO® 24 treatment. The flexibility of its functions allow this machine to adapt to any type of product: natural fibres (cotton, linen, ramie, jute, silk, wool, and blends), artificial fibres (viscose, cupro, polynosic, polyammide, Tencel, Lyocell, Modal), synthetic fibres (PES, nylon, acrylic, PP, PU, PVC) in all types of construction such as woven, knitted, flock and non-woven, with different application: apparel, upholstery, technical textiles. No limits in weight and width. Results are obtained in complete safety and absence of defects.
Treatments and results
* Air flow intensive tumble drying, mechanical chemical-free softening on dry fabric and with steam application, or after chemical impregnation.
* Softness, drape, volume, dimensional stability, elasticity and sewability (AIRO® Hand)
* Opening of the chenille, three dimensionality on jacquards, depth and richness of colours on yarn-dyed fabrics.
* Perfect straightening and complete relax and de-twisting of the loops (super-soft, super-swelling) on terry towel.
* Uniformity with no directionality on pile fabrics.
* Hand breaking on particularly rigid fabric, also coupled, and laminated.
* Grain-enhancement and natural/aged look on synthetic leather.
* Peachy hand on emerized and brushed surfaces.
* Single pass high efficiency AIRO® polymerisation of resins: resilience, crease-resistance (easy care), wrinkled effect and casual look.
* Defibrillation and cleaning treatment after bio-polishing and surface finishing.
* Softness and uniformity of the surface on printed cloths.
An exclusive continuous steaming unit can be installed at the inlet of AIRO® 24. This device acts evenly on the whole width of the fabric during the passage immediately preceding the entrance in the machine.
Smart-Switch technology: With this unique and patented device, which intelligently controls and optimises the direction switching of the air which drives the fabric, AIRO® 24 can finely modulate the intensity of the mechanical action independently from the drying power. From lightweight materials to heavier ones made of delicate yarn, every type of fabric will benefit from the smart-switch technology, with a considerable increase in the drying capacity of the machine. AIRO® 24 smart-switch can be installed also on the tandem versions of AIRO® 24.
Synchronised internal steaming: A specially designed steam distribution system—composed by two steam delivery units placed at each entrance of the treatment channel—injects the desired amount of steam right into the air flow, which efficiently pushes it through the fabric throughout the whole length of the channels. The result is a perfectly uniform steaming action, thanks to the fast movement of the fabric and the synchronisation of the steaming direction which also prevents condensation. Steam is delivered at the right moment, in the right place, with AIRO® 24.
Main 12.1-inch touch screen with auxiliary touch panel at fabric exit, redesigned user interface, new real-time monitoring, history and statistics functions, open interconnection with existing monitoring systems.
Twice the power!: With AIRO® 24 the loop of terry relaxes and is positioned vertically to the base of the handwork and the tandem version (patented), designed especially for the needs of manufacturers of terry, knit and velvet, offers twice the drying capacity compared to the standard machine. On this variant it is also applicable the smart-switch device which further increases the machine drying ability.
Aleph: A world of digital printing solutions
Created in 1999 in Como, Italy, the heart of the Italian textile manufacturing excellence, Aleph is a company with a solid know-how in the construction of printing machines and in the development of supporting software.
From large format textile printers to drying systems, from proprietary software to consumables, Aleph develops and manufactures technologically-advanced products for each individual printing process, and offers reliable after-sales technical support services. Its customers are style offices, converters, interior designers, advertising companies, graphic arts industries, etc.
Aleph distributes in the UK, India and Turkey through reliable partners. On September 2016, Aleph is opening a new office in Istanbul with a demo centre and the possibility to host several training sessions. The objective is to strengthen its presence and its competence directly on the field.
The first LaForte® printers have been already installed in Europe while some others will be delivered to Asia during September 2016. Aleph has also announced its participation to FESPA Eurasia in December.
Technical expertise in pigment inks
Alongside Aleph invests in the research for effective solutions to complete the printing process such as inks, papers, and other useful accessories. To cope with the increasing interest in the pigment inks, Aleph has developed a new series of products for digital printing on cotton and natural fibres, compatible with Epson technology (PIGMENT PTS-Series 2) and, soon, even for KYOCERA (PIGMENT PTS-K Series 2). Alessandro Manes, AD of Aleph adds "the pigment inks are designed to respond primarily to the needs of the promotional and fast fashion markets and ensure high performance in terms of runnability and color range to print directly on the fabric without any pre or post treatment." Among the main advantages of Aleph pigment inks there are: compatibility with the majority of printers on the market, easy to use and especially resistance to washing and the duration in the time of printing.
SmartColor® plays with colours
The magic formula lies in the versatile and easy to use software as SmartColor® of Aleph. SmartColor® is a programme for the production of textile design variants through the use of colour charts and it is realised especially for style offices and converters. It allows to quickly realise variations through the monitor with a precise and clear final colour simulation. The software can display more variants at the same time and is capable of handling an unlimited number, with the advantage of including all the information in just one file.
It is a proprietary integrated system for the management of images from small to large size and for colour management through editing functions on variants, such as copy, paste, duplicate, import, etc. The colour definition can also be done with a spectrophotometer, allowing the generation of new custom colour atlases.
And for a perfect realisation, the software allows a careful control of all stages and especially of the final design, approaching in this way the digital printing with conventional printing. SmartColor® by Aleph is a universal programme that can be used with all printers equipped with Microsoft or Windows drivers and all textile products on the market.
For further information:
Email: info@alephteam.com
Deltair: Air engineering at its best!
When people think about a textile production, about a factory, that concretely produces spun, woven and/or finished products, the air treatment is one of the last things considered connected; this is the reason why people, experts excluded, might think that air conditioning for the factory is one of the last steps in order to start up a good quality production. Actually, this is totally incorrect, as more than 20 years of experience have taught us, say sources at Deltair Srl, an Italian company.
The choice of a proper conditioning plant for a factory is really important, and must be well considered because a good choice brings a lot of benefits in quality and quantity of the production. Especially when we think about extreme climate situations, as the Asian or African, a good conditioning plant can make the difference!
The results of a right choice? Find it out, is a practical list about how a proper conditioning system could improve the business:
* Best working condition for your workers (and everybody knows, when people are happy they can do their best!)
* According to the needs of every working process, is possible to maintain the values of temperature and humidity (… and everything under control!)
* Working phases are faster (… and your production increases!)
* It lowers the static nature of raw material, it maintains their percentage of humidity, making easier to work on it and decreasing its impurity (… and you can produce better products!)
* It slows down thermic consumption, because heat produced by machinery is cleaned, filtered and recycled (and you can save money…and the planet!)
Deltair was founded in Biella, a traditional textile area in the north of Italy, and are now a funded reality in the field of industrial air for textile industry. Since 1992 it designs, builds and installs customised plants. Deltair's goal is giving the best service in order to satisfy all the different needs. The owner of Deltair, Dario Cimma, has been working more than 10 years for different companies in this field, and when he had gained the necessary experience he decided to found his own company. Today Deltair is 24 years old, and it has worked with the best textile realities in Italy. But the times have changed, as the textile market and the world around, and expanding abroad has become necessary. Since five years Deltair has started to look forward and out of the borders, starting to work in Europe as well (Portugal, Russia…), and this is the reason why it participated at ITMA 2015 in Milan, looking for new international contacts. Innovation has always been one of its goals, Deltair has been incessantly studying new technologies that could improve production and environmental impact.
Deltair's new managing system can reshape any plant as per needs, thanks to an inverter, and continuously and proportionally the air flows and adjusts the needed quantity of water. This ensures in any time the necessary power and limits the unnecessary consumption. Its ESC system, combined with PLC setting, gives the plant which can adjust the whole consumption of water and air according to the real needs of the machinery.
Any project at Deltair begins with an idea; actually with a medley: an idea and a need. Its customers come with a need, and the management carefully listens to them, studies their reality, and takes it to the design phase, and then the project arrives in its production workshop, where the plant is built and tested with the utmost care. Deltair takes care of the installation finally. Deltair's strength is not only the use of quality materials, to low consumption and eco-sustainability of its plants as well.
For further information:
Web: www.deltair.it
ITB for seamless felt belts
ITB, a member of the Germany-based Heimbach Group, is a manufacturer of seamless felt belts for use on textile finishing calenders. ITB can boast of several top-of-the-range needling machines no competitor can even dream of, which make the production of smooth, flexible and non-marking felt belts a reality.
With a strong worldwide presence ITB has been focusing in the last few years on the Asian markets and especially on the subcontinent, where its felt belts for compacting, sanforizing and continuous finishing calenders have met with strong success with both end users and machine manufacturers.
A young, highly motivated and energetic agent has allowed ITB to become a well-established brand name among the price-conscious Indian textile finishing mills and machine makers who are now ready to pay a small premium to enjoy the stellar quality of ITB felt belts.
ITB will be present with its own stand at the India-ITME show where visitors will be introduced to the latest developments in its range of felt belt products. A strong believer in the benefits of participating in trade shows ITB has enjoyed a considerable increase in turnover thanks to new customers who visited its artfully designed ITMA Milan stand.
For further information:
Industrie Tessili Bresciane S.r.l.
Via Z. Isacco, 4, 22046 Merone (CO), Italy
Tel.: +39 031 650106 | Fax: +39 031 650686
Email: lara.lenatti@itb-felts.it | Web: www.itb-felts.itt