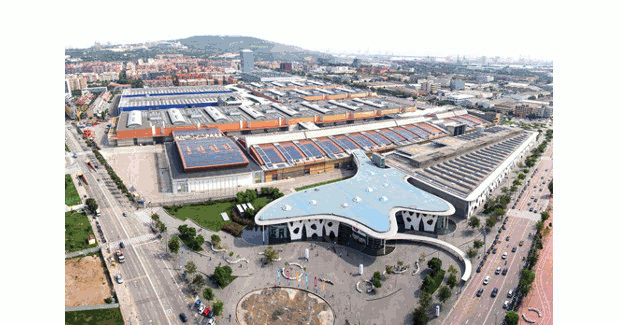 Innovating Tech-styles Over 1700 Exhibitors from 46 Countries
Industry 4.0 and sustainability are the two big elements, which will be vying for attention of the textile industry from the 46 countries, who will be queueing up to witness the technological innovations of over 1,700 exhibitors at the ITMA Barcelona from June 20 to 26, 2019.
Industry 4.0 and sustainability are the two big elements, which will be vying for attention of the
textile industry from the 46 countries, who will be queueing up to witness the technological
innovations of over 1,700 exhibitors at the ITMA Barcelona from June 20 to 26, 2019.
The stage is set for ITMA 2019, the world's largest and trendsetting international exhibition for the
textile industry at the Fira de Barcelona, Gran Via venue in Barcelona, Spain. This is the second time
Barcelona has the privilege to host this mega event, after the 2011 show. The quadrennial event,
starting from June 20 to June 26, 2019, is expected to point to a new course and diversified
directions in technologies, that are likely to impact ecological changes, paving way for
sustainability.
At last ITMA 2015 in Milano, digital printing made a big show, taking centre-stage, demonstrating how
the world of designs has undergone a revolution. That revolution is still on. Industry 4.0, hardly its
surface was scratched then. But this ITMA is all about Industry 4.0, says grapevine. It will set the
tone: The future of the textile industry is more and more determined by Industry 4.0. Industry 4.0 has
many dimensions and possible fields of application. In three of them (Smart Services, Operations and
Factory), key solutions are provided by the machinery industry. The other ones from smart textile
products, marketing and sales, employees up to strategy and organisation are specific know-how issues
for textile mills. At the ITMA 2019 in Barcelona, visitors will have the chance to see how Industry
4.0 solutions are impacting the textile process chain.
The second most important changes that are bound to impact the textile value chain are energy saving
aspects of the entire machinery sectors and water-based issues for the dyeing industry. Research from
most of the European companies are focused on energy saving devices and making the process less
complicated. The dyeing machinery makers have concentrated on reducing water usage and wastage. With
these efforts, ecology is bound to thrive in the long run.
Another factor that is expected to play a key role is events to kindle the mood for collaborations
among all the stakeholders. For this special forums have been lined up. Says Fritz Mayer, President of
CEMATEX: "As technological developments are happening at breakneck speed, and collaboration is
becoming increasingly necessary in a globalised economy, the industry has to stay abreast of the
latest developments and trends. Hence, ITMA will be staging several forums to help participants be
ahead of the competition curve."
"The forums also offer a valuable platform for various associations and professionals to connect and
network with the right players. This is especially important as collaboration and partnerships from
research institutions to technology, chemical and raw material providers and users are increasingly
more critical to business success."
In addition to the forums, other knowledge sharing activities include the ITMA Innovation Lab. An
important element of the lab is the ITMA Speakers Platform where all ITMA exhibitors have been invited
to participate. The Platform will be complemented by a video showcase. A new highlight, the ITMA
Innovation Video Showcase will provide a new channel for visitors to learn more about innovative
exhibits at ITMA 2019.
To make it easier for the visitors and exhibitors, ITMA has launched an app, which will enable
participants to plan their visit, make appointments with exhibitors before the show, navigate the show
floor, and access the latest information at their fingertips.
Speaking with ITJ on a new feature that distinguishes this edition from the previously-held ones,
Charles Beauduin, Chairman of ITMA Services, says "For this edition, our theme is 'Innovating the
World of Textiles'. To support this theme, we have launched ITMA Innovation Lab. The Innovation Lab is
a new umbrella branding of a series of activities where participants will be able to explore and share
new research developments, discuss new collaborative projects and get insights into future industry
trends."
"In addition, we have invited various partners to co-locate their events at ITMA 2019. Participants
can also look forward to attending a number of forums, ranging from sustainability to nonwoven
production and digital printing," added Beauduin.
Here are some of the dropped hints: Brückner has developed an intelligent machine assistance system
that monitors the settings of the entire system in the background. Deviations from default values are
immediately signalled to the machine operator and stored in the production history logbook; Karl
Mayer's KM.ON's range of features has been extended considerably. A good example from Karl Mayer is a
new digital tool that combines a PDA system with a ticket system to enable any disruptions in
production to be managed efficiently. The relevant information can be input easily and quickly at the
machine and forwarded to the appropriate location in real time; Sedo-Treepoint is introducing a new
series of dyehouse controllers. The new series is specially designed for Industry 4.0. The open
connectivity on production and machine level improves the M2M-communication. Important information for
the production floor is displayed wherever required.
A.T.E. Huber Envirotech (AHET), a collaboration between A.T.E. Enterprises of India, and HUBER SE of
Germany, will exhibit its wastewater treatment technologies. A.T.E.'s AAA® technology is a proven
solution for treatment textile wastewaters that enhances biological treatment efficiency and minimises
sludge generation. Contrary to conventional wastewater treatment processes, AAA® reduces both chemical
consumption and sludge generation, while maintaining consistency in the treated effluent quality. In
addition to AAA®, A.T.E.'s state-of-the-art SUFRO and MEE technologies enable wastewater recycle and
ZLD for textile wastewater treatment.
Precision Rubber Industries, manufacturers of renowned 'Precitex' brand aprons and cots, were the
first Indian company to participate at ITMA, which was held in the year 1975. Since then, Precitex
has never missed a single show of ITMA. Says the company's Managing Director, Diven Dembla, "ITMA is
like a networking zone for us. We can meet a lot of potential buyers for our products." For this ITMA,
Precitex will be launching a quite a few products: SP Series apron, CC 63 Cot, XP G 83" cot, and CD
6080 cot.
Coimbatore-based MAG Solvics, who are participating for the third time, will be exhibiting new
products (HVT Genius – Fully automatic fibre tester; AccuNeL – Cotton Neps and Length Tester; LaboDyer
R24 – IR Lab Dyeing machine) and re-engineered version of its existing products: (UniStretch XT –
Multi Strength Tester) apart from its regular range of products. MAG Solvics' Director,
Dhandayuthapani (CD), thinks that the company is doing exceedingly well in the global markets. "Though
we started supplying to export markets from the year 2000, but we decided to participate in big expo
with high-valued products in order to compete with global leaders. Our presence in the expos have
given us the focus that we needed."
One of India's prominent and fast growing textile machine manufacturing companies, Prashant Group will
be displaying its top-of-the-line automatic robotic sectional warping machine. Amoli Shah, Director,
Prashant Group of Industries, says, "We have entered few new markets in Europe and South America. The
product we sold in Europe is our high tech sectional warping machine, while in South America we sold
our indigo dyeing range. ITMA is a platform for us to showcase our latest products and innovations as
we receive highest number of international visitors."
Schoch Reeds, who are very famous for their reeds, plans to launch three new products – heald frames,
heald wired and drop wires. "We plan to cover the entire spectrum of accessories for the weaving
segment," says Kuldeep Pareek, who recently took over the helm as General Manager – Sales & Marketing
of Schoch Reeds India.
On USPs of these new products, Pareek had this to say: "The main USP of these products will be the
delivery time and the raw materials used. We are using quality-graded steel, which is imported. The
steel used is very hard. For these products, finishing is very necessary. So we are using the best
technology of finishing. Pricing wise, it won't be very much cheaper, but it will be very
competitive."
Texcoms Textile Solutions (TTS), a subsidiary of Texcoms Worldwide, plans to meet customers from new
countries. The company helps clients develop capabilities that result in improved revenues and reduced
costs. R Janarthanan, COO of TTS, says "There are many consultants in the world, but only a few have
the capability to undertake Gap analysis and also fill in the gaps with an implementation programme.
We will be showcasing this advantage at ITMA. We are targeting countries, whom we have not tapped yet.
These countries include South America, Europe, CIS countries among others. We hope to meet more people
at ITMA and showcase our projects and methodologies to the world."
Sushil Verma, Managing
Director, Kusters Calico Machinery,
feels that for machine manufacturing
to sustain growth, it is must to have
a presence in the international
market. He adds, "And as our market
share on export business is
significant, we prefer participation at
international exhibitions. This helps
us to get in contact with customer
and showcase our latest technology."
"From Kusters Calico, we are going to exhibit our
newly-designed washing compartment. With newlyadded
concept of fabric transport and better washing
efficiency with minimum consumption of water, steam
and power. From our group company, Jagenberg Textile,
Germany we are going to exhibit Padder 222.11, which is
one of the best dyeing padders," says Verma.
Peass Industrial Engineers, one of the leading
manufacturers, suppliers and exporters of first stage
textile machinery, winding machines, yarn winding
machines in India, will be displaying its latest technology precision winding machines. These
are used for soft package winding,
assembly winding, re-winding.
Speaking on the unique features of
this winding machine, the company's
Vice President of Sales and
Marketing, Mangesh Chaudhari,
says, "It provides huge power
savings in twisting by
accommodating required yarn
content in smaller diameter TFO pots; zero breaks in TFO
due to package faults, least increase in hairiness; and best
unwinding performance even at high unwinding speeds
on high speed air jet looms, minimal bottoms in warping,
significant improvement in loom efficiency."
Apsom Technologies will be displaying Konica Minolta
Nassenger 10. Vir Vikram Bhatia, Managing Director,
Apsom Technologies, says, "This is high speed digital
textile industrial printer with production speed of 580 sq
m/hour. The unique combination of printer, print head
and inks from the same company, i.e., Konica Minolta
enables it give high volume with increased speed and
design reproducibility."
In textiles, Advanced Graphic
Systems' (AGS) principals—X-rite Inc
of USA, Copower Technology of
Taiwan, CST of Germany, AREL of
Israel and TREGI SISTEMI of Italy—
will be exhibiting their state-of-theart
products. Rajesh Shah, Senior
Vice President – Sales, AGS, says,
"We have always participated in
ITMA as a visitor and not as an
exhibitor, attending our principal's stall to take care of
our Indian visitors. From India, most of the high profile
visitors such as CEOs, Directors, MDs, CMDs, Presidents,
Vice Presidents, Dying Managers, Printing Managers
attend the show."
Hiren Patel, Managing Partner of
Konica Electronics, who will be
visiting ITMA as a visitor, expects
ITMA to be a great platform with a
lot of new technologies coming in.
He says, "It's basically like an
educational institute for us; a
five-day course, a global platform
wherein we get opportunities to
network, collaborate, gain
knowledge, develop skills and prepare for the future."
Gujarat-based Meera Industries is going to exhibit its
range of innovative twisting machines for carpet yarns,
ropes, twines and thread. Carpet cabler/carpet twister is
a heavy-duty direct cabling/twisting machine with sturdy
structure designed to produce premium quality yarns for
carpet at most economical cost. Having a denier range of
1,200-12,000, this twister/cabler is suitable for all types
of BCF (bulk continuous filament) and textured yarns like
PP, polyester, nylon, etc.
Other leading textile machinery players are also not
behind. Each and every company is making its presence
felt with high-end machines at ITMA. A few top
companies include: Mayer & Cie. to exhibit MJ 3.2 E, a
Single Jersey machine for body mapping; Saurer's latest
generation of CompactTwister; BMSvision MES suite for
the textile industry; Benninger's latest innovations in
dyeing and washing; to name a few.
The above are just a very few glimpses of the big changes
in technologies slated to woo industries from 46 countries.