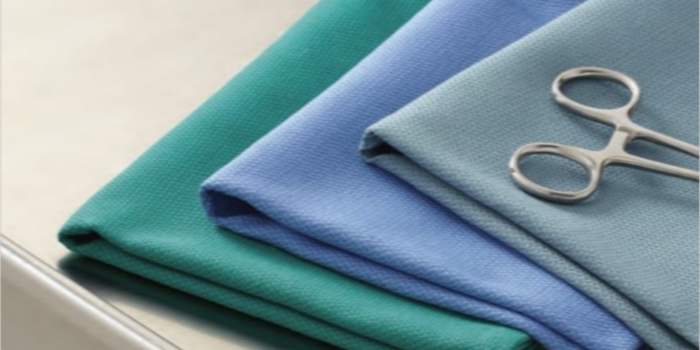 Indian technical textiles industry at the forefront
The Indian technical textiles sector, which was touted as the next sunrise sector, is finally getting its due, thanks to the rising awareness for medical textiles and other nonwoven products like masks, gloves, etc. due to Covid-19.
The Indian technical textiles sector, which was touted as the next sunrise sector, is finally getting its due, thanks to the rising awareness for medical textiles and other nonwoven products like masks, gloves, etc. due to Covid-19. The emergence of Covid-19 has brought the world to a standstill. While companies across industries felt the impact of Covid 19, the technical textiles sector, as an exception, rose to the occasion and delivered millions of personal protective equipment (PPE) suits and masks to fight Covid-19 pandemic.
The global demand for technical textiles has also expanded. It is an emerging field of advanced technology that is steadily gaining ground in India. Furthermore, investments in industry sectors such as automotive, infrastructure, among others drove the consumption as well. So today, the growing sectors within the technical textile industry are mainly the medical, protective, agricultural textiles as well as geotextiles due to a rising demand.
Speaking on the opportunity for technical textiles segment, Pramod Khosla, Chairman and Managing Director of Khosla Profil, said, "This pandemic has brought in that opportunity where the regular businesses have been affected in a big way, but I have been always promoting the concept. If the industry in India has to grow, the people who are there and people who want to enter, they believe they have to think about the global market. If you put the projects in India, which are only for the Indian market, it is not going to really be successful. And that is already led to India, losing a lot of opportunities in several products, where the companies from Europe and US went to China, rather than coming to India." (Watch the video on ITJ Website: Click here)
China and the US held the largest shares of the global market for technical textiles in 2018, and the technical textile sector is continuously developing and growing. Due to factors such as improving technology, growing demand from different industries and increasing support from governments, technological textiles are expected to be a massive market in countries worldwide, with Asia-Pacific being the pioneer. There's also been a change in the understanding of the market for technical textiles.
For India to be successful in the technical textiles segment, Khosla added, "Since India is an agriculture-based economy, so agro textiles will play a much larger role and where India can be a good exploiter of products. There is a lot of construction and infrastructure activities going around in the country, so geo textiles may play a role here too. India has been at the forefront in the last two months in the medical textiles segment. I would say that sky's the limit for the segments that are open."
Covid-19 and the subsequent lockdown have severely impacted small businesses as their cash reserves have depleted and clients have cancelled orders. The sector is staring at huge losses. MSME Minister has hinted that there may be a relief package for MSMEs. Meanwhile, Small Industries Development Bank of India (SIDBI) has decided to lend Rs 50 lakh to Rs.1 crore at an interest rate of 5 per cent, without guarantee or mortgage for MSMEs involved in producing essential goods. SIDBI is not charging any processing fees for this loan and no additional charges will be levied even on pre-payment. This loan is available to all MSMEs providing services connected with the production of essential commodities. These products include such items as masks, sanitizers, gloves, medicines items, permitted drugs, ventilators, N95 or higher masks, protective gowns, shoe covers, etc.
Rs 1480 cr boost to TT
Recently, during the Budget allocation, the Finance Minister had launched the National Technical Textiles Mission by allocating Rs 1,480 crore ($205 million) for a four-year period beginning this year. The earlier National Technical Textiles Mission, which was launched for a period of five years (2010-11 to 2014-15), with an allocation of $1 million, was extended till March 2017. The mission targets an average growth rate of 15-20 per cent annually and domestic market size of $ 40-50 billion by 2024. (Read full news on ITJ website)
On the launch of National Technical Textiles Mission, Dr S K Sundararaman, Managing Director of Shiva Texyarn, and Chairman of the Indian Technical Textiles Association (ITTA), said, "At the outset, it looks like a fantastic deal for MSMEs. The line of credit has been extended to all companies having a turnover of below Rs 100 crore. Of course, there are other measures like not floating global tenders for all sub Rs 200 crore contracts of the government and making them available to local companies, giving support to stressed MSMEs, etc. which are extremely significant. I think these measures should go a long way in tiding over any crisis that the Covid-19 has cost. MSMEs and, in particularly technical textile industry (where most of the companies fall into MSME category) will significantly benefit from the measures announced by the Finance Minister." (Watch full interview)
"The growth of technical textiles in India has been quite slow. The per capita consumption of technical textiles in India is very low even compared to other developing countries. Due to challenges such as unavailability of cheap raw materials (which predominantly have to be imported as they are mostly synthetic in nature) and a few other things, Indian firms are unable to compete in the global market," said Dr SK Sundararaman.
"In these unprecedented times, the nonwovens and related industries are proving to be an essential partner in the fight against the coronavirus pandemic. Consequently, EDANA—as the European nonwovens industry association—has been working closely with the European Commission, the nonwoven supply chain and other associations to find solutions to the continued provision of the essential medical and protective equipment and to any bottleneck in the supply chain. In spite of slowdown in nonwovens, following general economy, the global per capita consumption is expected to grow from 1 kg to 2011 to 2 kg by 2025," said Jean-Michel Anspach of EDANA.
Amit Agarwal, Chairman of CTM Technical Textiles, gave a ballpoint figure on the global technical textiles industry. He said, "The global technical textiles market is around $220 billion, of which $60 billion in nonwoven, which is around one-fourth of the overall market. In India, the market is around 5 per cent, whereas China is around 20 per cent. United States and Europe constitute around 50 per cent."
Speaking on the CAGR growth of the technical textiles industry, Dr Seshadri Ramkumar, Professor, Nonwovens & Advanced Materials Laboratory, Texas Tech University, USA, said, "Based on the GDP growth, the time correlation to the purchasing power parity is going to go too much for the economy. At that level, India was $1,000, consumption was 200 grams. The US was $40,000 and three kilogram consumption. The industry will mature when it is three kilogram. So there is a tremendous growth in this decade. So roughly it will be around 13 to 15 per cent."
Rising demand for PPEs and other products
Shiva Texyarn has been well poised to work on this opportunity and has come up products for PPE. He added, "Our laminators have the capability of using barrier films and hence being able to create the right kind of product that is required for the use by doctors and others."
Said Dr SK Sundararaman "Because of our past experience in working with the military and other high specialty applications, we have the requisite seam ceiling and closing technologies, which are also part of the complex PPE garment making process. Today our knowledge of filtration, barrier and insulation fabrics has also allowed us to get into making of a range of protective mask offering the highest level of protection and high level of comfort. We believe there will be a demand for antibacterial and antiviral solutions being applied to textiles in conjunction with the various other barrier remedies to form, what can be termed as, world-class complete protection solution, which the world is now expecting from the industry."
Gautam Dalmia, Chief Development Officer, Strata Geosystems (India), who are into manufacturing geotextiles, geogrids and geomembranes, said, "In technical textiles, the demand is very niche when compared to other regular products. It took us a long time [almost a decade] to get the demand to such a level wherein we were in a position to scale our manufacturing." (Watch full interview)
Dalmia added, "In geosynthetics, there is lack of awareness and knowledge among the ministry level and construction site contractors. If you look at medical textiles, which is very much in demand today. There was not much importance given to medical textiles before, but now they have understood its importance. Right now, we have a proprietary coating machine, which we designed internally. We have very wide knitting machines and state-of-the-art systems. So all of this is helping us get scalability on the product so that we can compete on a global level."
On the challenges faced, Dr Anup Rakshit, Executive Director, ITTA, added, "When the Coronavirus was found in India, there was only one Centre of Excellence for medical textiles, which is in Tamil Nadu. Sending the materials to them for testing was a problem because of the lockdown. In this scenario, laboratories were used to do certain tests. These laboratories used their own quality control and were used for product development purposes. Today there are nine such laboratories in the country. Another problem was how to get these products tested and their standards."
Road ahead
Avinash Mayekar, Managing Director and CEO, Suvin Advisors, said, "India is having very good potential in technical textiles. We can fill in the gap faced in the global market. The next thing is that there is some sort of anti China sentiment, which is coming up in the global market. We need to develop nice context as what is a developing country. All developing countries will have very good potential for the technical textile products. India has created a very good global image as far as political and economical scenarios are concerned. India has the resources like raw materials and people. At the same time, the government has a willingness to support the industry."
For India to grow in technical textiles, Dr Rakshit added, "We must focus on quality and then on exports. There is huge scope for India in exports." He added, "To become a global player, we need to understand the needs of the international buyers. We need to adopt the mantra of quality and adhere to the quality standards."
Dr SK Sundararaman concludes: "Covid-19 has created a level-playing field for India by reducing the technological gap to some extent between global players and Indian firms. Indian manufacturers can capitalise on the opportunity that has come up suddenly. Indian companies are raring to go and grab the opportunity."
– KARTHIK MUTHUVEERAN