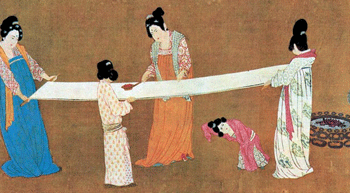 India charms with rich styles
India has a diverse and rich textile tradition. The origin of Indian textiles can be traced to the Indus valley civilization. The people of this civilization used homespun cotton for weaving their garments. Excavations at Harappa and Mohenjo-Daro
India has a diverse and rich textile tradition. The origin of Indian textiles can be traced to the Indus valley civilization. The people of this civilization used homespun cotton for weaving their garments. Excavations at Harappa and Mohenjo-Daro, have unearthed household items like needles made of bone and spindles made of wood, amply suggesting that homespun cotton was used to make garments. Fragments of woven cotton have also been found from these sites.
The first literary information about textiles in India can be found in the Rig-Veda, which refers to weaving. The ancient Indian epics-Ramayana and Mahabharata also speak of a variety of fabrics of those times. The Ramayana refers to the rich styles worn by the aristocracy on one hand and the simple clothes worn by the commoners and ascetics. Ample evidence on the ancient textiles of India can also be obtained from the various sculptures belonging to Mauryan and Gupta age as well as from ancient Buddhist scripts and murals (Ajanta caves). Legend has it that when Amrapali, a courtesan from the kingdom of Vaishali met Gautama Buddha, she wore a richly woven semi transparent sari, which speaks volumes of the technical achievement of the ancient Indian weaver.
Silk fabrics from south India were exported to Indonesia during the 13th century. India also exported printed cotton fabrics or chintz, to European countries and the Far East before the coming of the Europeans to India. The British East India Company also traded in Indian cotton and silk fabrics, which included the famous Dacca muslins. Muslins from Bengal, Bihar and Orissa were also popular abroad. (Muslin-a very thin cotton material) (Chintz-cotton cloth, usually printed with flowery patterns, that has a slightly shiny appearance) The past traditions of the textile and handlooms can still be seen amongst the motifs, patterns, designs, and the old techniques of weaving, still employed by the weavers.
Brocades: The tradition of bringing silk to life Brocade weaving, especially with gold and silver, has been an age-old tradition in India. There are two broad classes of brocades. Brocades of pure silk or silk and cotton blends and zari brocades with gold and silver threads. The most important material in brocade weaving is silk. It facilitates lovely weaves, is durable, strong, fine and smooth. There are several varieties of raw silk of which the chief ones used for brocades are Tanduri, Banaka and Mukta. Tanduri is imported from Malda and other places in Bengal. Banaka is thinner and finer variety and is mostly used to weave soft fabrics such as turbans and handkerchiefs. Mukta is a coarse and durable silk used for kimkhabs, as fine silk would not withstand heavy gold patterns.
Making designs on brocades
Making of nakshas (designs) forms an important part of brocade weaving. Banaras is the main centre where the nakshabandha (designer) tradition prevails. The skill and imagination of nakshabandha plays a prominent part in making of designs. Designs are associated with legends and symbolism. The most popular motifs are drawn from nature. In Banaras, it is said that nakshabandha families were brought to this country during the reign of Muhammed Tughlak (1325-1350 A.D.). They were supreme masters of the art of tying designs into the loom. Local artisans and weavers learned this art from these great craftsmen. Some of these craftsmen were also great poets-perhaps they wove their poetry into their designs. One such renowned poet was Ghias-I-Naqsband, mentioned in Abul Fazl?s ?Ain-I-Akbari?. The nakshas are first worked on paper. This part of the work is called likhai (writing). The nakshabandha then makes a little pattern of it in a framework of cotton threads like a graph. This pattern gives guidance to the working of that design into weaving.
The history
The record of ancient and medieval Indian tex