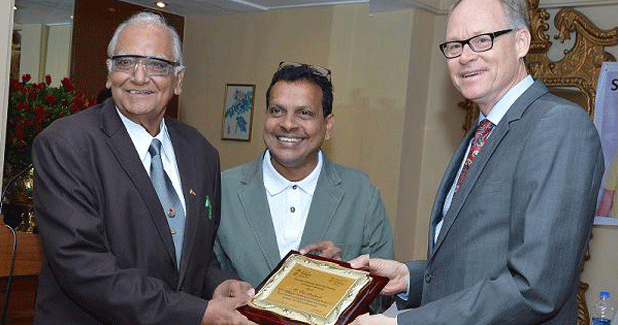 In ORBIT package for ITMA 2015
In ORBIT Tours Pvt. Ltd, the official travel agent, will provide special travel packages for Indian visitors & exhibitors for ITMA 2015.
A large number of Indian visitors from textile & garment manufacturing industries are registered to visit ITMA 2015 almost 4 months in advance, said
Om Prakash, Director – In ORBIT Tours Pvt. Ltd
. Textile Colourant and Chemical Leaders Forum and Non-woven Forum at ITMA 2015 draw strong industry support.
ITMA 2015 has attracted various industry groups to initiate activities that address critical sectoral concerns, as well as challenges faced by the textile, garment and fashion industry.
The exhibition, billed as the world's largest textile and garment manufacturing technology showcase, will be complemented by a wide range of knowledge sharing events that will feature discussions on issues that impact the industry's sustainability said Om Prakash on the basis of interaction with Daphne Poon of the Organisors.
Among the exciting events are the Textile Colourant and Chemical Leaders Forum and Nonwovens Forum at ITMA 2015.
Textile Colourant and Chemical Leaders Forum
Launched at ITMA 2011, the forum was a success, drawing lively participation from colour and chemical professionals, and fashion and sports brand owners from around the world. This year, the agenda will focus on sustainability in dyeing and finishing processes and participants will be updated on industry opportunities and best practices.
Covering a comprehensive range of issues, such as current challenges, solutions and future trends, the one-day forum on 14 November is divided into three sessions:
The issue:
topics related to chemical pollution and environmental issues and how these impact the market place
The solution:
how does the supply chain respond
The future:
what are the trends and/or game changers moving forward
To be held on 16 November, the Nonwovens Forum at ITMA is jointly organised by EDANA and MP Expositions. The forum will address pertinent issues, challenges and opportunities in the rapidly evolving world of nonwovens.
Theme – 'Nonwovens: A World of Growth and Opportunities'. Presentations on the latest applications and finishings will benefit ITMA visitors who are involved in or have the intention to move into nonwovens manufacturing. Participants will find it very useful to be able to visit the ITMA exhibition and view many of the technologies on show at the exhibition.
In addition to the forums, ITMA participants can gain valuable insights on new technologies and research at the Research & Innovation Pavilion's Speakers Platform. ITMA 2015 will also feature the World Textile Summit, a high-level knowledge sharing platform on 13 November. Co-located with ITMA 2015 is the Digital Textile Conference on 15 November.
ITMA 2015 will be held at the Fiera Milano Rho from November 12 -19, 2015. It showcases end-to-end solutions for the entire textile and garment making chain. The exhibition has a gross size of over 200,000 sq m. To-date, over 1,500 exhibitors from 47 economies have signed up to take part in the exhibition. Visitors can purchase their ITMA 2015 badge online in order to enjoy early-bird rates.
To register or for more information on conferences at ITMA 2015, please visit www.itma.com or contact Angelica Madrid at angelicamadrid@mpinetwork.com.
In ORBIT Tours Pvt. Ltd, the official tr
Hi There!
Now get regular updates from ITJ Magazine on WhatsApp!
Click on link below, message us with a simple hi, and SAVE our number
You will have subscribed to our Textile News on Whatsapp! Enjoy