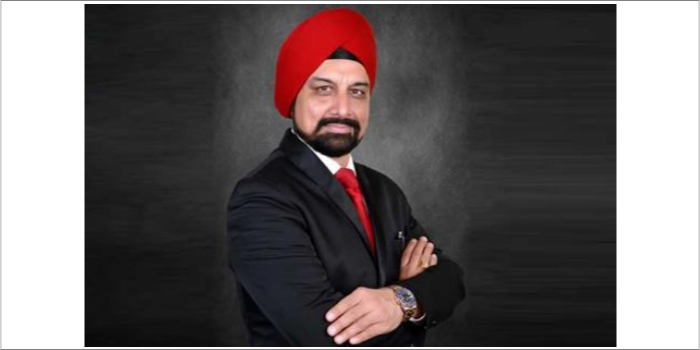 Human Machine Interface (HMI) is an emerging technology
Paramount is a group engaged in textile testing and quality control instruments since 1964. We setup complete quality control labs for garment exporters, buying houses, textile mills, dyeing and processing houses. Paramount has a large Portfolio of more than 180 products, being manufactured at the three state of the art facilities. Manjit Singh Saini, CEO & Executive Director, Paramount Group, sheds light on the Indian textile testing industry and the latest in textile testing technologies
Paramount
is a group engaged in textile testing and quality control instruments since
1964. We setup complete quality control labs for garment exporters, buying
houses, textile mills, dyeing and processing houses. Paramount has a large
Portfolio of more than 180 products, being manufactured at the three state of
the art facilities. Manjit Singh Saini,
CEO & Executive Director, Paramount Group, sheds light on the Indian
textile testing industry and the latest in textile testing technologies.
How would you describe the
market for textile testing equipment in India? How has the market changed in
the last decade?
The market of textile
testing instruments in India is still at the nascent stage. Not many people are aware of the benefits of
textile testing instruments. They are still
trying to managing the quality through traditional ways only. But the awareness is percolating down and we
hope that it will reach a wider section of the industry in the next 3-5
years. Hence this industry has a lot of potential,
as only the top brass of this industry is using textile testing instruments and
have in-house testing labs. There is a much larger section of the industry
still waiting to be tapped.
In the last decade, appreciable
efforts have been made to create awareness about the testing instruments in the
Indian textile industry. Quality driven
buyers and customers have bolstered this awakening further. So along with international brands even the
local brands are having a buzz about the testing instruments. Many of them are going in for in-house
testing labs. But there is a very big
chunk of local manufacturers who have to still grasp the pertinent fact that testing
instruments plays a major role in strengthening their quality control.
What kind of impact has
COVID-19 had on this segment?
There was a major impact
of the pandemic on our industry as the business of most of our clients, who are
exporters majorly, was affected badly.
The buyers abroad, had put hold on their orders, and were not issuing
any new orders so the whole cycle got stalled.
And as our clients were facing operational and financial problems, hence
they could not invest in business or in quality control. So as an industry we have also suffered with
our clients.
Fortunately the COVID -19
pandemic has also opened up new vistas for the Indian textile industry. Due to the animosity of the global textile
industry towards China, the Indian textile industry stands at the cusp of
getting enhanced payoffs by way of getting amplified orders and thus getting windfall
gains. But this is possible, only if, we
can match the quality of Chinese textile products. And this is only possible through focussed
quality control through textile testing instruments.
What are the key factors
responsible for the growth in this market?
·
Enhanced quality consciousness among the urban as well as rural
consumer.
·
Insistence of quality control by international buyers.
·
Competition in quality textile products from countries like Bangladesh,
Thailand, Indonesia, Vietnam, Laos, Cambodia etc.
·
Competition in quality textile products among domestic manufacturers.
Which are your
best-selling products? Which testing equipment are textile manufacturers
investing in and why?
Our best selling products
have been our 7 pearls which Paramount introduced for the Indian textile industry
many years back. We have also been exporting these 7 pearls to more than 36
countries across the globe. The 7 pearls cover 7 most important parameters of
quality in textiles. It includes colour
matching, rubbing fastness, washing fastness, shrinkage, yarn count, GSM and
construction of the fabrics and garments.

Along with 7 Pearls, other
hot selling items are tensile strength tester, bursting strength tester,
tearing strength tester, button & snap pull tester, Martindale abrasion
tester, lab conditioning chamber, fabric inspection machines etc. Another hot selling equipment currently in
demand is: fabric stretch and recovery tester.
Many of the fabric,
garment manufacturers and exporters now realise the importance of consistency
in quality and hence the importance of testing instruments. They are now waking
up to the fact that good quality testing instruments can help them reach to the
next level in their business so they are going in for them.
Which are your major
markets in India and abroad for textile testing equipment? Which are the major
ones in terms of application?
Our major markets in India
are the major textile and export centres in India like Ludhiana, Panipat, Delhi NCR, Bhadohi, Kanpur, Jaipur, Ahmedabad,
Surat, Bangalore, Tiruppur, Chennai, Hyderabad, Kolkata etc.
Most of the bigger garment
exporters in the metro cities have taken in-house quality control labs from
us. Now even the domestic brands are
setting their in-house quality control labs.
What are the latest
technologies in textile testing?
The latest technologies emerging
up in textile testing instruments is Human Machine Interface (HMI) technology. We still remember we started with manual instruments,
then converted many into electrical Instruments and then to microprocessor
based electronic Instruments. Now HMI
Technology is paving way for touch screen user interface which is very easy to
operate and convenient to operate. Most of the instruments are being converted
to software driven equipment with PLC, in which you can have a detailed Report
with a click of a button.
What are the biggest challenges
that this industry faces?
The biggest challenge is
imbibing the quality mindset in the industry.
The "chalta hai" attitude has to be replaced with quality and safety
norms in the organisations. The money spent on an in-house quality control lab
has to be taken as an investment, which can not only strengthen but brighten
the future of a company.
Each testing equipment has
the potential to bring in lot of consistency in the end product. This awareness needs to be created among the
higher echelons in every organisation.

What new textile testing
and lab equipment do you plan to introduce soon?
We have introduced many
advanced versions of our instruments in the recent past like computerised
tensile strength tester, software based yarn/fabric analysis equipment,
software based yarn count analysis, next generation HMI based lab conditioning
chamber (very accurate conditioning equipment), advanced model fabric
inspection machines, accurate swatch cutting machine, precise needle detection
machines, highly advanced colour
matching booths, next generation HMI based, and Martindale abrasion-cum-pilling
tester.
We are now working in
different domains in which lot of testing instruments are being introduced for
automotive, footwear, leather, toys, paper and packaging industry.