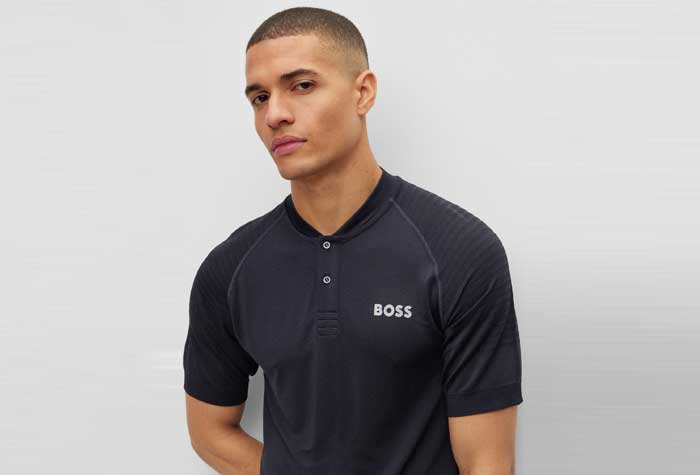 HUGO BOSS unveils garment with HeiQ AeoniQ fibre
This first drop by HUGO BOSS replaces polyester for a more sustainable alternative tangible while keeping all the features that made synthetic fibres so widespread.
HeiQ announced that the German premium fashion company HUGO BOSS reveals the first product made with HeiQ AeoniQ fibre – a seamless high-performance Polo Shirt.
With that, the company marks a milestone within the partnership that will enable the replacement of synthetic fibres to reduce their impact on the planet.
The product is crafted with 87 per cent HeiQ AeoniQ, a revolutionary cellulosic yarn created from certified wood pulp, one of the many renewable raw materials it can be made of, featuring the same performance attributes as polyester.
This new style is part of the BOSS Green collection line, designed for urban environments with BOSS' renowned performance-driven qualities and worn by Italian tennis player Matteo Berrettini.
The first Innovation drop of the Polo Shirt is available in limited quantities in the global eCom of HUGO BOSS.
For Carlo Centonze, CEO, HeiQ "this first drop by HUGO BOSS makes the dream of replacing polyester for a more sustainable alternative tangible while keeping all the features that made synthetic fibers so widespread. Until today we called HeiQ AeoniQ a project. From now on it is a brand that delivers the promise of sustainability and true circularity for the benefit of the Planet."
For HUGO BOSS, the exciting partnership with HeiQ represents yet another important milestone on its journey towards becoming the leading premium tech-driven fashion platform worldwide. Consistent with their bold mission statement 'We Love Fashion, We Change Fashion,' this game-changing technology will enable HUGO BOSS to further push innovation and sustainability across their brands' offerings, thereby driving measurable impact for the environment and society alike.
Textile industry change starts here
HeiQ AeoniQ is a more sustainable, circular, and closed-loop cellulosic textile yarn.
Fabrics made from this high-performance yarn are on par with conventional fabrics like polyester and nylon due to the yarn's tensile strength, elasticity, and abrasion resistance.
At the same time, they also demonstrate a significantly better environmental footprint. Whereas polyester and nylon fibres are produced from non-renewable fossil fuels, making the textile industry the second-largest global polluter, HeiQ AeoniQ yarn is made from cellulose, a renewable raw material that enables the transformation of a whole sector.
Widespread implementation of HeiQ AeoniQ can help decarbonise the atmosphere, prevent further microplastic pollution in water and preserve agricultural land.
About HeiQ AeoniQ
HeiQ AeoniQ is HeiQ's key initiative to change the sustainability of the textile industry. As the global leader in textile innovations, HeiQ created the world's first climate-positive continuous cellulosic filament yarn through a proprietary manufacturing process, reproducing the properties of polyester and nylon yarns for the first time in a cellulosic, biodegradable, and endlessly recyclable. HeiQ has established HeiQ AeoniQ as a stand-alone company, allowing its business partners to participate from the development stage and be part of the team pioneering this initiative to reverse the carbon footprint in the textile industry. To make HeiQ AeoniQ possible, HeiQ entered a First Mover Brand partnership with HUGO BOSS, which was the first to turn HeiQ AeoniQ into a piece of garment.