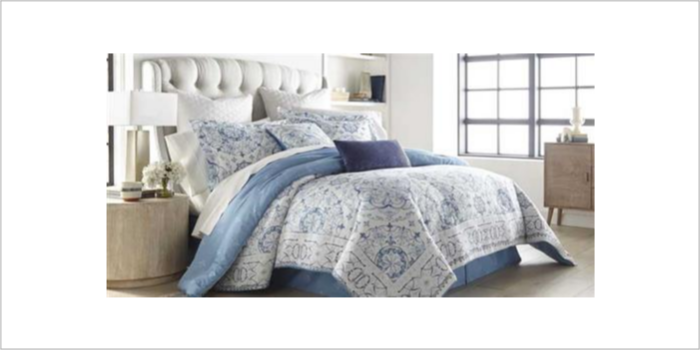 Home textile players upbeat in difficult market
Home textiles have been a major part of global textile trade and it comes as no surprise. The ever-improving economic status of people supported by various modern financial innovations has enabled families to invest higher amounts into the home textiles segment.
Staying at home has been the biggest prevention against COVID-19, and since the past few months, our attention has been drawn inwards, to spruce up our nest and make it as safe and comfortable as possible. While regular cleaning and dusting is the norm, we cannot ignore the fact that textile and soft furnishings provide a large hosting surface for bacteria and viruses that in fact remain active for days on the fabric. While disinfectants can help to an extent, it isn't always possible to sanitise your couches, curtains, bedsheets, etc, every time you lounge on them.
Home textiles have been a major part of global textile trade and it comes as no surprise. The ever-improving economic status of people supported by various modern financial innovations has enabled families to invest higher amounts into the home textiles segment. The per capita expenditure follows a downturn trend as we move from west to east on the globe. This naturally creates a higher demand for textiles in the developed western countries. The disparity in the habitation of the home textiles manufacturers has also created a modern silk route between the eastern part of the world and the western.
Looking at the hierarchy pyramid of consumer shopping trends for the T&A, personal clothing items are on top of the priority, followed by accessories, home textiles and luxury clothing. In the recent times, the ease of purchasing and presence of numerous options in market has propelled home textiles above luxury clothing.
However, the recent worldwide outbreak of COVID-19 has a major impact on the world and its economies. Global trade has almost come to a complete standstill. European governments are trying to control the virus and minimise its impact by taking extreme measures. What effect does this have on the home textile sector?
The home textiles sector is widely considered a luxury sector and is sensitive to economic cycles. This crisis will thus seriously impact the demand for products, especially in the mid-, high- and premium segments. While the European market will bounce back again, this may only happen in the third quarter of this year in an optimistic scenario. The recovery will be slow due to a lack of consumer confidence, and Europe will likely go into a recession first.
The lockdowns in India have led to the disruption of many business activities and affected the supply chain. Although some countries are slowly starting activities again, factories are still closed or not operating at normal capacity yet. As a result of this, deliveries to India are severely affected, and they are already looking for other sources.
Consumer confidence has taken a beating though and consumer behaviour might be different than before. As a result of this crisis, the sustainability trend is likely to intensify. More than ever, consumers understand their dependence on nature and a responsible lifestyle. It will drive the desire for more responsible consumption and 'green' products. It is thus even more important to share the story behind your production process and products.
Past experiences also suggest that there may be a temporary shift in consumer opinion and behaviour when it comes to luxury. Consumers will focus more on classic products and features, such as hand-made products and less on visible luxury and modern designs.
According to apparel industry body Clothing Manufacturers Association of India, there could be as many as one crore job cuts in the textiles sector, which has been severely hit by the ongoing lockdown, if there is no support and revival package from the government.
A report by Technavio forecasts a CAGR of 6.65 per cent for the global home textile retail market during the period 2018-2022. Other reports have forecast a CAGR of 3.5 per cent and a high of 11 per cent from 2011-2021. All of this just goes to show that the home textiles market has potential, especially in the US and Asia.
Asia is the largest market for home textiles, and also the largest exporter of the products. US remains the largest importer of home textiles. The US-China trade war could see a slowdown in China's exports of home textiles to this market. And India, along with Turkey and to some extent Pakistan, could receive more orders from the US.
The global home textile market is estimated to reach $130 billion by 2021. Bedlinen accounts for the largest share of 45 per cent in this segment, while bath linen constitutes 20 per cent. Other segments such as floor coverings, furnishings, table and kitchen linen make up 35 per cent of the home textile market. The bedlinen and bedspreads segment is expected to grow at a CAGR of 4.4 per cent to reach $60 billion by 2020. The US is the world's single largest home textiles market accounting for 21 per cent market share. The US market is projected to grow at CAGR of 3 per cent to reach $27 billion by FY2020. Europe is the second largest home textiles market, accounting for a share of 26.8 per cent. Bed and bath linen market of Europe is expected to grow at CAGR of 1.7 per cent to $17 billion by 2020.
… and now, anti-viral home textile fabrics
With the onset of Covid-19, and the focus on health on one hand and the increased use of home furnishing with more time spent at home, on the other, has positioned us on another pivotal juncture. As the country grapples with the Covid-19 pandemic, anti-viral fabric seems to have become the buzzword in the textile industry here. Players say anti-viral fabrics combat the spread and transmission of harmful viruses through textiles, basing their claims on international test standards, but there are no Indian government guidelines for such products.
Companies such as Donear Industries, Welspun India Ltd, RSWM (Mayur), Arvind, Vardhman Textiles and D' Decor, among others, have launched anti-viral fabrics for apparel and home furnishing products, in partnership with international textile technology players. And they don't come cheap; they are priced about 15-20 per cent higher than the average products.
Officials said that while anti-microbial fabrics could slow down the growth of microbes to some extent, they would not offer any protection against the Covid-19 virus, as such material will not be able to stop its penetration through the fabric to the body, especially at the seams.
The textile industry across the globe is witnessing rapid advancement to cater to this demand. Scientists and technologists are working together to develop 'smart fabrics' that will not just create beautiful spaces at home but have the functional properties of being antiviral, antibacterial and even air purifying.
Such ground-breaking technologies are nurturing new commercial partnerships that will enhance the common fabric to provide a solution that is not just visually appealing but comes with a scientific assurance of a healthier world.
One such partnership can be seen between D'Decor Home Fabrics and HieQ, a Swiss textile innovation company. Recently, HeiQ has launched HeiQ Viroblock NPJ03. It is an antiviral and antibacterial textile treatment – a unique combination of silver and vesicle technologies designed to significantly reduce viral and bacterial infectivity on treated surfaces. The Viroblock is suitable for all fibre types, from medical nonwovens to fabrics for clothing and home textiles and can last at least 30 gentle washes. Homes, like any other high contact environment, can be fraught with unhygienic and disease spreading agents like microbes, viruses and volatile organic compounds of all kinds.
The D'Decor antiviral and air purifying range of products live up to the philosophy of safe and beautiful home spaces. Textiles provide a large hosting surface for bacteria and viruses that allow them to remain active from days to months, in the current pandemic time, people look for hygienic home solutions more than ever.
D'Decor Home Fabrics wanted to find a solution to this problem and render their textiles antiviral and antibacterial. They entered into an exclusive partnership with HeiQ to launch ViroGuard by D'Decor and AeroFresh by D'Decor. ViroGuard by D'Decor, powered by HeiQViroblock is an antiviral range of home textile products. Fabrics treated with HeiQViroblock have been previously tested effectively against coronavirus, influenza, avian flu, swine flu, and respiratory syncytial virus and achieves 99.99 per cent reduction of the virus.
AeroFresh by D'Decor, powered by HeiQ Fresh, is an air-purifying function that uses UV light to improve indoor air quality. Indoor air hygiene has been a major growing concern with increasing risk of human health hazards, and indoor air contains volatile organic compounds (VOCs) that are released from household furnishing, carpets, glues, cleaning sprays, aerosols, flooring, etc.
D'Decor Home Fabrics has adopted HeiQ Fresh, HeiQ's breakthrough air-purifying textile technology on their custom-made curtains to help users improve indoor air quality. It works by turning any textile surface into an air-purifying surface by immobilising the VOC molecules in the air and then decomposing them using light. It works quickly (within 24 hours) and lasts up to 20 washes.
One of India's largest textile manufacturers, RSWM, the flagship company of textiles giant LNJ Bhilwara Group, announced that it has signed a strategic technology partnership with Switzerland's HeiQ to offer anti-COVID-19 fabric. The fabric has been made under RSWM's Mayur Suitings.
Asia's largest and the world's second largest terry towel producer, the home textiles giant Welspun India launched an exclusive range of anti-viral home textile products for the Indian market. HealthGuard AMIC technology, which has shown exceptional results against coronavirus, has been used to develop these products. Welspun's new anti-viral range includes terry towels, bed linens, rugs and carpets as well as re-usable cloth masks. The same will be marketed under the company's brands SPACES and Welspun Health.
In line with its vision of adding value to lives, home textile giant Trident Group is utilising its manufacturing abilities to produce personal protection equipment (PPE) including disinfectant masks, medical suits and hygiene kits to support various organisations in their fight against the ongoing novel coronavirus pandemic. Optimising its skills set and textiles manufacturing capacity, the Group is manufacturing 10,000 disinfectant masks (Tri-Safe masks) every day. Being produced as per the prescribed safety standards, till date, more than 90,000 masks have been distributed among rural population. The company is now targeting a wider population who are in need of masks to combat Covid-19.
Aware of the importance of PEE for healthcare professionals working on the frontline in containing the deadly Covid-19, the Trident Group is also developing medical suits (Tri-Safe body suits). The team is continuously working with a specialised yarn and is in the final stage of manufacturing sanitised, antimicrobial, comfortable and reusable medical suits.
Taking one step ahead in its commitment towards creating products that cater to the inner and outer well-being of customers, Trident Group is launching an exclusive 'anti-virus' range of home linen. Bringing a breakthrough in innovation, the company has partnered with the world's finest technology partners to create towels and bedsheets that reduce risk and speed of contamination and transmission.
Similarly, Hollander Sleep Products has signed a strategic agreement with HeiQ of Switzerland to implement the advanced textile application HeiQ Viroblock on basic bedding products for North America's consumer and hospitality markets.
– KARTHIK MUTHUVEERAN