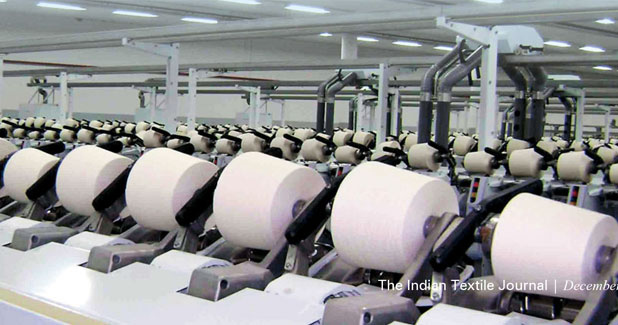 Great Expectations
The 10th edition of India-ITME is opening on a note of high expectations! The Indian Government´s recent Rs.6,000-cr package & amended TUFS have rekindled exhibitor interest while high-tech wares promise to ignite buyer zest. A cross-section of the textile industry players shares their moods & opinions.
The 10th edition of India-ITME is opening on a note of high expectations! The Indian Government?s recent `6,000-cr package & amended TUFS have rekindled exhibitor interest while high-tech wares promise to ignite buyer zest. A cross-section of the textile industry players shares their moods & opinions.

Is India the next China, in textiles? The question is on every one?s lips, who has a stake in the textile industry, be it from an Indian mill or from a technology provider from the West! At this crucial juncture, the 10th edition of India-ITME opens its doors to the six-day event on December 3, 2016 at the Bombay Exhibition Centre, Goregaon in Mumbai. Over 1050 exhibitors, 210 of them new, will be vying for space and attention to attract over 1,50,000 visitors from India and many parts of Asia.
The hype and the excitement that have been building up since the countdown began much before last year are not without a strong basis. The Modi Government gave new wings to textile investment by announcing a Rs 6,000 crore bonanza, the terms and modalities of which are yet to materialise. The Technology Upgradation Fund Scheme has been amended, liberalised and tweaked to make it more attractive and acceptable.
Just a few days before Smriti Irani, Textile Minister, took over the saddles from the outgoing Santosh Gangwar, the latter announced that 24 new textile parks have been sanctioned in the last two years, facilitating investment of Rs 4,500 crore and jobs for 66,000 people. The scheme for integrated textile parks (SITP) has been simplified and reoriented towards less industrialised States, since only 50 textile parks were established in the previous eight years.
About Rs 3,277 crore worth of subsidies have been released under the Amended Technology Upgradation Fund Scheme (A-TUFS), and a budget provision of Rs 17,822 crore has been approved for seven years to meet the committed liabilities. A-TUFS is expected to attract an investment of Rs 1,00,000 crore and generate employment for 30.51 lakh people.
Textile projects have been launched in Tamil Nadu, West Bengal, Haryana, Goa, Karnataka, Gujarat, Rajasthan, Madhya Pradesh and Punjab under the Integrated Skill Development Scheme (ISDS) with an allocation of Rs 1,900 crore as part of the 12th Plan aims to train 15 lakh people.
Modernisation talks are in the air among mills, and new investments have stared trickling in, with promises of a larger flow in the near future. Raymond Group has signed a Memorandum of Understanding (MoU) with Maharashtra government for setting up a textile manufacturing plant with an investment of Rs 1,400 crore (US$ 208.76 million) in Maharashtra?s Amravati district. Reliance Industries Ltd (RIL) plans to enter into a joint venture (JV) with China-based Shandong Ruyi Science and Technology Group Co. The JV will leverage RIL?s existing textile business and distribution network in India and Ruyi?s state-of-the-art technology and its global reach. For instance, Gujarat Government?s recent ?Farm-Factory-Fabric-Fashion-Foreign? Textile Policy, aimed at strengthening the entire textile value-chain, seems to be paying dividends!
The technology providers from the West, and also some from China are queuing up with latest machinery and gadgets suitable to make products that can win the competition in the global textile race. Nearly 400 exhibitors are from abroad. Even a field like nonwoven, where India is a laggard, has stirred keen interest. ?India has the potential to become a major player in the nonwovens sector. There is a huge market for both hygiene/personal care items and for durable materials such as geotextiles, filtration or automotive textiles.
We think that recent changes in government policies help to develop a prosperous nonwovens industry in India. Let?s hope that also smaller and medium-sized companies are encouraged now to invest in new processes and new markets,? says Marc Wolpers, Managing Director (Sales), Trutzschler Nonwovens.
Seema Shrivastava, CEO, India-ITME Society, ?The 10th India-ITME shall see a 1,50,000 visitor footfall over six days from all around the world and Indian sub-continent. Visitors and delegations from countries like Pakistan, Bangladesh, Sri Lanka, Thailand, Malaysia, Indonesia, Kenya, Ethiopia and the Middle East have already registered. Extensive promotional activities are ongoing in Ethiopia, China, Egypt, Iran, Sri Lanka, Bangladesh, Spain, UK, Israel and Turkey.?
She adds, ?India is home to second largest textile industry with a very large and still growing domestic market. This is a huge opportunity for the textile and textile engineering industry today. India-ITME offers huge domestic market opportunity as well as access to regional market in the neighbouring countries. Such a unique combination of convenience, cost effectiveness, market opportunities and business potential is not offered by any other exhibition or destination. As such we have received overwhelming response from the exhibitors for participation in India-ITME 2016 also we are expecting a good turnout of business visitors from across 92 countries over the six days period.?
Import of machinery and spares in India to the tune of Rs 10,385 crore still constitutes more than 70 per cent in value of domestic demand. The foreign machinery suppliers, armed with all the sophisticated gadgetry, are expecting this to go up significantly. Indian textile machinery industry is also not far behind in their ambitions. Indian manufacturers sold about Rs 3900 crore worth machinery and spares in India and exported about Rs 2600 crore, constituting 40 per cent of production, while operating at only 60 per cent capacity utilisation. They seem to be ready for the challenge:
If China, which had a negligible TEI in 1990, can grow into a major manufacturer and exporter of textile machinery and spares, why can?t we too?
Technology innovation fuels the development of a sustainable textile industry. As labor cost keeps on rising, consumers prefer customized products and are more concern about environmental protection, automation, energy saving and small batch production become the trends of the industry. Suppliers also stay abreast of the latest trends and develop new products.
Automation, Industry 4.0, and digital printing are the watchwords of today. For instance, the Saurer Group believes being the partner of choice along the entire textile value chain requires not only innovative products but also proximity to customers. Its newly inaugurated manufacturing facility in Karjan, is producing highest quality ring spinning machinery and components.
The ZinserImpact 72 made in India will be shown for the first time at ITME along with Saurer?s full range of innovative products.
Picanol has been successfully serving the Indian market since 1956. In light of the potential and expected growth of the Indian market, Picanol decided to set up its own organisation in India in early 2008. The aim behind this move was to ensure it could more actively support its local activities. Since this local presence was established, Picanol has been strongly focusing on local sales and service activities. In recent years, Picanol India has seen a steady growth in its market share and this has led to it becoming the leading provider of weaving machines on the local market today.
India is ranked in the top five export markets of Savio, so the attendance at ITME is meant at massive level for being closer to the important customers, who are interested in Savio machinery for either their green field or expansion projects. Savio is exhibiting breakthrough innovations both in winding and twisting segment. Its latest innovation, Eco PulsarS winding machine, will be displayed for the first time to the Indian market, after the launch in Milan last year and the roadshow in Turkey and China.
Every level of technologies has been scaling new heights. The latest knowhows launched at last year?s ITMA in Milan will be at India-ITME along with the ones that have been modified for ITM in Turkey in June and the ITMA Asia just a month ago.
Sustainability and eco-friendliness will be at the forefront in all innovations. For example, Groz-Beckert will also be presenting its new quality management Ideal Needle Handling (INH), for the sewing industry. It involves a patented process that allows trouble-free and time-saving handling of broken and damaged sewing machine needles in running operation. The process supports customers in complying with different brand-owner specifications in a uniform way. Furthermore, it helps bring targets such as environmentally-friendly handling or productivity boosting into focus.
SSM Schärer Schweiter Mettler AG, Switzerland, has planned to launch eight new products in the winding and doubling segments and one in the air-texturing for the first time in India. Special focus lies on the SSM X-Series: the machines (TWX-W/D, PWX-W and PSX-W/D) are the most economised winding solution, reduced to the max yet maintaining highest flexibility for any cost efficient winding application. Another eye catcher will be the SSM XENO ? a modular platform covering all dye package winding, rewinding and doubling applications with three leading SSM winding technologies ? as well as the well-known sewing thread finish winding machine TK2-20 CT for cones.
Stäubli is presenting numerous highlights from its extensive range of products for the weaving industry. Offering these and many more advantages to weaving mills and supporting them as a reliable partner, Stäubli helps mills to improve their workflows, achieve more economical production, increase their output, and expand their technical capabilities. Visitors can see a complete Jacquard installation in operation and see the latest dobbies and cam motions for frame weaving on demonstration stands.
Services are even going mobile. At the India-ITME show will be Karl Mayer?´s 360° service, which mainly integrates mobile devices, by means of the new KARL MAYER CONNECT app for a highly efficient communication between machine operator and service specialist in case of need, and by the KARL MAYER CHECK PARTS app for an uncomplicated check of the spare parts in terms of their originality. Besides, the SPARE PARTS WEBSHOP ensures a simple ordering of the required parts by just a single mouse click. It is quite easy to use KARL MAYER?s new offers for mobile devices ? as will be demonstrated during INDIA ITME.
According to VDMA Textile Machinery Association, Asia always accounted for about 50 per cent of German textile machinery export throughout the last years.
In 2015, the exports to Asia summed up to ?1.4 billion in which ?730 million went to China. In a survey VDMA conducted in June about market perspectives till December 2016, India and Bangladesh were assessed very positively. For Bangladesh, 61 per cent of the VDMA member companies are expecting an increase of orders. For India, the assessment is similar with 51 per cent expecting an increasing order income.
According to the Association of Italian Textile Machinery (ACIMIT), Asian markets are also the main export destinations for Italian textile machinery manufacturers. The data of ACIMIT shows that exports to Asia amounted to ?863 million (48 per cent of total exports) in 2015. For the first quarter of 2016, the figure is 45 per cent.
Reaffirming the confidence in the growing Indian market for Italian machinery, Raffella Carabelli says: ?The supply chain in the textile and garments industry is moving rapidly in search of new production hubs with lower processing costs. And our machinery sector needs to follow this trend too.?
The French Textile Machinery Manufacturers? Association (UCMTF) is no laggard in exploring the opportunities in Asia. According to Bruno Ameline, UCMTF President, ?Asia accounts for more than half of our worldwide sales. China has been our most important market for some years with 2015 sales of more than $300 million.?
According to Evelyne Cholet, UCMTF Secretary General, ?India is a major market but the investment process is slower than expected. The industry is shifting quite rapidly. There has been a major shift towards Asia, now the industry is shifting within Asia.?
N. SCHLUMBERGER and SEYDEL, members of NSC Fiber to Yarn, will introduce during the forthcoming India ITME in Mumbai two new drafting heads: the chain gill drafting head GC40 and the screw gill drafting head GN8. These two types of drafting heads are perfectly adapted to process any kind of wool or wool like fibres as well as cashmere.
LAROCHE has been one of the leading companies around the world, deeply involved in the development of the textile waste recycling technologies, achieving great processes and continuously helping to discover new ecofriendly solutions for the future. LAROCHE offers complete processes to open into fibres almost all types of textile waste. Taking as example, the post-consumer garments, LAROCHE?s technologies can open the used garments into fibers removing all the bottoms and zips.
With more than 35 years of experience in the specialised field of high-quality tufted and woven carpets, SUPERBA is providing innovative and competitive solutions with a complete range of machines: The well-known TVP3 heat-setting line is the main product of the company and has been significantly improved over the years leading to the latest version TVP3s that was presented at ITMA 2015.
DOLLFUS & MULLER will introduce during India ITME its improved compacting felt for knit finishing with major evolutions compared to other products in order to serve better the dyeing houses. The compacting felt quality brings a special care to the fabrics thanks to its smoothest surface, has an excellent guiding and the best compacting rate in relations with its new exclusive compacting felt design. The DOLLFUS & MULLER sanforizing palmer felts are ideal for denim producers. The company will as well show its proven durable sanfor felts. DOLLFUS & MULLER Sanfor felts are recognised by most of the major machine makers as the best felts.
The over 56-year old Italian giant, Fadis is the only company in the world to be able to offer the most appropriate machine range to prepare yarns, in the form of Packages, Fapp?, Muff and Hanks. With its SINCRO M, a new concept of winding machine with precision crossing and electronic yarn guide which can reach speeds up to 1,750 m/min, it is possible to produce FAPP? low density packages (FAdis Precision Package), which allow for wide retraction margins of the yarn during the dyeing phase, thus keeping a high residual elasticity percentage of the elasticised yarn.
Therefore, with this widely tested technological system, and the possibility of unwinding the FAPP? with the SINCRO RFM SW rewinding machine with its ?on-line? tension control, it is possible to obtain qualitative results quite similar to hank dyeing but with the same simplicity and economy typical of yarn package dyeing.
Sandeep Shetty, Director and BR Nand Kishore, Head ? Sales & Marketing, A.B. Carter India Pvt Ltd, are on a hectic schedule of business preparing for the big event, India-ITME 2016. They are excited and even hint at the launch of a new revolutionary range of rings and ring travellers. A.B. Carter is planning to launch a new range of rings and rings travellers.
A.B.Carter has a huge range of various ring traveller profiles that could resolve the smooth performance for want of apt ring traveller matching on the given existing ring conditions and and fine tuning capability. Fast delivery of A.B. Carter ring travellers is our asset with ready stock due to on-time buffer arrangement at the works, thereby facilitating the client to maintain less inventory and space saving at the mills.
?HMSU is a new entrant in the rubber roller industry in India, though Hannecard and Mitex have been supplying in India since long, ITME being a large platform for the global textile industry our presence here will bring us to the front of the Indian textile market and create awareness about the high quality products that the group offers in India. This will expose the users to a different level of product range and get an opportunity to know us better. Hannecard and Mitex have been participating across the globe with India on its global map as a major contributing facility,? said Georg Heinen, Managing Director, Mitex GmbH.
Coimbatore-based Naren Group of Companies, which will be present in Hall 1, Booth E1, have launched this year the ?Direct Drive Coupling System? for all ring frames with or without VFDs, which save a lot of energy and time. ?People are very happy with the performance of this product,? said R Sundarraj, Managing Director, Naren Group of Companies.
Naren is mainly into Autoconer spares and accessories for all models up to date, covering both mechanical, electronics and splicer areas at will. R Sundarraj said, ?We have a very big warehouse facility to hold huge stock of all Autoconer parts and can deliver 24 x 7 to all customers across the globe. We have a very strong reputation and reliability for quality and service over the past 20 years as a brand to reckon with and rely. We are doing exceptionally well in electronics and automation field and giving the customers the most important technical edge and excellence, they save a lot of money on energy savings.?
A Sundararajan, Managing Partner, Sakthi Textile Engineers, said, ?We have a good R&D centre and making many initiatives for supporting textile mills with more quality and performance. Our focus to make more market penetration since the market is very competitive and then we plan for new product launches in the years to come.?
Sieger is continuously involved in the R&D activities to come out with new and newer solutions needed for the textile mills. ?We are launching this year, cone-to-container (C to C) and packing machines,? said G Radhakrishnan, Managing Director, Sieger Spintech Equipments Pvt Ltd.
Sieger has following products under its portfolio: AUTOLINE, Cone to container system and Packing machines.
S Senthilkumar, Managing Director of Simta Machinery Pvt Ltd, said ?We are in the process of certain strategy on USP for some of our upcoming products and stay-put hopefully despite the overall market looks apprehensive. We have remodeled our distribution network enabling deep penetration into the market besides rationalisation in production, quality check and supply chain management.?
He adds, ?We do have our plans in the focus for a progressive expansion with diversification aiming to improve-upon the present engineering with proposed additions in the infrastructure.?
?Our plan for India-ITME is to introduce new features in our existing models, a few new machines and discuss about our future machine prospects to our existing and new customers. India-ITME is a platform wherein all the who?s who of the industry are under one roof. Currently, the textile market has just started to pick up (three months late) and is bound to be faring good for the next six months at least,? said Himansu N Doshi, Director of Umargaon Textile Machinery P Ltd.
Established in 1959, Umargaon Textile has carved a niche in the corporate world of manmade fibre, VFY polyester and sewing thread industry because of its excellent machines, backed by exemplary post-sales service. Starting out with a precision cone winding machine for rayon and acetate yarn, the next step was the introduction of jumbo pineapple cone winding machine for metallic, nylon and polyester yarn. Superconer was then indigenously developed for high speed cone, cheese winding machine, which soon became popular because of its sturdiness, reliability and ability to withstand all weather conditions.
Speaking on the new product launches, JM Balaji, Head ? Marketing, Lakshmi Ring Travellers (Coimbatore) Limited (LRT), says, ?Yes we have further launches planned in the coming months. Our R&D is working on the same and you can expect some during India-ITME and others in the next year. We had increased our capacity recently by adding the third manufacturing plant and this will help us in providing quicker deliveries and also cater to growing market share of LRT.?
Amoli Shah, Director of Ahmedabad-based Prashant Group of Companies, says, ?Upcoming India-ITME 2016 is an important exhibition. Prashant Group will be displaying its latest innovations in this exhibition.
We will be also showing the world?s fastest automatic robotic sectional warping machine model PB 9 along with creel. This machine is suitable for all types of yarn and it can make full length beam much faster than the regular high speed sectional warping machine. You can reduce the labour cost, yarn inventory cost and save the space.?
The new generation machines brings a new dimension to the sectional warping whilst guaranteeing efficient production combined with the highest warp quality. Unique features of this machine are: endless warping, highest productivity, flexibility, perfect warp quality, automatic leasing, finest quality weaver beam, and independent use from both side of creel. Shah adds, ?Besides, we are also going to display motorised trolleys to handle cloth rolls. This trolley increase the productivity by 2.5 times and reduces the efforts drastically. In current scenario, more and more textile manufacturers are seeking automation even in material handling to stay lean in their operation.
This is the reason, our main focus is on motorised trolleys. We will also be displaying some innovative parts for sizing machine and dyeing machine.?
Rieter will exhibit a wide range of innovations at ITME 2016. As the world leader in compact technology, Rieter will show the K 42 compact spinning machine and the G 32 ring spinning machine with EliTe®. The learning system Rieter ?UPtime? Solutions, which supports the preventive maintenance of plants, represents a further step towards the digitisation of spinning mills. In addition, Rieter is exhibiting the new single head drawer frames generation RSB-D 50 and the R 36 semi-automatic rotor spinning machine. Rieter presents a wide range of technology components under the Bräcker, Graf, Novibra and Suessen trademarks, including the energy-saving spindle LENA by Novibra, which has already established itself very successfully in the market. An innovation in the after sales area is the Q-Package, a package for improving yarn quality in existing plants.
Ahmedabad-based Rabatex Industries has lined-up the latest and innovative pre-weaving technologies (weaving preparatory technologies) and battery operated and manual material handling and storage equipment including accessories like creels for technical textiles applications at India ITME exhibition in Hall 6, Booth H6D8.

The Rabatex high speed Sample Warping Machine model RI 6001 is primarily for production of samples and short production warp at very high production rate. The RI 6001 has a robustly constructed warping drum, suitable up to widths of 2,400 mm and for warping lengths between 21 and 450 m (depending on thread density) and suitable for yarn range from 5 to 500 tex. The RI 6001 comes with a heavy duty rotational creel with a maximum creel capacity of 16 colours and is suitable of attaining maximum speeds of up to 1,200 m per minutes.
In sync with the ?Make-in-India? initiative of Prime Minister Narendra Modi, ColorJet?s ?Made in India? technology and state-of?the-art manufacturing facility have been the major breakthroughs in achieving its goals. Through these two initiatives, the company has succeeded in keeping their machine costs, up to 30 per cent lower than Italian and Japanese machines.
At present, Amba Projex is very active in India and has installed several machines. These include: full process lines for the production of blackout and blinds, machines that can produce the best quality flocked fabrics, hot melt laminators for the production of performance apparel, powder application systems for carbon and filtration products, coating lines for industrial fabrics, and fabric prepreg equipment for composites. Amba?s machines are located all over India and clients benefit from the confidentiality that Amba provide when they engage with a client.
Fong?s, Then, Goller, Monforts Fong?s, Monforts, Xorella and FWT are the leading brands under CHTC Fong?s Industries, and also the renowned labels in the global textile industry. The CHTC Fong?s Group will present the one-stop sustainable solution in dyeing and finishing range of pre-treatment, dyeing, post-treatment and waste water treatment at ITME 2016. Fong?s TEC series is mostly recognised by its versatility and stability. Once again, CHTC Fong?s will be showing Jumbotec3-2T in ITME 2016.
Ahmedabad-based Inspiron Engineering, as a complete technology solution provider for textile finishing, is launching the new model MOTEX 15000 with 15 per cent more drying efficiency, in continuation of MOTEX series stenter. MOTEX stenter is a popular choice of quality conscious customers who are continuously looking for international standards of application and technological upgradation. MOTEX is recognised by its customers as premium quality stenter that delivers better quality and productivity. Besides, Motex is versatile for various substrates (woven, knits and technical textiles) wherein, it performs with minimal energy requirements. InspirOn, with a long experience of producing stenters for 20 years, has created a satisfied customer base of around 200 MOTEX Stenter machines in the last two decades.
Menzel has been designing and manufacturing textile processing machines for a decade now. Machines that do not just bring world-class technology within the reach of Indian customers but deliver quality that matches up to their exact need specifications. Menzel?s new continuous combined singeing, desizing and bleaching range with
a capacity to process 1,00,000 m/day of 50 to 500 gsm cotton, cotton Lycra, rayon, viscose and linen fabrics was delivered in March 2016 is a landmark achievement compared to other bleaching ranges. Various new features incorporated in the new range such as fine tension setting, wash boxes with special drum washer with powerful monsoon spray, turbulent splasher and backwash drum design with driven scroll to eliminate curl selvedge before and after intermittent squeezer. With the new type of excellent washing efficiency is achieved and Tegawa value of seven is achieved after four compartment desize wash on 275 gsm cotton Lycra fabric at 85 m/min speed.
Bianco has customised proven international technology to suit the precise requirements of local customers. It has achieved economising in pricing that allows more customers to benefit from its range of advanced products. It has established a competent and responsive service infrastructure to ensure consistent progress and profitability for its valued customers. Bianco has extended its range of specialised textile processing solutions to include: Weft Straightener, Rope Opening Line for woven fabrics, Fabric Centring Units: Dogal-05 and Compact- CE, Fabric Opening and Slitting Line for knitted fabrics, Grey Fabric Preparation Line for Continuous Processing Range, Fabric Accu- mulation-J-Scrays, Instrumentation: Hygrotex, Ecotex, Fabric Infeed Device for Digital Printing Machine.
Lenzing Instruments? booth offers an update on available systems for quality- and process control of staple fibre, filament, nonwovens, woven fabric, composites and plastic film. The exhibits range from already well-proven and established testing instruments to new innovations, thereby giving visitors a chance to directly experience how Lenzing Instruments various systems could contribute to their future quality control.Lenzing Instruments is presenting a range of online sensors for real time monitoring of filament yarn. This includes detection of yarn diameter variations, interlace, twist, tension, spin finish, colour as well as all kinds of yarn defects such as broken filaments and fluff. The applied sensor technology allows for precise distinction between broken filaments and fluff for advanced defect analysis. Combined sensor and camera systems offer online image analysis of detected yarn defects.
TumKalip Aparat, a Turkish manufacturer of spare parts for new generation of European make weaving machines since the last 30 years, will be showing its range of quality spare parts at India-ITME. TumKalip will also be promoting its high-tech coating technology for used Rapier Heads, like TiO2 and TC also called tungsten carbide coatings.
Kishore Khaitan, Managing Director, Basant Wire Industries, said ?The Indian Textile Engineering Industry is more than 100 years old with an illustrious history of achievements, including manufacture of advanced spinning machinery, power looms, weaving preparatory machines, finishing and dyeing machines, etc. It has also made a mark in the world specially in the field of export of accessories which amount to nearly two-third of last year?s export of about Rs 2,600 crore.?
However, due to structural problems, lack of fiscal policy support and small size of firms engaged in the business, the industry has not grown to its potential. Import of machinery and spares in India (Rs 10,385 crore) still constitutes more than 70 per cent in value of domestic demand. In comparison, China, which had a negligible TEI in 1990, has now grown into a major manufacturer and exporter of textile machinery and spares. Indian manufacturers sold about Rs 3,900 crore worth machinery and spares in India and exported about Rs 2,600 crore (40 per cent of production), while operating at only 60 per cent capacity utilisation.
Khaitan adds, ?The Indian TEI has the potential to grow more than 10 times to a $10 billion industry provided all the stakeholders including the Government adopt a mission to ?Make India a world leader in textiles by 2025?. We have the skills, the tradition, the designs, the manpower, the raw material and a large domestic market to achieve this but it shall remain a pipe dream if we do not channelise all forces to this common goal.?
?Investments in new technologies and processes will lead to greater demand for equipment with sustainable resource consumption-water, power, and energy. The industry should also witness investment in ancillary equipment in automation of internal logistics, particularly material handling and warehousing?, feels Navdeep Singh Sodhi, a Partner at Gherzi Textil Organisation AG, Switzerland.
The Indian government has come up with a number