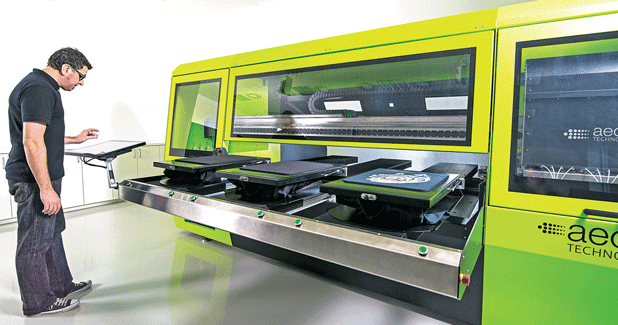 Grafica to market Aeoon Kyo series digital textile printers in India
These printers with a printing speed of 800 t-shirts per hour are designed for industrial use, vis-Ã -vis bulk production. Grafica Flextronica has recently signed an agreement with Austria based Aeoon Technologies GmbH
These printers with a printing speed of 800 t-shirts per hour are designed for industrial use, vis-Ã -vis bulk production.
Grafica Flextronica has recently signed an agreement with Austria based Aeoon Technologies GmbH to market Aeoon Kyo series digital textile printers in India. These sturdy printers with a printing speed of 800 t-shirts per hour are designed for industrial use, vis-Ã -vis bulk production.
The agreement was signed by Bhargav Mistry, Managing Director of Grafica, and Angelo Schiestl, Managing Director of Aeoon Technologies GmbH, Austria, during the latter´s special visit to Grafica Factory and DMI Institute in Vasai. Commenting on the development, Bhargav Mistry, Managing Director of Grafica says: ¨The demand for digital printers is growing tremendously although screen printing still has a strong hold in textile/garment printing space. We want to seize this growing opportunity in India. Digital is an addition to our already existing strong portfolio of textile / garment printing machinery and allied products.¨
Bhargav adds: ¨Both digital and screen printing technologies can co-exist now and in future. While digital press can be used for printing spot and CMYK colors even with big quantity, screen printing process would still be required to print high density and special effects.¨ Explaining the rationale behind joining hands with Grafica, Angelo Schiestl said: ¨Both Aeoon and Grafica have a synergy in terms of technology and technical know-how in their respective fields. While I come from textile/garment screen printing background, Grafica´s MD Bhargav is a staunch propagator of advanced screen printing who has passion for teaching good practices and advanced knowledge besides manufacturing high quality screen printing machines. I could see his specialty for myself during my visit to their factory and DMI institute. We at Aeoon are also focused on sharing knowledge rather than just selling machines. We want our customers to be fully satisfied and using our machines to its fullest potential, profitably and productively.¨
He adds: ¨It is true that digital DTG presses were hitherto used for low volume or novelty production, but thanks to our new technology, it can now become the industrial production method for garment decoration. While our industrial range Aeoon Kyo digital presses can even be used for printing just one single piece of garment to any bulk production. I can confidently say that till date, the Kyo series is the fastest digital DTG printer in its market segment.¨
Angelo explains: ¨The machines are robust, and have a durable full-metal machine body that is designed to handle the mechanical stresses of industrial use. ¨Aeoon machines are built with top quality components. Most importantly, many of the maintenance issues that are common in many DTG digital presses are eliminated. Example, wiping the heads which requires a very simple process of moving the heads to a certain position and giving them a quick wipe.¨
He explains further, ¨With Aeoon digital press, one can print on dark and light textiles using Aeoon RIP software which prepares all files for printing, generates (if applicable) a white under-base and automatically synchronizes the printable files with the machine. To print on light garments, one has to simply load the textile on the pallet, on the touch screen select the design to be printed, and hit the print button. Dark garments have to be pretreated before printing. During the printing process, the white under base is applied and the colors are printed on top of it. The textiles need to be cured in a dryer.
¨To ensure the best printing quality possible and to print on dark garments, it is necessary to pre treat the textiles. The pretreatment process is carried out before the actual printing. To maximize the output of machines, the pretreatment is not integrated in the Aeoon textile printers. There is no loss of speed or output due