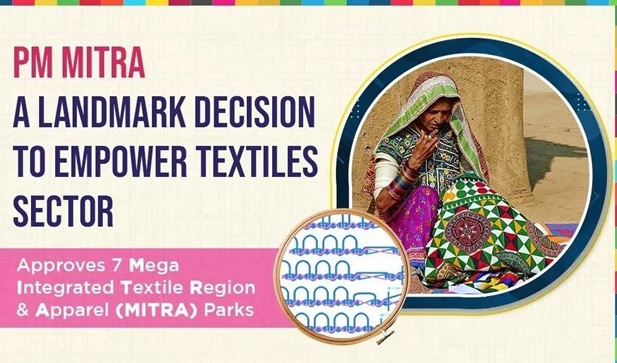 Govt of India releases guidelines for PM-MITRA parks scheme
The government has released operational guidelines for PM Mega Integrated Textile Region and Apparel (PM MITRA) parks scheme as per which the state government will transfer land to the Special Purpose Vehicle (SPV) – is a legal entity with 51% equity shareholding of the state and 49% of the centre.
As per the guidelines released by the textiles ministry, the sites for the parks will be selected basis five metrics- connectivity to site, existing ecosystem for textiles, availability of utilities services at site, state industrial /textile policy, and environmental and social impact.
The nearest highway from site, distance from air cargo, airport/railhead, distance from sea port/inland waterway/dedicated freight corridor and distance from multi modal logistic park /will have a weightage of 25%. Similarly, the existing ecosystem for textiles like distance from existing textile cluster, availability of raw materials and skilled manpower suitable for textiles industry, availability of skill development institutes/research associations/institutes will also have a 25% weightage.
A 20% weightage will be given for assurance of availability of good quality power source at the site to support the development and operation of park, assurance for power distribution license for Master Developer for park area along with permission for open access sourcing of power.
The selection of PM MITRA Park sites will be done in a two-stage selection process on Challenge Method. In the first stage, expenditure on constitution of SPV, planning of the parks, project management agency selection, model Request for Qualification/Request for Proposal Development, Concession Agreement and Selection of Master Developer will be permitted.
The Master Developer is to be selected by a transparent process and should have adequate capacity and experience. The second stage involves the development of the park once the first instalment of the grant to the selected sites is released.
Tamil Nadu, Punjab, Odisha, Andhra Pradesh, Gujarat, Rajasthan, Assam, Karnataka, Madhya Pradesh and Telangana expressed interest to setup PM MITRA Parks. The centre will provide Development Capital Support in the form of grant in aid (capital) to the Park SPV.