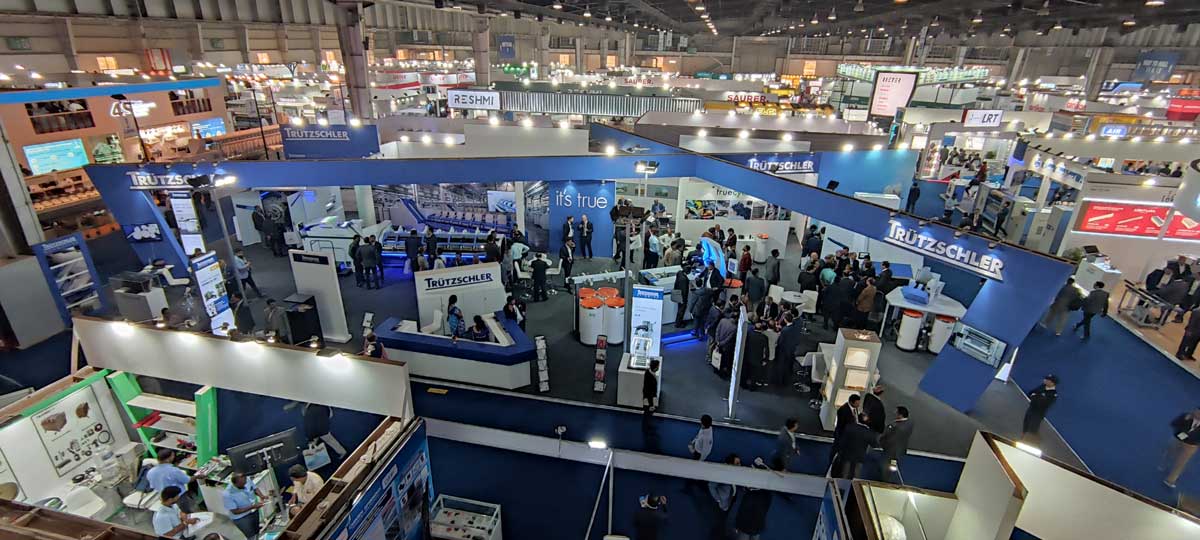 Global textile engineering firms bank on India for growth
With all the big players in the global textile engineering industry from over 68 countries participating at Indian ITME 2022, Indian textile industry was able to experience the latest technological trends first hand. Rakesh Rao spoke to some of them to know about their new offerings and future plans for India.
The textile industry is the second most important sector after agriculture for the India economy in terms of number of people employed, contribution to the GDP and exports. With the changing geopolitical environment, India has emerged as a strong contender to emerge as the second largest textile trader in the world. Given the importance of the country in the global supply chain, major global textile engineering firms from over 68 countries marked their presence at ITME 2022 with their innovative products and solutions for the textile manufacturing sector in India. These firms expressed their confidence in the India's growth story and are ready to expand their capabilities for serving the industry to give it a competitive edge in the global marketplace. ITJ's Rakesh Raospoke to a few of them during ITME 2022 to know more about their plans for India.
Loepfe Brothers highlights PRISMA at ITME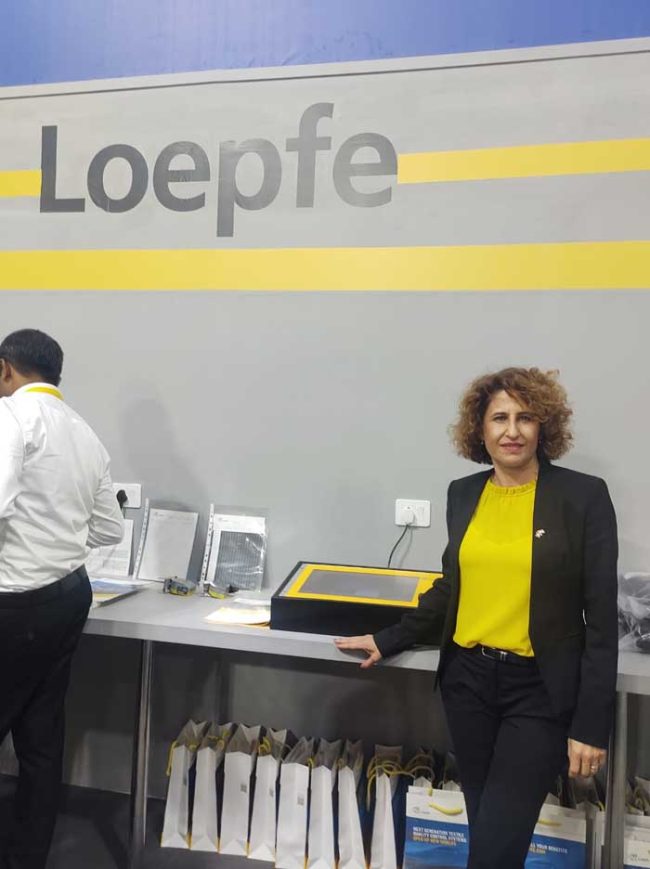 Loepfe Brothers Ltd, which has revolutionised quality control in the textile industry with its optical yarn clearers, showcased the market leading YarnMaster PRISMA along with its well-established counterpart YarnMaster ZENIT+ at ITME 2022. With this dual offering, Loepfe uniquely leads both on technology and performance as well as on the proven reliability for all applications in winding.
"Its four dedicated sensors make PRISMA (for yarn quality control for winding) an unique product. PRISMA has got good response from the industry as it leads to lesser wastage, higher profitability and increases yarn quality for the user. Return on invest for PRISMA is less than two months as it leads to huge savings for the customers. This product is continuously being upgraded by adding new features," stated Sandra Meier, Head of Products & Solutions, Loepfe Brothers Ltd.
Loepfe has much to offer even beyond the spinning sector. For example, WeftMaster FALCON-i is placed in various processes from weaving and knitting, to processing different technical textile applications. "FALCON-i – an optical sensor for detecting filamentation – is successfully used in a wide variety of fields. This is very useful for technical textiles, a growing segment in India," she said.
Vandewiele Savio presents extensive range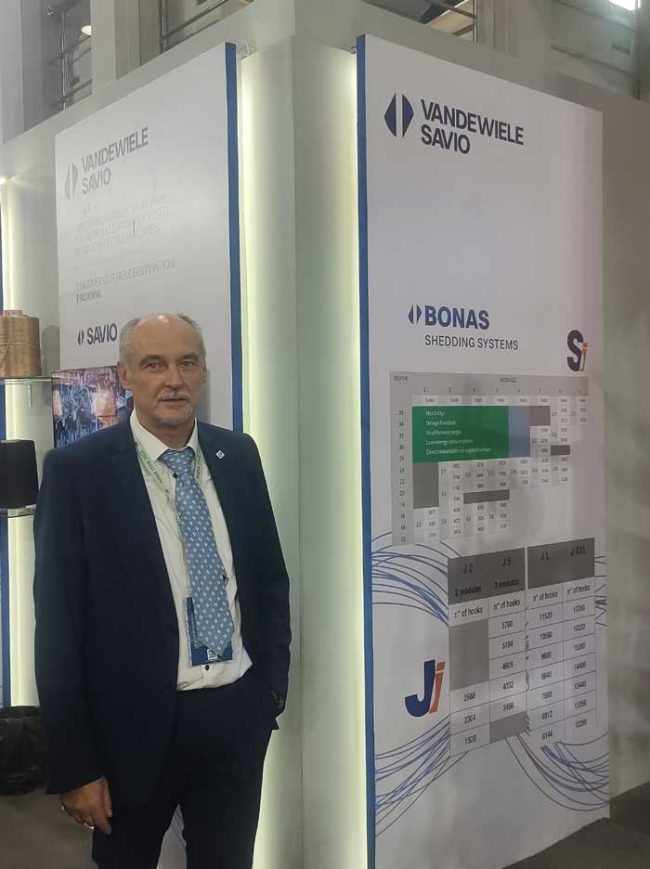 Reflecting India's importance as a market to the group, Vandewiele Savio presented an extensive range of products and technologies under multiple brands for the textile industry at ITME 2022. The company highlighted its Bonas Ji and JiL jacquard ranges, which already dominate India's sari weaving market. Besides, Vandewiele displayed carpet samples produced on the digitally controlled RCF carpet weaving machine, as well as cut-loop machines and specific machines for weaving light carpets.
The company also unveiled new products during the trade fair. "We are premiering two machines – Proxima Smartconer and a new large sized jacquard machine – at ITME," stated Danny Bourgois, Manager Exhibitions, Vandewiele Savio
Savio presented the new Proxima Smartconer automatic winder at ITME 2022 ahead of ITMA in Milan 2023. The latest development in the jacquard range, the JiXXL – characterised by reliability, high productivity, maximum flexibility and low energy consumption – was also on the display at India ITME for the first time. Bejimac showcased a new singeing machine in response to the growing demand for knitwear singeing.
Today, all Vandewiele machines can be connected through cloud computing to the company's TEXconnect remote supervision system. Speaking about digitalization, Danny Bourgois said, "We have started connecting our machines digitally more than 10 years back and we have made lot of developments in this direction. Every machine is digitally controlled to increase productivity of the machine. Automated, digitally-enabled machines consume very less energy compared to earlier generation conventional machines."
Stäubli presents high-end technologies at ITME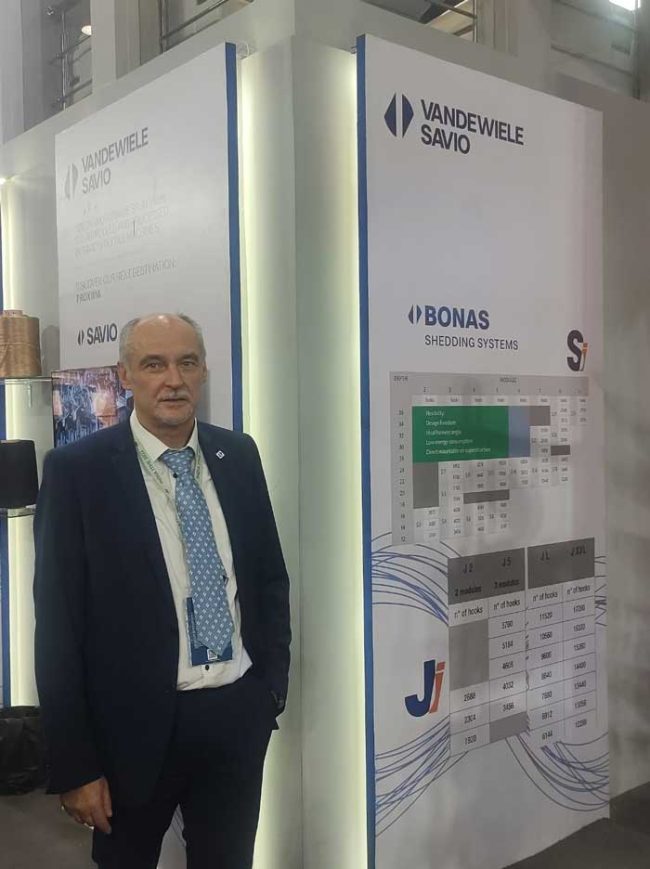 Stäubli, which offers innovative machinery systems and solutions for high quality textile production, presented its high-end technologies, machinery, and solutions that offer greater benefits to the weaving mills at ITME 2022. "We are pleased to be here at this trade fair to show our innovations and new products. Some of the products displayed for the first time in India are a new jacquard machine (MX Pro) and warp tying machine (TIEPRO). India is one of the main markets for us and we are present at all the key textile hubs in the country to serve our customers better," stated Fritz Legler, Textile Global Head of Marketing Sales & Service WPS Textile Marketing Officer, Staubli Sargans AG.
Stäubli electronic Jacquard machine SX PRO produces excellent results in weaving terry cloth, upholstery, tapestry, silk fabric, apparels or seat covers, and technical fabrics on all types of air-jet, rapier and water-jet weaving machines. The Jacquard machine SX PRO is very robust, wear-resistant, and designed for many years of daily use with a minimum of maintenance. Because the power supply is integrated into the Jacquard head, the machine is very compact and can be readily installed in any weaving mill.
The new TIEPRO warp tying machine is designed for universal use with standard warp yarns in any weaving mill. It features a new type of yarn separation system without separating needles, which makes it especially economical. Also, on the display at ITME was the latest frame weaving solutions.
Visitors to the Stäubli booth could discover latest textile technology and learn more about solutions that can make their processes increasingly sustainable. "We develop all our products for enhancing productivity while considering the eco-friendly benefits (like reduction in raw material usage, energy consumption and maintenance requirements). Our endevour is always to produce machines that are helping in reducing the carbon footprint for the user (i.e the textile industry) as well," he informed.
Speaking about the future, Fritz Legler said, "At present, our order books are very good. But, there is a lot of uncertainty in the market and demands differ from country-to-country. We found at ITME that customers in India are more optimistic about the near and long term growth."
Uster showcases "quality" solutions
Swiss firm Uster Technologies – the global leader in textile testing and quality control – presented its total quality solutions from fiber to fabric at the trade fair. "Uster is well established in India. Most of our products at ITME have been in the market, but we are showcasing them for the first time at a big trade show. All the products presented here were borne out of innovations in the last 2-3 years," said Sivakumar Narayanan, Executive Vice President – Marketing & Business Development, Uster Technologies AG.
On display was Uster Quantum 4.0, which combines capacitive and optical yarn clearing for offering full flexibility for various yarns and changing conditions. "One of the highlights at ITME is Quantum 4.0 connected to RSO 3D, which provides a unique preventive system in quality control for textile mills. We call it 'quality automation'. You can control variation to minimum level and have high-quality yarn consistently. On fabric side, we have introduced Q-Bar 2 for inspecting quality on the loom. If anything goes wrong, it reacts by either alarming or stopping the loom even before the defect can happen. Goal is to reduce defect in the fabric to the minimum," he stated.
According to him, response to Uster products in India has been phenomenal and the company had to increase production to fulfill the growing demand.
Indian Government's intention to increase the country's share in the global textile trade presents big opportunity for Uster as textile makers will make investments in quality to gain market share. Sivakumar Narayanan elaborated, "Government is taking cohesive efforts to bring together all the major stake holders and discuss issues affecting the growth of the textile industry to find solutions. We expect the steps taken by the government will make this industry one of the major drivers of Make in India initiative. As industry diversifies and grows, it provides more growth opportunity for Uster. We play a big role in scaling up production and quality, which are very critical to increase exports. Uster provides the quality standards for the industry. As the industry grows, they will need more and more solutions from us."
Speaking about the industry outlook, he said, "There will be up and downs, but demand for textiles never dies, it only keeps growing. We expect the market to boom in another 4-5 months."
Schoch highlights pioneering reeds solutions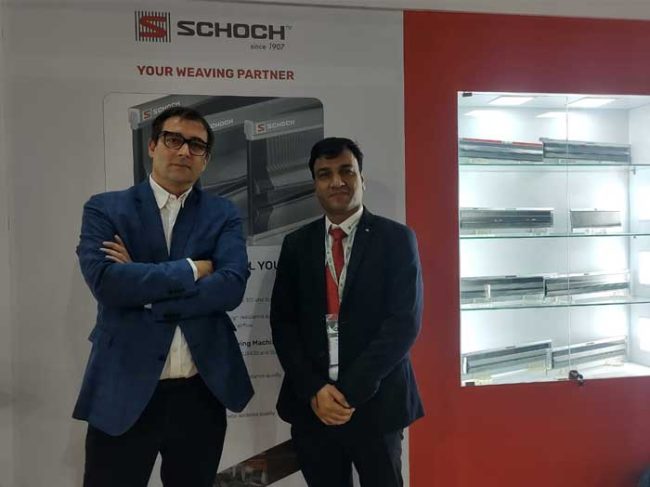 Italy-based Schoch & Co. S.r.l. – now a part of Itema Group – presented its latest range of weaving accessories, including reeds and other components, at ITME 2022. Matteo Schoch, Director, Schoch & Co, said, "In 2019, majority of Schoch & Co shares were acquired by Itema Group. In India, we are manufacturing reeds since 2008. Year 2022 was a record year for us in India. In 2023, we are moving our factory to a new location (which is near to our existing site in Kolhapur, Maharashtra) to double our production capacity."
Speaking about the growth plans, he said, "We are seeing more demand for high-quality, high-speed and low-consumption products. This is good for us as we are the leading player in reeds offering quality products. India, with its large domestic market and big export potential, offers huge opportunity for us to grow. To serve the growing needs of the market, besides reeds, we will be adding new products in drop wires, heald wires and heald frames in the coming months."
Saurer highlights novel air spinning technology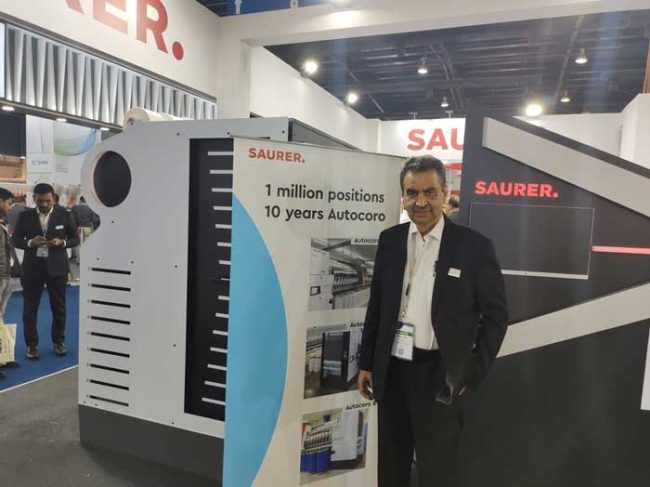 Saurer, the solution provider for spinning and twisting machines, presented its air spinning machine Autoairo for the first time at India ITME 2022. Saurer has combined its most advanced automation solutions with proven technology to create an air-spinning machine with unique properties. The Autoairo features autonomous spinning positions with automation per spinning unit for more productivity and integrated intelligence. The exhibited Autoairo will remain in India to conduct customer trials.
With the Autoairo, Saurer is the only supplier offering five different spinning systems from one company: ring, compact, worsted, rotor, and air spinning systems. Other exhibits at the booth included: Autospeed roving frame, Autocoro and BD rotor spinning units, FusionTwister for two-for-one twisting, Texparts and Fibrevision quality monitoring.
Ashok Juneja, Director Sales, Saurer Textile Solutions Pvt Ltd, said, "Saurer is known for producing innovative products. Recently, the company celebrated the dispatch of 1 millionth spindle of ACO fully automated open end machine. This is a major milestone for us."
Saurer's spinning and twisting machines are renowned for their energy saving features, automation, and digitalisation solutions. Saurer machines enable the circular economy in textiles and are the leaders in processing recycled textile materials.
"Now, circular economy is a buzz in the industry. To support it, a lot of our machines can be used for textile recycling for producing fibre," he added.
AB Carter unveils Royal Rings at ITME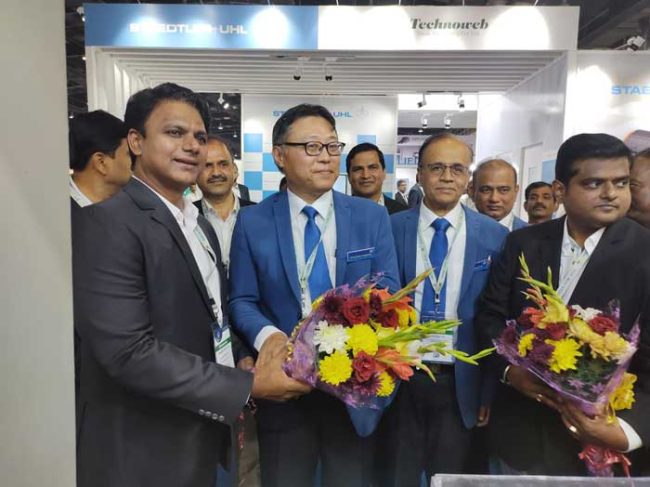 AB Carter launched the latest ring, Royal Rings, during ITME 2022 in the presence of Hisahiro Koketsu, Managing Director, KTTM. Globally renowned manufacturer of rings and ring travellers, AB Carter has a strong presence in India. The company has already launched CRUZER traveler and GS Series ring travellers, and expects a big boost with the addition of Royal Rings in its product portfolio.
"To commemorate the 100th year, AB Carter has launched Royal Rings at ITME. We believe it will be a game changer for modern day spinner. Royal ring, along with GS range of travellers, will enhance spinners' experience and reduce dependency on imported rings, and push Make in India initiative," said Sandeep Shetty, Managing Director, AB Carter India Pvt Ltd.
Speaking about the company's future plans, he said, "We have been witnessing 20-25 per cent annual growth in the last 10 years. We have been aggressively investing in India and recently have added new ring division and coating lines. India and Bangladesh will continue to see robust growth in the coming years and, hence, we are very optimistic."
Demand for Picanol machines is growing in India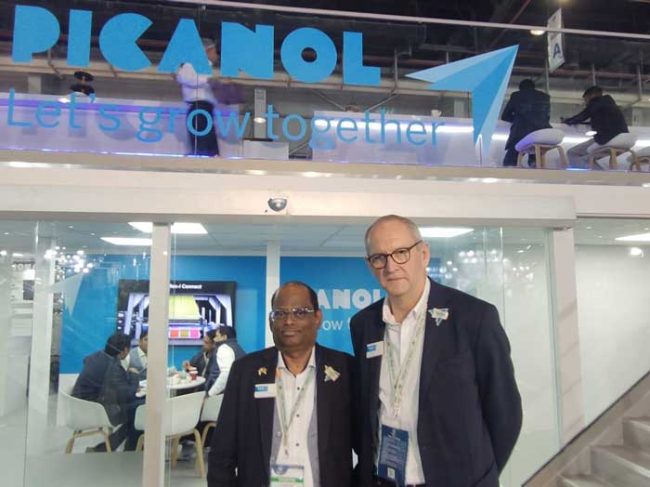 With its high-performance weaving machines and reliable services, Picanol has been able to acquire a leading position in the Indian market. At ITME 2022, Picanol showcased its high-tech weaving machines (which included machines from the OmniPlus-i Connect airjet generation on the Picanol booth as well as the OptiMax-i Connect which was displayed on the Vandewiele booth) and its digital platform, PicConnect. "At ITME 2022, we are displaying for the first time in India the new range of Connect machines and demonstrating the state-of-the-art functionalities of PicConnect – Picanol's digital platform for customers that offers a wide range of features, from industrial IoT to service-related applications," informed Johan Verstraete, Vice President Weaving Machines, Picanol.
Picanol has been present in India since 1956 and has been serving more than 1000 customers, where it has installed over 13000 machines. "We witnessed a strong inflow of orders in 2022. The demand for our machines is expected to increase in the coming years as powerlooms in India are undergoing modernisation and per capita income of the people is increasing; resulting in a need for high-performance textile machines, neutralizing the growing salary cost. While domestic consumption remains strong, there is also a big opportunity for Indian textile industry to increase their share in the global trade. This also augurs well for Picanol," said Johan Verstraete, while speaking about the importance of Indian market.
Kasiviswanathan Palanisamy, Director of Picanol India, in a press statement, said, "We'd like to say a big thank you to everyone who came by our booth! We must also thank our highly professional Picanol team, who together made our time at this exhibition such a success."
DiloGroup: Leading the nonwovens growth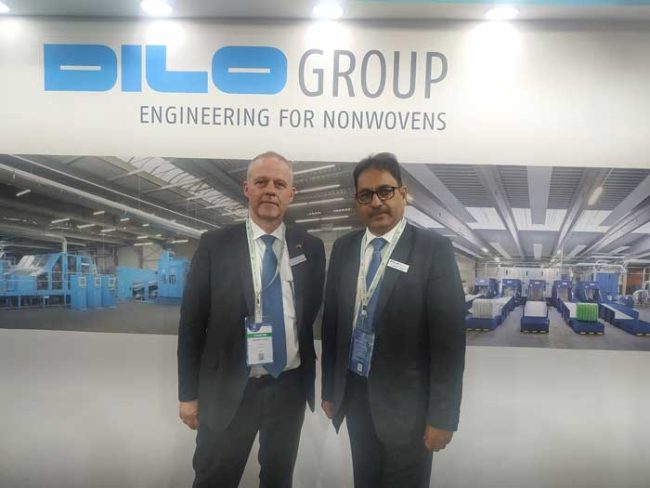 DiloGroup, the global machinery provider for nonwoven industry, showcased its complete line required for production of nonwovens at ITME. "For last more than 35 years, we are operating in India. Traditionally, India has not been a big nonwoven market; but, there has been a steady growth. However, we expect the market to mature leading to strong consumption of nonwovens in the country presenting good opportunity for us," informed Yogesh Garg, MD, Dilo India Pvt Ltd.
During Covid pandemic, it was nonwoven industry, which came to the rescue of the people, with critical products for the healthcare sector. This also prompted the Government of India to take steps for the promotion of the technical textiles and nonwovens. He elaborated, "Government is encouraging investments in technical textiles and nonwovens. However, industry should also play a key role in scaling up nonwovens industry to a new height. As a technology partner, Dilo is also engaging with various stakeholders and sharing its knowhow to expand the market for nonwovens."
Some of the prominent areas of focus for Dilo at ITME 2022 were production of nonwovens by intense needling, fibre pulp recycling, additive production method of the 3D-Lofter, IsoFeed card feeding, etc. "Dilo has been a pioneer in sustainability. Our machines are designed to help the industry meet its green goals like recycled fibres, production of natural fibres, etc," added Yogesh Garg.
Speaking about future plans, he said, "India is very important market for Dilo as it represents huge growth potential for nonwovens. We are looking at expanding our operations and business profile in India. With respect to new products, you will witness the launch of more innovative products at the forthcoming ITMA 2023 in Milan."
Groz-Beckert displays precision components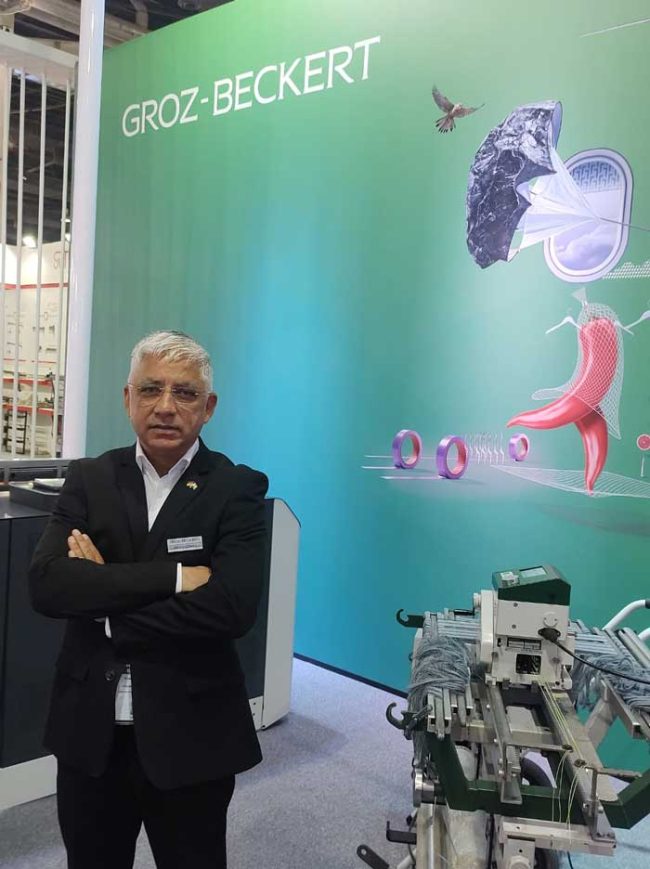 Groz-Beckert, one of the global leaders in industrial machine needles, showcased innovative technologies and an extensive product portfolio at ITME 2022. Sanjay Chawla, VP – Sales & Marketing, Groz-Beckert Asia Pvt Ltd, stated, "Groz-Beckert offers fabric formation and joining technologies and is known for supplying precision components. In India, we have a plant since 1960, where we manufacture knitting and sewing needles for our global requirements. Our team is present in all the major textile clusters in India."
He added, "Highlight of this show is the collaboration between Groz-Beckert and a machine builder in the field of circular knitting, where we hold a joint patent for a new technology, which keeps knitting system clean for a longer duration. Knitters, especially in staple fibre knitting, have to frequently clean the machine. With our new technology, knitters need to clean the machine only at the end of the life cycle of the needles (which range from 6-9 months). This helps in improving efficiency of the machine as production can run for longer duration without any stoppage. A machine, having this technology, has already been sold to one of the knitters in Faridabad during ITME 2022."
In the product area of weaving, the focus was on the WarpMasterPlus drawing-in machine and the KnotMaster tying machine. Both are characterised by their simple operation and great flexibility. The product highlights presented by the product area Felting at India ITME included a variety of felting needles, including the patented GEBECON felting needle with improved surface quality and optimised bending resistance properties, as well as the HyTec P jet strip for spunlace customers.
Speaking on sustainability, he said, "Groz-Beckert is committed to sustainability. We have been talking about reducing carbon footprint more than a decade ago. Our needle technology results in less power consumption; thus, reducing energy cost."
On future plans, Sanjay Chawla said, "With many leading textile brands opting for China Plus One policy, India is the only country which has the potential to fill in the gap in the global textile supply chain. Huge response received for PLI scheme shows the interest of big textile companies to invest in India. And we are fully geared up to meet the growing requirements of the industry."
Intex aiding digitalization in textiles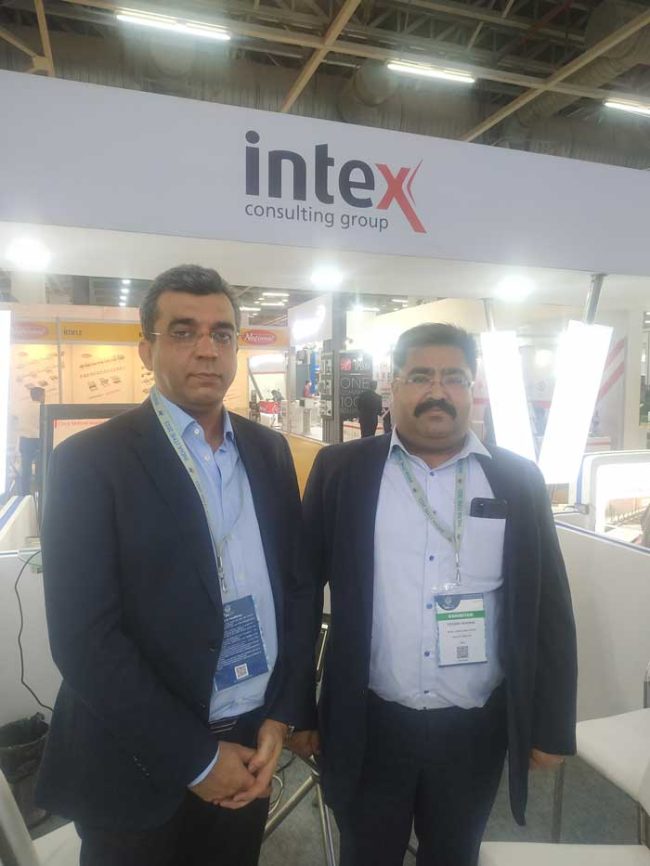 The global enterprise resource planning (ERP) software provider, Intex Consulting Group, presented a host of solutions for enabling digital transformation of textile production at ITME 2022. It provides ERP and manufacturing execution system (MES) solutions for all textile processes – from supervising machines to managing business. "Intex Consulting offers software that is specialised for planning and scheduling functions across textile value chain. We offer solutions for all processes from yarn to fabric or made-up stage. Indian, being a textile manufacturing hub, is one the major markets for us. Besides handling projects in India, the local unit of Intex is a hub for South East Asia and also works on developing software for the company," explained Rohit Pandit, MD, Intex Consulting Group, India.
Textile is one of the most complex and intertwined industries. To manage this high level of complexity of the whole textile chain, digital solutions are a must. Intex offers holistic and fully integrated ERP software that is developed specifically for customers from the textile industry. He elaborated, "As you go up the value chain, the complexity increases. Our biggest value-add comes when there are high level of complexities involved in the processes. With our software, we help the customers to reduce manufacturing time and increase production efficiency."
Intex helps in realising economic potentials by shortening cycle times, increasing OEE (Overall Equipment Effectiveness), reducing ecological impact, ensuring 99.9 per cent stock accuracy, etc. Speaking the about the trends, Rohit Pandit said, "Covid gave a leap to digitalisation. Today, customers are demanding digital tools for easing operation processes and efficient functioning of the company; thus, creating more business opportunities of us."
Oerlikon presents innovative solutions for MMF at ITME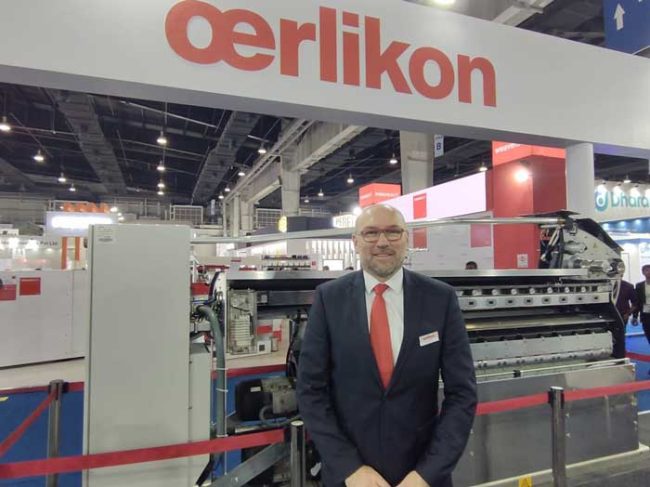 Swiss Oerlikon Group's Polymer Processing Solutions division presented a broad range of products and services focused on manufacturing and processing manmade fibers (MMF) at ITME 2022 under the banner of 'From Melt to Yarn, Fibers and Nonwovens'. For Oerlikon, this was the second major appearance in India in the recent months, after hosting its customer event in Daman in November. The Government of India's policy to encourage growth of manmade fiber industry is expected to present more growth avenues of Oerlikon.
"Given the present geopolitical scenario, India has a big opportunity to enhance its share in the global MMF textile value chain. With its expertise in the area of MMF technologies, Oerlikon is in a position to fully support India's growth in this sector. But, Indian companies need to invest now in new technologies to gain from evolving global market. In addition to India, we see huge potential for us in Bangladesh, where many companies are looking to invest in setting up raw material production sites. Thus, India and Bangladesh offer good opportunities for business from polymer processing projects," explained André Wissenberg, VP & Head of Marketing, Corporate Communications and Public Affairs, Oerlikon Polymer Processing Solutions Division of Oerlikon Textile GmbH & Co KG.
Oerlikon also offers solutions to produce high-end yarn from both bottles and textile waste; thus helping textile production operations to run on the zero-waste philosophy. With the need for sustainability increasing, Oerlikon can be an ideal partner for textile companies to achieve their green goals. "If you want to export to Europe in the future (2025 onwards), you have to fulfill certain environmental regulations, which requires investment in new technologies. With environmental regulation becoming strong, interest of textile industry is growing in recycling and zero waste production technologies, which offers big opportunity for us. Oerlikon used ITME 2022 platform to showcase its offers in recycling and discuss new possibilities with our potential customers. Indian textile industry needs to gear up for this new regulation to expand its business in Europe and we are ready to help them," said André Wissenberg.
Klüber showcases specialty lubricants for textiles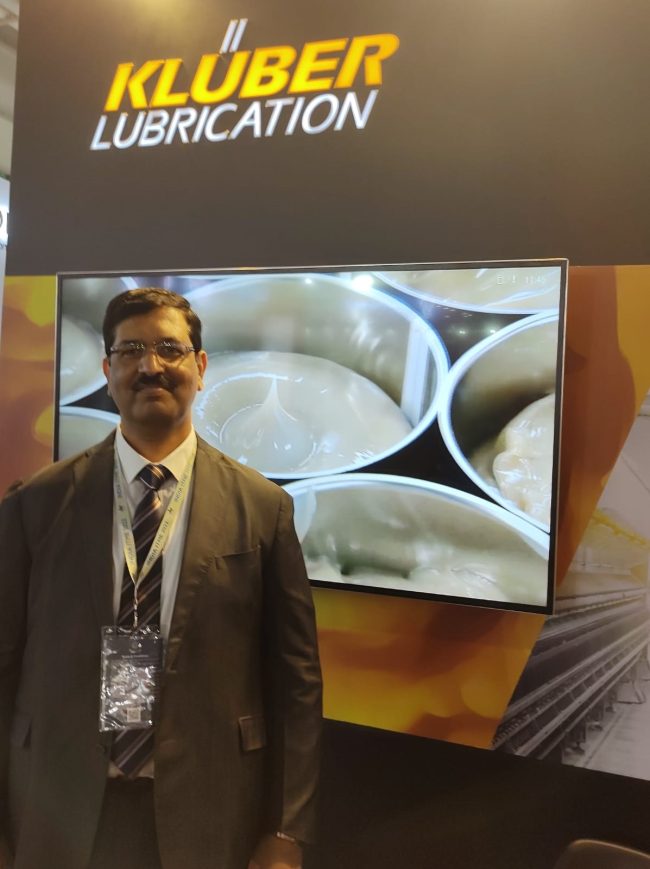 Klüber Lubrication, a part of the Freudenberg Group, showcased high performance lubricants for improving productivity and lowering maintenance costs of textile equipment at ITME 2022. To help the textile industry to achieve its goals, Klüber Lubrication has been providing many diverse solutions tailored to the industry's specific requirements."As an expert for specialty lubricants, Klüber Lubrication cooperates closely with the original equipment manufacturers of major textile machine components to push the limits of what can be technically achieved even further: longer service intervals, longer component life and more reliable operation," said Hitendra Bhargava, CEO, Kluber Lubrication India Pvt Ltd.
The Indian textile industry comprises a wide variety of processes and machinery from spinning, knitting, weaving all the way to finishing. The growth and modernisation of the industry has put a greater emphasis on higher productivity on manufacturers. And lubricants play a key role in performance a textile equipment. "Klüber prides itself on its lubricant pharmacy philosophy – meaning we understand every lubricant application in-depth and develop a custom made solution specific for the application. After all, it is the lubricant that is responsible for ensuring the reliable operation of each machine element. The lubricants used are expected to offer reliable performance over a long service life and a wide temperature range as well as good resistance to loads. As a lubrication partner, we help the industry to choose the right lubrication solutions for improving the performance of their textile machines," he elaborated.
With the goal of making a significant contribution to sustainability in textile production, Klüber Lubrication has developed synthetic gear oils with properties matched to a textile machine's requirements. Synthetic gear oil increases productivity by 150 per cent and, as a result, maintenance intervals are extended from 8,000 to 20,000 hours. "By using the optimal lubricant for the task, sustainability and performance can go hand in hand," added Hitendra Bhargava.