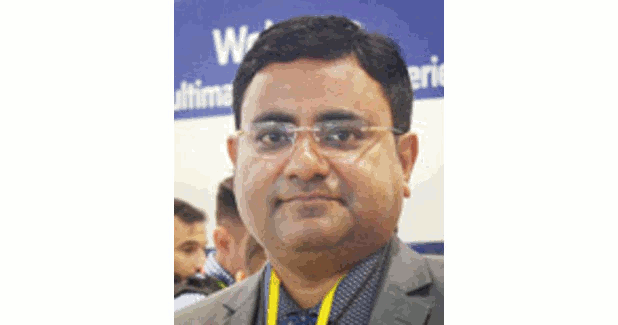 Footprints Multiply
Digital footprints in the textile printing market are multiplying. This was clearly visible during the ITMA Barcelona in June this year where a separate hall was dedicated to the digital printing industry, with a 40 per cent rise in the space for this fastest growing segment, reports the ITJ cover story.
Digital footprints in the textile printing market are multiplying. This was clearly visible during the ITMA Barcelona in June this year where a separate hall was dedicated to the digital printing industry, with a 40 per cent rise in the space for this fastest growing segment, reports the ITJ cover story.
Digital printing arrived two decades ago, but the footprints it made in the market were just a smattering and scattered. But in the last five years, with existing companies launching new brands after brands and novel technologies rapidly surfacing, the digital footprints in the market are multiplying for the benefit of the textile industry. Consider this: Only at the Milano ITMA in 2015, for the first time Digital Printing had its separate Hall, and at the Barcelona ITMA in June this year there was a 40 per cent rise in the space for this fastest growing segment.
According to a Gherzi global study to identify the main reasons for investments into digital textile printing, ?the growth still is not driven by direct cost advantages (against traditional textile printing technologies), but by several indirect parameters underlining the advantages of digital textile printing such as speed to market, design flexibility and new business models.
ZIMMER Austria is an expert for printing on heavyweight textile substrates, covering anything from woven, nonwoven, velour, plush, terry, artificial fur, or other voluminous substrates such as carpet of different construction and pile weight range up to 3.000 g/m2 and more. Being in manufacturing and service to the textile producers since 1876, with more than 140 years of expertise mainly dedicated to the printing technology, ZIMMER has proven to be a reliable and trusted partner to textile and carpet printing industries.
The first digital carpet printer Chromotronic was built and supplied by ZIMMER in 1976 and the revolutionary and breakthrough digital carpet printing has begun with the Chromojet valve-based technology in 1980. Since then carpet printing has been dominated by digital printing. In 2008, ZIMMER Austria introduced a brand new generation of digital printer, under the brand COLARIS, based on the piezo technology. Today more and more Chromojet printers are substituted by COLARIS printers.
Alessandro Manes, CEO at aleph, one of the leading manufacturers of digital textile printers, said, ?Italy, Turkey, South Korea, Indonesia, Mexico are currently the major markets for aleph. We have established a presence there and are strengthening our position in those regions by building long-term partnerships with local dealers and distributors. All those countries have seen a dynamic growth of the textile printing industry over the past two years. Many printing houses are investing to boost their printing equipment on a yearly basis, and our LAFORTE series has proved to be a profit-generating choice for them. At the same time, we are focusing on establishing a presence in countries such as US, Argentina, Indonesia, India, Pakistan and Bangladesh.?
Manes further added, ?we are planning to further expand our presence in India. In order to do so, we are focusing on establishing a network of partners and dealers to ensure a widespread coverage of the country.?
aleph has experienced a continuous corporate growth, up to 30 per cent, in the past four years, also following the joint venture with Italian private equity firm, Wise sgr. He said, ?As part of the joint venture process, over the past two years we have been focusing on an internal reorganisation, which has seen the company investing both in our production facility and in human resources, as well as on expanding and consolidating our LAFORTE product range.?
A spokesperson from MIMAKI said, ?The market in India has developed and is developing nicely for MIMAKI. With our offices in Delhi and Mumbai we are in a good position, especially considering our dealer network too. We have showrooms in both cities, with a bigger focus on the textile business in our Mumbai office.?
He added, ?As the Indian market is a growing market in all segments, India is of course a strategic market for Mimaki. We will continue to serve the Indian market with good and reliable products and strong service throughout the whole country with our dealers and our own network.?
Mimaki has its headquarters in Nagano province in Japan. With 13 group companies around the world and our distributor and dealer network, we are catering to more than 150 countries worldwide.
Mimaki is very well known as an engineering company, ?therefore we spend a high percentage of our turnover in R&D to develop new, state-of-the-art products to cater our customer?s needs,? he said.
Amit Sharan, India Sales and Operations Coordinator of MS Printing Solutions Srl, Italy, had this to say: ?The market is responding very well because since years and also by changing generation, MS never lost the market leadership and has always been able to assure continuity in innovation and customer support. The major market is still Europe but we are now focusing in supporting Asian countries to get the benefits of digital through a continuous training and enlarging our presence in the territories.?
MS Printing Solutions is always concerned with the market demand. ?We came into the market with JP6, which was the highest production machine, and we gradually developed JP7, JPK and Lario. Just as LaRio, the first single-pass printing machine in the world made its debut in 2010, a decade later Mini Lario was launched, which is the fastest scanning machine in the world and is set to change the face of digital printing. We always get good response from western India, although we have highest number of installation of digital printing machine in India,? he said.
Sharan said, ?We see that each year digital technology is gaining market share from traditional. With the growth of knowledge, more and more companies are moving towards this new technology. What has happened in Europe is already happening in Asia and the main leverage are: quality, shorter time to market, flexibility and sustainability. In addition, with the latest development in machine speed and ink cost, digital has become more and more convenient than traditional in a lot of cases. So the offer is now attractive for large number of market players who can see in the digital the best investment to support their growth.?
In India, Colorjet has been leading the race in digital printing. This was visible during ITMA in Barcelona where ColorJet was the only leading sponsor for the event. Smarth Bansal, Sr. Product Manager, Colorjet India Ltd, said that the company has focussed on the most important aspect of digital inkjet printing in textiles and that is a good price-performance ratio. ?Unlike other manufacturers we offer a wide range of machines up to 320cm nominal width and speeds that range from 20 sq m/hour to 200 sq m/hour. In short, we have a solution for everybody in direct to fabric, roll to roll, digital inkjet printing market.?
That digital printing is a vastly a lesser strain on resources and utilities is well established. Colorjet has already gone towards eco-friendly and energy saving printers. Colorjet prides itself in designing machines that deliver highest productivity per liter of water, prints with aqueous water based inks. It also has printing machines that easily prints on polyester-based fabrics which can be recycled and uses environment-friendly aqueous based inks and achieves goals of green printing.
Colorjet supports buyers of Colorjet machines with all that is needed to get the best out of them; be it software, inks, consumables, spare parts or upgrades. To ease entry into digital inkjet printers, Colorjet offers modular machines that can be retro-fitted to achieve higher production. Colorjet also came up with the concept of dual ink systems on the same machine for those who need flexibility.
Customer support is a very important aspect of Colorjet business. Colorjet technicians do not just concern themselves with the printing machine but assist in other areas as well to achieve best results. It is our business to make digital printing work for our customers. Our Customer is sure to get sound advice on numerous aspects and finally choose the right mix of machine, ink systems, supporting equipment etc. that best addresses his needs.
Avinash Mayekar, MD & CEO, Suvin Advisors, said, ?Advanced digital printing technologies are transforming the high-end fashion, fast fashion, sportswear and at leisure, home textile industries. The innovations today have turned textiles to an open canvas on which the designers create beautiful and colourful masterpieces. It involves a lot of colours and artistic designs. Sometimes it is not possible to weave or knit certain kind of designs. In such cases, printing makes the job much easier. The introduction of printing into textiles has provided new dimension to the fashion aspect of textile industry. This one invention has opened doors for endless possibilities of designs in textiles.?
Textile printing industry represents 30 billion square metre of material volume on an annual basis worldwide (source: Yarns and Fibers). Global digital textile printing market was valued at Euro 1.17 billion in 2016 with growth forecast to reach Euro 2.42 billion in 2021 (source: Smithers Pira). Digitally printed textile is growing at a steady annual rate of 25 per cent.
Inkjet printing of textiles remains one of the fastest growing segments within the digital print ecosystem, with worldwide market rising to $1.88 billion in 2018, more than double its value in 2013. Across this period the volume of fabrics printed digitally has risen from 548 million m² to 1.16 billion m².
This attractive prospect is set to continue as digital systems create new business models and value-adding products in the fashion, signage and home décor industries. The printing market is expected to increase to a total value of $3.75 billion in 2023, and grow to consume over 2.70 billion m². The global digital textile printing market between 2013 and 2027 is projected to expand at a CAGR of 16.3 per cent. According to a recent research data, rotary screen printing accounted for 65 per cent, flat screen printing accounted for 25 per cent, and digital printing accounted less than 5 per cent in the current production of global printed textiles. This shows that traditional printing is still the leading printing method. Nevertheless, the compound average growth rate of digital printing exceeds 20 per cent, which is predicted to account for more than 10 per cent of textile printing by 2020.
The market share of digital printing varies from region to region around the world. The proportion in Europe is relatively high, which will reach 30 per cent by 2020. The market share of digital printing in North America and Latin America will reach 13 per cent in 2020. Asia occupies the largest printing volume among all, accounting for more than 70 per cent of the overall printing volume. By 2020, the share of digital printing in Asia will account for about 6.3 per cent of its total printing.
?Digital printing is the innovation to create new designs by using modern technology and saving a lot of resources and thereby resources and save the environment. I think many more developments are expected in this field and time will come when an user will change the colour of his/her apparel as per the will,? says Mayekar.
Digital textile printing will continue to grow and increase its share within textile printing. It has to be understood as a chain of processes from preparation to finishing which so far is not standardised. An accelerated spread of digital textile printing could be expected as soon as there are price attractive reliable printing solutions available, which don?t ask for an industrial environment and allow also high quality prints at brands, retail and design organisations. They will opt for plotter type and scanner type of digital printing machines, single pass technology will remain limited to industrial printers due to the huge production output.
HP reinvents textile printing in India
HP Inc announced a new portfolio of digital textile printers, HP Stitch S500 and HP Stitch S1000, to reinvent the textile printing industry in the country. These printers deliver fast, precise colour-matching, along with efficient and simplified printing processes and are designed to accelerate commercial digital print adoption.
HP Stitch series printers are equipped with HP Smart Printing capabilities that can enable businesses to achieve better control of their print operations. HP Smart Printing is powered by the cloud-based technology, applications and services designed to maximise uptime, provide exceptional line-of-sight and simplify production processes.
HP Stitch S500 Printer
Designed specifically for high production sites, HP Stitch S500 Printer enables predictable dye sublimation colour and produces less media waste for production environments. With symmetrical 2xCMYK printhead configuration and Optical Media Advance Sensor, this 64-inch printer allows for saturated and reliable one pass mode for true top speed. The cost saving printer saves up to 50 percent floor space with frontal media loading and a spindle-less system.
HP Stitch S1000 Printer
The superwide dye sub production printing technology of HP Stitch S1000 produces high quality prints in 1.200 native dpi, deep black, and vivid colours. With the printing speeds up to 220 m²/hour, the device easily prints high density direct-to-fabric prints, with the Drop & Dry system. HP Stitch S1000 printer offers easy operation with minimal manual intervention.
Colorjet?s 16 heads Vastrajet at Gartex
ColorJet India, India?s largest manufacturer of digital textile printing technologies, showcasied live demonstrations of India?s most preferred direct to fabric printer, the Vastrajet, which was displayed on reactive inks for fashion apparel producers at Pragati Maidan, New Delhi.
Following the success of highest selling textile printer i.e. Vastrajet-8824, ColorJet has now come up with its new Vastrajet-8164 with 16 heads,which was launched at Gartex TexProcess India, 2019. The versatile, advanced, high speed direct to fabric printer has the ability to become the commercial winner by providing users with outstanding performance, increased productivity, superior printing accuracy with minimal maintenance needs.
The Commercial Winner Vastrajet-8164 comes with the latest technological innovation from ColorJet -AiS i.e. Adaptive Ink System and AIVC i.e. Automatic Intelligent Voltage Controller. The ColorJet- AiS provides the customer flexibility to use ink of its own choice to fulfill multiple purposes without compromising quality, by providing consistent print performance at varying environmental conditions with the help of AIVC.
?ColorJet has taken huge efforts to imprint a mark in the hearts of customers not only by providing excelling innovative products but by backing them up with excellent after sales support,? said Jitender Pal Singh, VP-Textile, ColorJet India.
As per the latest IDC report ColorJet has more than 34 per cent market share in India, which has the second fastest growing digital textile printing industry. ColorJet gears up to command a strong position in the textile industry globally and maintains its No.1 position in India as per the latest IDC 2019 Q1 Super Wide Format report, while assiduously pursuing excellence in digital printing industry since 2004.
ColorJet markets its products in 25 countries worldwide. Over 4,000 ColorJet printers are in operation around the world, across India, Middle East, Australia and Europe and the company keeps its presence strong.