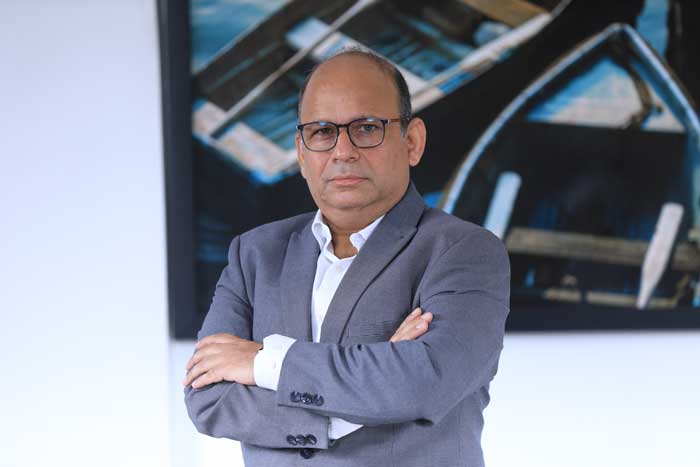 Fibre technology is at the core of GTFL's innovation
Plastics are a boon to mankind if used in a responsible and a sustainable way, says Shujaul Rehman.
Garware Technical Fibres (GTFL) caters to segments such as agri-tech, sport-tech and geo-tech. These technical textiles segments are at a very nascent stage of growth in the country and clearly the coming years are expected to bring in a very high level of accelerated growth. The company has two integrated manufacturing factories located in Pune and Wai. Fibre technology is at the core of our innovation and product development and the manufacturing, marketing and dedicated R&D teams work closely together to innovate and bring new products to life. Today we have 23 patents granted, and we continue to focus on designing solutions that are highly relevant to our customer's needs.
Plastics are a boon to mankind if used in a responsible and a sustainable way. GTFL works primarily on sustainable solutions for the aquaculture, agri, fisheries, sports, shipping, industrial products, ropes and geosynthetics sectors.
Man-made fibres contribute to greenhouse gas emissions and are also contributing to the ever-increasing problem of micro-plastics. We focus our R&D developments towards key initiatives such as low emission plastics, extremely abrasion resistant fibres, recycling plastic waste and work closely with industry partners to grow sustainably.
Aquaculture industry has evolved over the years and is contributing significantly to meet the world's protein demand. Our company pioneered the development of HDPE solutions for the aquaculture industry. HDPE has a lower carbon footprint as compared to nylon. Plastics Europe has published a document in 2014, Eco-profiles and Environmental Product Declarations of the European Plastics Manufacturers, which shows the Global Warming Potential (GWP – Kg CO2 equivalent) per kilo of Nylon resin is 6.7 while that of HDPE resin is 1.8. To add to this, HDPE is inert and a hydrophobic polymer (does not absorb water as compared to Nylon (hydrophilic) which absorbs water, hence HDPE does not lose strength in water. HDPE nets show longer service life due to this hydrophobic property. Longer service life directly translates into reduced carbon footprint. Over the last decade, Garware Technical Fibres has provided more than 25,000 metric tonne of HDPE netting solutions to the aquaculture industry, this directly translates to a reduction of 122.5 million kgs of CO2 equivalent. This saving in the carbon footprint is equivalent to approximately 1.11 million passenger flight trips from Mumbai to Delhi.
Another green innovation that we introduced to the industry was the development of Green HDPE net cage. Green HDPE Net cage is manufactured from Bio-based HDPE sourced from a renewable resource, sugarcane. The Green HDPE net results in further 70 per cent reduction in the carbon footprint.
Our innovative agricultural shade nets result in reduced temperatures within the shade net house results in more water retention and hence more water conservation. Our non-toxic insect repellent insect nets result in lesser use of insecticides thereby giving the farmers increased yield with minimal use of insecticides. Our vision for the agri sector is to provide sustainable solutions whereby the farmer can achieve maximum yield with the least impact on the environment.
We have also been a leader in traditional fisheries sector in India for the last couple of decades. From trawl nets to gill nets GTFL has focused on innovation to help fishermen achieve the ideal catch. Our high strength to weight ratio nets result in reduction of drag underwater and hence increase in catch and reduction in fuel costs. Our nets have shown longer service life due to better abrasion resistance and hence lesser release of microplastics into the environment and longer service life results in reduced carbon footprint.
GTFL has been the leader in providing innovative rope solutions, from aquaculture to fishing, from sports to shipping the industry has benefitted from GTFL rope solutions. Our state-of-the art X2 ropes have resulted in increased service life and the reduced diameter of the rope along with material properties has resulted in excellent abrasion resistance and hence lower release of microplastics.
Also at the manufacturing plant every year we take various initiatives to enhance our environmental performance under sustainability development goals (SDG's), responsible consumption & production, affordable & clean energy, climate action. These include actions related to water and energy conservation, Green House gas (GHG)/Carbon footprint estimation and reduction & manufacturing environmentally sustainable products.
Over the years we have been able to establish a strong base across the global market with our products now present in more than 75 countries. In some of the segments like Aquaculture we have been able to establish ourselves as a key player in well established markets like Canada, Scotland, Norway & Chile. GTFL today is one of the country's largest exporter of sports net. Our Marine solutions have made their presence felt in Europe and other Asian markets. On the domestic front Garware brand is synonymous with the fishing industry which is a primary occupation along the vast 7500 km coastline of our country. Our protected agriculture solutions are pioneering the way agriculture is being done across India & leading the way in support of the Govt of India's initiative of doubling farmer's income.
Overall we have 60 per cent of our top line coming from international business and the rest is from the domestic market. However since we have a good amount of flexibility in our plants we are able to cater & balance the demands as and when there is a need. Inorganic growth opportunities that are within 1 or 2 degrees of our core are also on our radar. We have made good strides across global and Indian markets in all of our key market segments by bringing new & innovative solutions to the market which have been well appreciated by the customers. In the end our endeavour is always to be a recognised as a leader in all the key segments that we operate in & we are confident that through our focus on innovation, quality and talent we will be able to achieve the same.
About the author: