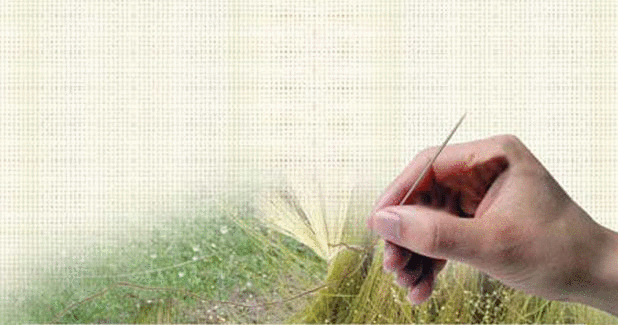 Eco Fibres on the Rise
Sustainability is no longer a choice, but a necessity. The textile industry feels that the movement towards sustainability should start from the source itself – fibres. The global eco fibre market size was estimated at 9,570 kilo tonne in 2016.

The demand for sustainable fibres has been rapidly rising in the last decade thanks to consumer awareness and the holistic approach to sustainability in its entirety, reveals an ITJ Report.
Sustainability is no longer a choice, but a necessity. The textile industry feels that the movement towards sustainability should start from the source itself – fibres. The global eco fibre market size was estimated at 9,570 kilo tonne in 2016. Asia Pacific was the leading eco fibres market and accounted for around 35 per cent of the total market volume in 2016. Asia Pacific was followed by North America which accounted for around 26 per cent of the total market volume in 2016.Rising awareness regarding sustainable textile production to meet the environmental and social aspects along with increasing demand for natural fabrics is expected to be a key factor driving market growth.
India is not falling far behind in this revolution of sustainability. Organic cotton and bamboo are most popular natural fibres, increasingly being preferred by several fashion companies working with organic ecological fashion to improve the standards of sustainable materials in their product line. Rapidly expanding textiles industry in emerging nations, including India and China is projected to propel the demand in upcoming years. India holds the advantage in sustainable production of textiles since it can source the natural fibres locally.
Cotton is the most common natural fibre used to make clothing, accounting for about 33 per cent of all fibres found in textiles. Cotton is also a very thirsty crop, requiring 2,700 liters of water – what one person drinks in two-and-a-half years – to make one cotton shirt. In areas already facing water stress, cotton production can be particularly damaging.
Linen: The king of sustainable fibres
Linen is the coolest fabric material in the world, but its market is getting warmer day by day in India, thanks to a spurt in promotion mounted by the big names including Grasim, Raymond and many more small players. There has been a three-fold increase in the consumption of linen in India in the last five years, and the linen market has opened up opportunities for new applications like no other fibre has in the recent times.
Linen is obtained from flax, a bast fibre taken from the stalk of the plant. The lustre is from the natural wax content. Colour of linen is creamy white to light tan. This fibre can be easily dyed and the colour does not fade when washed. Linen does wrinkle easily but also presses easily. Linen, like cotton, can also be boiled without damaging the fibre. Linen is allergy-free absorbs humidity and allows the skin to breathe is antistatic, antibacterial and has low elasticity.
Linen can be washed many
times without alteration. It is able to absorb up to 20 times its weight in moisture before it feels damp. Linen can be blended.
Dindigul-based Soundararaja Mills produces world-class linen yarn for weaving, knitting and industrial purposes out of the finest quality European flax sourced from Belgium. The company's linen is available as 100 per cent spun yarn or as polyester and viscose blends. Natural-grace, elegance and vibrant weave make linen most suitable for traditional and fashionable apparels, furnishing and bed linen.
Linen is a good conductor of heat and that's why it is cool, and it is crisp and has textured feel ranging from stiff and rough to soft and smooth. It is a highly absorbent fabric and can rapidly lose water, provided it is manufactured with a right technique. This is why it is good for summers as it can efficiently deal with perspiration. Linen fabric is very durable and strong.
Alex Vanneste, President of Belgium-based N.V. Jos Vanneste S.A, said, "Flax has been a tradition in Belgium, and we not only have a conducive weather but all kinds of conditions and facilities for retting properly. Flax needs only 100 days to grow and European Flax covers Belgium, France and Holland. The best flax is available from these countries only. The main processing of the fibre is done in Europe, but now with the high cost of labour in Europe, the spinning, processing and weaving has disappeared from Europe. Now, it is the Asia, where it is shifting phenomenally."
Indians will invest heavily in flax spinning in the future, said Alex. "Now Raymond, Damodar Mills and Bombay Rayon are seriously thinking of adding a lot of linen capacities. The future of fabric is in linen. And the credit goes to the Aditya Birla Group for creating this great demand for linen," said Alex. Talking of cheaper linen yarn entering India from China, he said: "Chinese have huge capacities of linen. The consumption of linen in India has reached 20,000 tonne per annum. And the projection is 25,000 tonne in the next two years. This needs at least 200,000 spindles in the Indian market. Chinese are exporting their yarn and the import duty is around 30 per cent. One can imagine the profit that Indian companies can make if they set up these capacities to produce linen yarn internally."
"From 2008 to 2013, the consumption of linen has increased three-fold in India. Now is the consolidation phase and the consumption will increase again in the very near future. KINGDOM HOLDING, which is world's biggest producer of linen yarn, controls about 20 per cent globally. They have about 1,10,000 spindles in China. Total linen spindleage in the world is about 5,00,000 spindles. They produce around 18,000 metric tonnes of linen yarn. In India, we sell around 2,000 to 2,500 metric tonnes of linen yarn. Total market demand in India presently is about 17,000 mtpa," said Manish Mehta, Director, Sundarams Texventures LLP.
China-based Kingdom always commit to sustainable development, therefore, it has introduced advanced textile equipment from countries like Germany, France and Italy. While both facility and skills of the first three mills are in leading position in China, Kingdom's fourth spinning mill has been ahead the world. Kingdom can produce the most extensive range of product specifications of linen yarn from 3.5NM-75NM.
The total scale of linen yarn production of Kingdom has reached 1,00,000 spindles with an annual production capacity of more than 18,000 tonnes of wet spun linen yarn and it is currently the one of largest linen yarn manufacturers in the world. Kingdom shared 15 per cent of domestic linen yarn market, and over 10 per cent of the global. Kingdom's export reaches 44 per cent of the total linen yarn export from China, and has been ranking number one in China since 2004. Kingdom accounts for 50 per cent market share of linen yarn export to high-end markets such as Japan, South Korea and Italy.
Kingdom has been pursuing advanced management for lean management and excellent performance and so on. It has been certified not only by ISO9000 quality management system and ISO14000 environmental management system, but also by Oeko-Tex Standard 100 green ecological textile testing. Moreover, it obtains IMO organic flax fibre certificate, Global Organic Textile Standard certificate(GOTS) and BSCI certification of the European social responsibility system. Kingdom has been qualified as the member of both Zero Discharge Association of Hazardous Chemicals(ZDHC) and American Fair Labor Association (FLA). Under its Industry 4.0 plant digitalisation initiative, Manufacturing Execution System (MES), Maintenance Improvement Programme (MIP) and other digitalisation technologies have been implemented in its factories to achieve highest efficiency in production management.
Bamboo fibre: A stronger and cheaper option
Ahmedabad-based Spinning King (India) Limited offers Tanboocel bamboo fibre, which is biodegraded within 45 days. According to Kishan Kashiwala, Spinning King's Chairman: "Apparels made from bamboo fibres are one to two degrees lower than normal apparel in hot summer. Apparel made from bamboo fibre is crowned as air conditioning dress. Apart from above characteristics, bamboo fabric is light and strong, has the ability to take coolers well, is anti-fungal and hypoallergenic – even after 50 washes, dries quickly – about twice as fast as most other fabrics, and is half the price as compared to cashmere." (Read full interview later in this issue).
He adds, "Yes. I can say that bamboo is superior then other cellulosic fibres due to its unique properties. And at the same time, Tanboocel fibre's production, availability and quality are consistent since beginning with our best services to our Tanboocel users' alliance. And thus, it creates a good rapport with each other. And now its total value addition chain developed within India and Tanboocel – bamboo fibres' users enjoy market."
Bamboo fibre can be converted to finished products like towels, bath robes, bath mats, socks, undergarments, t-shirts, hoodies, carpets, shawls, etc. All these products are exported. There is complete value addition within the country, except import of bamboo fibres.
Speaking on the export markets for their product, Kashiwala adds, "Out of our total production, about 70 per cent of bamboo fibre is consumed by the Chinese market and the rest 30 per cent is exported. In overseas, Turkey and India are our biggest markets, having a 50 per cent share each in our fibre exported. Otherwise, India and China are almost parallel when it comes to bamboo fibre's consumption globally."
Growing spandex market
For most of us, spandex is the stuff that makes us look a lot better than we actually do. It's a magical fibre that manages to shore up sagging body parts, suppress unsightly bulges and smooth out fat rolls. Spandex lets garments retain their shape longer, washes well and dries fast, which makes it ideal for sports wear. And it has revolutionised jeans, making skin-tight styles a wearable option – even when bending and sitting.
Spandex is another polymer fabric (like polyester) but with totally different properties. Man-made fibres are gaining popularity compared to the natural fibres in recent times. One of them is the spandex fibre, which has captured the garment industry. Spandex is a lightweight, soft smooth synthetic fibre that has a unique elasticity. Due to its elastic property, it is used in making stretchable clothing.
Invista recently developed a bio-derived version of spandex. The spandex works the same wizardry but offers a much improved carbon footprint, compared to the original formulation.
This new Lycra will provide retailers and manufacturers of stretch fabrics with a spandex fibre option that can impact the overall lifecycle analysis of the fabric and garment. Invista has emphasised that the new fibre is made to the company's same high standards and specifications, and hence does not anticipate any need to re-engineer fabrics and finishing processes, or garment patterns.
Invista has reportedly successfully produced the new bio-derived fibre at its research facilities and evaluated it in fabric applications. The production of commercial quantities is planned for the autumn/winter 2015 and spring/summer 2016 collections.
INVISTA, which also produces the COOLMAX®, CORDURA®, STAINMASTER®, ANTRON®, THERMOCOOL® and THERMOLITE® brands, says the new fibre will provide retailers and manufacturers of stretch fabrics a spandex fibre option that can impact the overall lifecycle analysis of the fabric and garment, and should not require re-engineering of fabrics, finishing processes or garment patterns.
Inviya from Indorama is the first new age spandex fibre produced in India. Made with advanced polymer having a long lasting elasticity with robust performance during all textile processes, it exhibits exceptions qualities of stretch and recovery, it provides perfect fit and shape with enhanced comfort and freedom of movement in garments.
Inviya fibre can stretch up to five times of the original length with excellent recovery providing long lasting fit and shape to the garment. Inviya is produced by latest continuous polymerisation and dry spun technology, which being resistent to all textile processes not only helps the fabric manufacturers but also provides a huge benefit to garment manufacturers.
Inviya I-400 is a new series "4th generation"
of spandex fibre specially developed for wide applications. Inviya I-400 is improvised polymer variant of premium elastomeric yarn, which renders greater mechanical strength and immunity from chemicals like alkali, bleach, acids and chlorine. These are complimented by long lasting elasticity and ease of handling during series of mechanical processing of textile manufacturing.
Anandi Enterprises range of sustainable fibres
Anandi Enterprises holds a strong place in the field of sustainable fibres and has introduced apparel grade banana fibre, a new natural fibre alternative to cotton and linen. In the quest for new sources of natural fibres for apparels, the banana plant holds much potential. The fibre from banana stem has unique physical and chemical characteristics that hold the potential to make fine quality fibre. It is lightweight, highly strong with long elongation and has good moisture absorption and release characteristics.
Anandi Enterprises developed commercial scale manufacturing process offers better fineness and spinability in extraction and conversion to yarn and fabric. The banana yarn and fabric produced matches linen in its feel and texture thus making it as an alternative acceptable to consumers as an apparel fabric a reality. The adoption of banana fibre based apparels reduces the demand to bringing more acreage under cotton farming a highly water hungry crop. Further it is a fabric that is bio degradable with no negative effects on environment and thus an eco-friendly.
Today India is the largest cultivator of banana crop globally after Brazil. While the use of banana fibre in different forms is not new, the manufacturing process developed by Anandi Enterprises enables apparel grade fabric production at a commercially viable scale. This opens up the opportunity for India to become among largest producer of apparel grade banana yarn and fabric in the world. Additionally, the banana stem raw material is an agro waste by product generating additional source of revenue for the farmer who till today had to cart and discard this agro waste into landfills.
Aloe vera plant has 96 per cent water content and the leaf of aloe vera contains 75 nutrients and 200 active compounds and 12 vitamins. The content of the plant helps in rejuvenating skin cells, formation of healthy denims, fights against skin damage and keeps the skin free from microbial infections.
The aloe vera leaf which is rich in gel is enclosed in an outer skin called rind that is rich in fibre. The aloe vera leaf rind is a farm waste by-product with the potential to be recycled and processed for extraction of fibre and its conversion into yarn into fabric. Excellent softness and feel of the fabric from this plant. This fabric not only keeps the skin healthy but also absorbs the bad smell and it provides anti-bacterial features.
The fabric from aloe vera will be best choice in the manufacturing of garments, bed linen, which is very close to skin. Fabrics from this fibre will be a great creation for baby garments and also for bed sheets.
The areca nut husk a by-product after the nut is extracted is typically burnt as firewood or disposed of as farm waste. It is seen that the husk of the areca nut is rich in fibre and this farm waste held the potential to be a source of fibre for production of yarn. The project involved working on the areca nut husk for extraction of fibre and processing the same for making it suitable to draw into yarn and fabric. It was seen that making yarn with 100 per cent areca nut fibre was not suitable for making fabric and the team came up with a blend of 30 per cent areca nut and 70 per cent cotton to make yarn that yields good quality natural fibre fabric as an alternative cost.
Fabric developed is heavy making it suitable for shirts and home furnishings. The blend is such that the warp is cotton and the weft is areca nut husk. This fabric also has good bleaching and dyeing properties making it suitable input material for designers in the fashion world.
RSWM's green fibre
RSWM Limited's Fibre Green is made by processing waste material into fibre. In this process, the loss of useful resources is minimised. Disposed PET bottles are converted into flakes which are finally turned into fibre in different denier and cut for spinning into yarn. These fibres help in reducing dependence on fossil fuels and natural resources by using waste PET bottles, which would otherwise have been incinerated or dumped into landfills or oceans. In terms of performance, these recycled 100 per cent polyester fibres are just like virgin polyester fibres.
The growing demand for bio-based alternatives including bamboo, hemp, linen and tencel in clothing sector is anticipated to be a key driving factor for the growth in upcoming years. Additionally, the increasing number of retail outlets in developing countries including China and India by apparel manufacturers Tommy, Levis, and Peter England is another factor contributing significantly to industry growth.
Organic fibres have numerous advantages over the conventional synthetic cotton such as no use of pesticides or chemicals that saves the farmers as well as surroundings from chronic diseases, less resource consumption, more revenues for farmers, improved water utilisation, and increased biodiversity. Owing to these qualities of the product, demand for organic fibres are expected to increase in the near future hence driving the industry growth.
Several global brands, including Nike, Patagonia and Otto Group have shifted focus towards sustainability in their processes throughout the supply chain to reduce the use of waste, energy and carbon emissions.
Recycled eco fibres are also rapidly gaining popularity since it not only reduces the harmful environmental impacts but also ensures secured income and high premiums to the farmers.