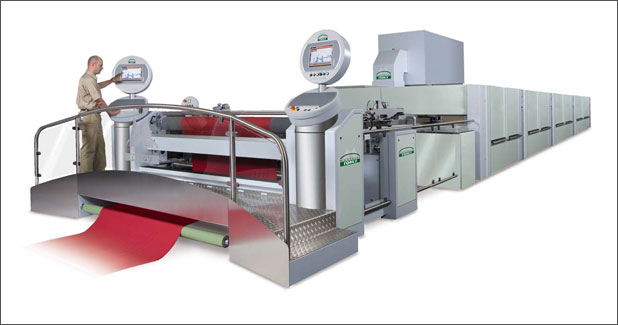 Dyeing & finishing, CHTC FONG?s innovations
In recent years, Fong?s has researched and developed the wastewater treatment technology, to achieve fully automatic operation water recycling system with dual-membrane processes, providing one-stop sustainable solutions of dyeing wastewater treatment especially for the dyeing and finishing industries.
Hall: 6 | Booth: D05
Hall: 2 | Booth: E04
CHTC Fong?s has been committed to the development and manufacturing of dyeing and finishing equipment for more than 50 years. In the past decades, CHTC Fong?s devoted to the development of energy-saving and emission reduction machines and now it becomes the basic conditions for dyeing factories. Today, we live in a digital era, though in the traditional textile industry, CHTC Fong?s has been with the times. Together with its well-known brands: Fong?s, Monforts Fong?s, Xorella, Then, Goller, FWT and Monforts, CHTC Fong?s dedicated in the development of smart dyeing and finishing and join with the customers to build the intelligent dyeing factory. CHTC FONG?s Group is proud to present the one-stop sustainable solution in dyeing and finishing range of ?pre-treatment, dyeing, post-treatment and waste water treatment? at ITMA ASIA CITME 2018 in Hall 6, D05 and yarn conditioning and heat setting in Hall 2, E04, National Exhibition and Convention Center, Shanghai, China. CHTC FONG?s will exhibit a full line of the most advanced and innovative products and technology including new products: TECWIN High Temperature Dyeing Machine, THEN AIRJETWIN Aerodynamic High Temperature Dyeing Machine, GOLLER DYEPADDER ECONOMICA Nip-in-Trough, MONTEX 6500 Stenter Frame Range, MONTEX 6500 AIR FILTRATION OMNI Stenter Frame and MONFONGS STRAHM HiPer Shrink Astra. In addition, CHTC FONG?s will also demonstrate the innovative smart dyeing and finishing at the booth.
FONG?s TECWIN
FONG?s TECWIN is designed to adopt the ever-changing textile market nowadays. The reliability and versatility is further improved from the last generation.
TECWIN is equipped with several patented designs:
Combined air & front spray nozzle: Front spray nozzle improves the degree of dye liquor interchange before the fabrics entering the main nozzle. The colour balance and quality of fabric can then be enhanced. If optional blower is equipped, blower will provide high pressure aerodynamic flow in spray nozzle, in order to effectively increase the degree of dye liquor interchange. It is specifically designed for dyeing fabrics that demand high quality. Automatic adjustable nozzle: Adjustment of nozzle setting is automatically done by means of motor drive system, and hence manual adjustment of nozzle is not required.
Liquid dispersion storage chamber: Special designed stainless steel bottom sieve facilitates the liquid dispersion process and thus reducing the risks of fabric scratching or trapping caused by the PTFE tubes design.
Upper and lower overflow: Innovative use of upper and lower overflow rinsing systems can deal with various kinds of fabrics. Lower overflow rinsing is to maintain a pumping operation with low water level and to improve dye liquor separation. Upper overflow rinsing is adopted for conventional overflow rinsing function.
Furthermore, the dye liquor separation design allows body size fabrics to stack in a much organised way which maximising the loading capacity, providing smoother operation and lowering the liquor ratio. Equipped with the adjustable loading chamber with optimised chamber design to resolve the separation difficulties occurred when running double rope fabrics.
THEN AIRFLOW AIRJETWIN
AIRJETWIN high temperature airflow dyeing machine, the latest generation of dyeing equipment, is now being offered to fulfill the various requirements of dyeing process nowadays. Through finite element analysis (FEA), the airflow and water flow situation is well-analysed for design optimisation. In addition, by combining different THEN?S and FONG?S product advantages, the entire performance is further enhanced through a holistic design integration. Single-Blower for multi-tube design: By utilising single blower with frequency inverter and optimising pipe network design, the air volumetric flow rate of each tube is evenly distributed.
Integrating nozzle system: By adjusting various combinations of multiple spraying nozzle and sprayers, the best dyeing performance of a huge variety of fabrics can be achieved.
XY Internal Plaiter: Fabric is plaited to and fro inside the dyeing vessel to achieve an organised fabric stacking pattern inside the storage chamber. It enables smooth fabric lifting, higher fabric lifting speed and reduction of fabric entanglement in the chamber.
Overhead cleaning system: Effective cleaning is provided through purging to rinse the kier head, thus ensuring no residue color is left.
The 2018 New GOLLER DYEPADDER ECONOMICA
The 2018 New GOLLER DYEPADDER ECONOMICA Nip-in-Trough with Double Impregnation Mechanism provides even dyeing for knitted fabric without crease mark and distortion incurred. The newly-designed double impregnation mechanism provides further improvement on the impregnation effectiveness in combination of a lower running tension. As the ECONOMICA guarantees reproducibility and handling in the highest standard, a smooth and clear fabric surface can be expected after dyeing.
The deflection-controlled rollers of ECONOMICA are working according to the principle of the swimming rollers, irrespective of the overall pressure of the padder- the deflection of the squeezing rollers is always consistent with the set values to ensure an even dyeing over the fabric width. On top of the deflection-controlled rollers, the large diameter guide rollers ensure a smooth knitted fabric transport with minimal tension incurred, which is beneficial to the dyeing process as a whole.
The double impregnation mechanism consists of a trough with a padder inside and with the minimum level of working liquor required. This mechanism provides sufficient impregnation and low-tension running condition for knitted fabric during the dyeing process. Furthermore, Thermplates keep the temperature of the dyebath as per the set value throughout the dyeing process ? no matter it?s cool or hot.
With the precise dosing of dyestuff-alkali mixed, the application of precise and homogeneous pick-up and the linear nip of the deflection-controlled rollers, the GOLLER DYEPADDER ECONOMICA Nip-in-Trough with Double Impregnation Mechanism will always be the most ideal open-width dyeing range for knitted fabrics dyeing in small to medium batches used.
MONTEX 6500 AIR FILTRATION OMNI
Montex 6500 Air filtration Omni (Abbeviation 6500 Omni), is based on the Montex 6500 stenter range in combination of the most advanced heat recovery and air filtration technology to evolve this stenter range into a more advanced environmental friendly machine.
The heat recovery and air filtration device of this 6500 Omni stenter can filter the wax and oil from the exhausted air with high efficient but low energy consumption. The heat recovery is so high which could contribute the textile industry to achieve low carbon release target a step further.
The modular design could allow different space requirement by different textile mills. Also this device run with automatic cleaning function controlled by PLC by running its nozzles along the bar over the top of the filtration units. This will minimise the daily maintenance to the machine.
TwinAir: Monforts patented Twin-Air technology allows top and bottom airflow to be regulated separately. It results in drying without marking and the most even temperature possible across the fabric. Also, it also could be equipped with Optiscan for Auto-Balance system.
Nozzle System CAD Stream: Its ?Lay-on-Air?fabric supporting properties in air and with bulking effect through increased volume by its microtumbler effect. Attractive cost/benefit ratio with higher evaporation rates. It also provides continuous fabric support even at the chamber transition points.
Reinforced pin chain: Besides the normal version of pin chain with tensile strength 2500N, we will also exhibit the reinforced version of pin chain with tensile strength 8000N in the show.
Qualitex 750 programmable logic process controller (PLC): Expandable and adaptable for practically all tasks arising in modern textile finishing. It has programmable control functions, operation of the range via panels along the machine, storage of set-up data sets, integration of setting values for measuring and control devices, batch management, network interfacing, automatic nozzle pressure control, prepared for teleservice, maintenance and two-loop system via touch panels.
Central processing control software ?Q-soft?: This software is for production planning and documentation with a central interface. All process data can be stored in a standardised database (ODBC=Open Data Base Connectivity) where all set points and actual values are filed with read and write access for set points.
Three levels of networking interfacing are possible:
1) Interfacing to your network, 2) Output to a PC with graphic presentation (Monforlogic), 3) Interfacing with a process control system to include machines from other manufacturers as well.
Monforts Fong?s new relaxation dryer
In addition to our stenter frame range, Monforts Fong?s recently has introduced a new high-efficiency relaxation dryer which technology inherited from a Swiss textile machine company. This new dryer is named ?Monfongs Strahm?, with model name ?Hiper Shrink Astra?, for open-width and tubular knitted fabrics.
Its unique Swiss mechanical design focuses at high drying efficiency, low residual shrinkage, soft hand-feel and low operating costs. Its design also incorporates a heat recovery system (EnRec 1&2) that reduces energy consumption tremendously by half when it is compared with some conventional dryers.
It is different from general energy saving principle in the industry, which has higher capacity than that of traditional dryers. The Latin word ?Astra? in the model number of the machine embraces our hope of that product will become the star of tomorrow in the dryer products of textile finishing Industry.
Ahead of progress with Monforts
The potential of Industry 4.0, in combination with the drive to reduce waste and minimise raw materials usage, has led to some significant new developments by Monforts.
At this year?s ITMA Asia CITME, in Hall 6 at booth H6/D05, visitors can learn about the company?s latest Qualitex 800 control system, which along with the Web-UI app, allows the remote visualisation of Monforts technologies via smart phones and tablet devices.
?We are already embracing many Industry 4.0 principles in our approach to new machine concepts and the Qualitex 800 has all the intuitive features operators will be familiar with from touchscreen devices,? explains Monforts Vice-President of Sales and Marketing Klaus Heinrichs. ?It is making navigation extremely easy for operators, cutting down the time required for becoming familiar with a new system and allowing complete control of all machine parameters.?
Resource efficiency is being addressed via the latest technologies such as the company?s Eco Line for denim, based on two key technology advances ? the Eco Applicator for minimum application of the selected finishing chemicals and the ThermoStretch.
As an alternative to conventional padding, especially for wet-in-wet solutions, the Monforts Eco Applicator can significantly reduce the amount of finishing chemicals required prior to the stretching and skewing of the denim fabric.
In many textile mills globally, the cost of energy for running integrated manufacturing lines ? especially those for fabric finishing that can involve numerous sequences of heating and subsequent drying ? is now eclipsing the cost of paying people to operate them.
The ability of the Eco Applicator to significantly reduce energy costs has seen it rapidly accepted on the market. The Monforts ThermoStretch unit meanwhile carries out the skewing (weft straightening), stretching and drying in a continuous process.
?The Eco Line system reduces energy requirements and losses, increases thermal transfer and keeps the drying energy on the textile material longer,? says Monforts Area Sales Director and Head of Product Management for Denim Hans Wroblowski. ?As a result energy savings of up to 50 per cent are being achieved.?
Monforts is also the only manufacturer which is able to offer completely integrated coating lines from a single source and at ITMA Asia CITME 2018, the company?s specialists will be on hand to explain how its latest coating heads are being tailored to drying technology for maximum benefits.
For an unprecedented range of options, Monforts now offers multi-functional coating heads for both its industrial texCoat and Allround coating units. Module options include those for screen printing, magnetic coating and knife coating, either integrated into new lines or retrofitted into existing installations.
?Our system has the shortest fabric path from the coating unit into the stenter and all of these options are available in wider widths,? says the company?s Head of Technical Textiles, Jürgen Hanel.
?Whatever your company?s specialism, we have the technologies and the process knowledge to help you take your business to the next level,? adds Klaus Heinrichs. ?We look forward to meeting customers old and new in Shanghai.?
XORELLA XO-Series
XORELLA?s XO-Series energy saving vacuum conditioning and heat setting machines has been well used in improving the quality of yarn and also heat setting of garment. Xorella XO-Steaming treatment could even penetrate the textile products for humidification; twist setting, preshrinking the synthetic filament, antistatic, colour fixation of digital printed fabric and heat setting of garment. The latest saturated steam generating system could reduce 30 per cent of connected power loading and save between 15 to 25 per cent energy consumption.
In order to satisfy the requirement of different users, Xorella provides both round and cubical machine and also variety of loading and door opening systems for customer selection. Nowadays, XO-Series machines were used in more than 50 countries in the world.
Fong?s water recycling system
With global service for the dyeing and finishing industry, CHTC Fong?s has focused on its principal business in design, research and manufacture of innovative and energy saving dyeing and finishing machines to help a sustainable balance between the industry development and environment protection.
In recent years, Fong?s has researched and developed the wastewater treatment technology, to achieve fully automatic operation water recycling system with dual-membrane processes, providing one-stop sustainable solutions of dyeing wastewater treatment especially for the dyeing and finishing industries.
Fong?s water recycling system, which can reuse any kind of qualified discharge water by using the most advanced and reliable dual-membrane processes (ultrafiltration system combined with reverse osmosis membrane system). The recycled water can be directly used for all dyeing processes after most of the mineral salts, calcium, magnesium hardness, Chroma, turbidity and COD composition are effectively removed from the waste water. The quality indicator of recycling water is superior to the normal tap water.