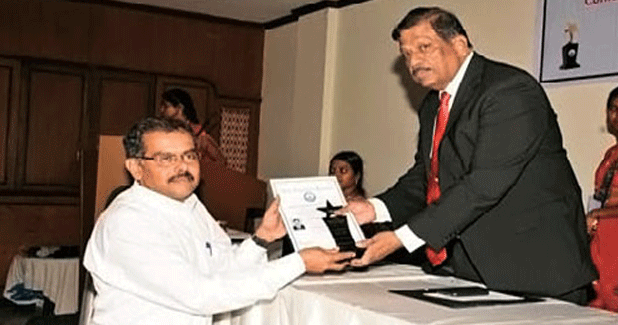 Dr G Ramakrishnan of KCT College awarded at VIFFA2015
Dr G Ramakrishnan, Senior Associate Professor, Department of Fashion Technology & Coordinator, KCT-TIFAC CORE in Textile Technology and Machinery, Kumaraguru College of Technology
Dr G Ramakrishnan, Senior Associate Professor, Department of Fashion Technology & Coordinator, KCT-TIFAC CORE in Textile Technology and Machinery, Kumaraguru College of Technology, Coimbatore has been honoured with the Outstanding Faculty Award at the Venus International Foundation Faculty Awards (VIFFA2015) for his teaching excellence on July 5, 2015 at Radha Regent Hotel, Chennai. The award was given by A Kalanidhi, Former Vice-Chancellor, Anna University, Chennai. Based on the Expert Committee Report and APEX Committee recommendations, he was selected for the Outstanding Faculty Award (in the category of Engineering / Textile) of VIFFA 2015.
Dr G Ramakrishnan has been in the field of teaching and research for 18 years besides 12 years of experience in textile industry. He has published 35 papers in international journals and presented many papers in international and national conferences. He is also guiding research scholars in textiles/apparels and so far four research scholars have got Doctoral Degree (PhD) under his guidance. He is also a recipient of Gold Medal from His Excellency the Governor of Tamil Nadu for securing 1st Rank in PG Degree examinations in 2004. He is also a reviewer of leading textile journals for textile research.
VIFFA2015 (a part of VIFCAM – 2015 ) aims to recognise and celebrate teaching as the noblest profession in the world by recognising extraordinary teachers who are engaging their students in innovative and path-breaking ways to ignite their potential.
Venus International Foundation (VIF) is an initiative of experienced Professors of Tamil Nadu. It is a not-for-profit organisation established in 2015, focusing to support the youngsters and women to realise their full potential. It is working for quality and equity of education along with related development areas. VIF understood that the sheer magnitude of the task ahead would require the collective will, knowledge, and participation of all sectors in society. It recognises the people by providing scholarships and awards based on the performance.