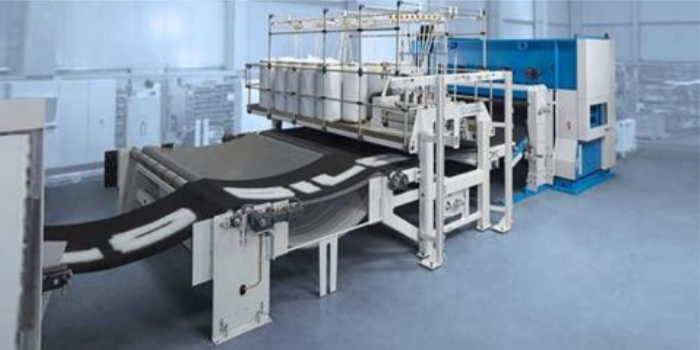 DiloGroup: Engineering for nonwovens
DiloGroup - with DiloTemafa, DiloSpinnbau and DiloMachines - offers complete lines including fibre preparation, webforming and consolidation for the production of nonwoven roll goods at highest production rates, unique quality features and prime efficiency rates.
Manufacturers of nonwoven textiles need state-of-the-art production lines to remain highly efficient and competitive. DiloGroup with DiloTemafa, DiloSpinnbau and DiloMachines is a leading supplier of complete lines including fibre preparation, webforming and consolidation for the production of nonwoven roll goods at highest production rates, unique quality features and prime efficiency rates.
DiloGroup technological solutions are engineered together with the customer and made to order. DiloGroup has been a pioneer in many cases of innovation, in research and development of concepts for complete needling lines or webforming lines for hydroentanglement, thermobonding and chemical bonding. The complete line projects are developed on the basis of textile technological research and studies in the company's technical centre. DILO machines are known for their quality and reliability. Engineering and manufacturing is made in Germany.
Recently DiloGroup added complete spunlace-lines to its portfolio by cooperating with SICAM s.r.l, a specialist in high-quality textiles and nonwoven machinery. Thereby the complete process, fibre-preparation to water-entanglement, can originate from a single source..
Quality service.
On the basis of DiloGroup offices and stations for sales and service in the USA, China, Russia, India and Turkey, and supported by over 50 sales representatives and partners worldwide, spare parts supply and qualified service is organised for quick response and assistance. Training and consulting are offered for new technical and technological solutions..
Turnkey lines.
DiloGroup lines can be supplied turnkey from the general contractor DiloSystems as the partner for a coordinated, professionally managed investment with a single responsibility to fulfil the customer's needs technically and commercially.
Product applications.
Typical end uses and applications for nonwoven fabrics made on DiloGroup's lines are:.
Floor coverings and automotive interior components: Needled flat or structured on our inventions DI-LOOP and DI-LOUR including the DI-LOUR IV double structuring machine for highest throughputs, high pile and crush stability, and patterning variety. Our new needle pattern the 8000X for homogenous surfaces has widely reduced needle marks and tracking particularly on flat automotive felts.
Filtration media for liquid and gas filtration: Needled material is ideal for filtration applications and particularly economical when needled on the company's DI-LOOM OUG-II double-punching unit with or without Hyperpunch mode.
Geotextiles: Highest throughputs at best economics on high-speed web forming and wide needling equipment, including high speed crosslapping on the Vector 200
Roofing: From staple fibre or continuous filament needled on DILO lines 24/7 for high efficiency and economy.
Synthetic leather: Based on matrix fibre with micro-filaments. Highest needling efficiency including Hyperpunch elliptical needling feature and the 6000X and 8000X needle pattern which is the leader for superior surface qualities.
Wipes: For household and industry use needled or hydroentangled for hygiene, cosmetic and medical applications with its high-speed carding or aerodynamic web forming and fibre preparation systems.
Insulation material: For acoustics or thermal insulation, based on mineral, natural, or synthetic fibre.
Technical and paper machine felts: Flat or circular needled felts including technical felts from carbon fibre.
"Intensive and Micro-needled" products: Through intensive needling for lightweight end product uses including hygiene and medical applications.
Natural fibre felts for mattress, bedding and upholstery industry.
Air systems engineering by DiloTemafa including pneumatic conveying of fibre flocks through the plant and integrated dust suction and filtering stations, good fibre recycling and air conditioning, completes an efficient nonwoven production line.
Innovations
The newly developed "3D-Lofter" is capable of adding precise, variable amounts of staple fibre in all imaginable patterns on the top of felts or fibre mats, analogous to printing with fibres. This opens a wide field of applications for nonwoven products regarding design, reinforcement and improvement of web quality.