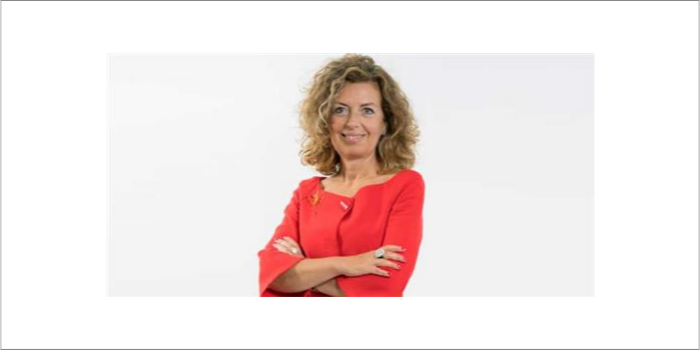 Digital printing is fastest growing printing tech
Adele Genoni, Senior Vice President and General Manager, EFI Reggiani, speaks on the emerging trends in textile machinery industry globally.
EFI Reggiani products are designed and manufactured to the highest standards with the aim of simplifying textile production across a wide range of industries. EFI's complete printer portfolio, which also features the industry's top LED and UV inkjet narrow-, wide- and superwide-format technologies, gives customers profitable opportunities in "The Imaging of Things", delivering greater product customisation and appeal in everything from signage and packaging to décor, apparel and industrial manufacturing.
Adele Genoni, Senior Vice President and General Manager, EFI Reggiani, speaks on the emerging trends in textile machinery industry globally.
What are some of the emerging trends in textile machinery industry globally?
The market is always more demanding and is rewarding textile producers that not only deliver high performance and quality, but also reliability, overall uptime and a lower environmental impact.
The main trends we are currently observing in the digital printing machinery market are related to three main axis: 1) sustainability, that means greener production processes, requesting less water, less energy and less chemicals consumption as well as sustainable and recycled fabrics and fibres, till the aspirational vision of the circular economy; 2) big data management and artificial intelligence, meaning that world pushes technology development toward preventive maintenance and machine learning; and 3) the progress of technical textiles for any application, being fashion, sportswear, home, healthcare, etc.
The latest innovations introduced by EFI Reggiani, like the ink recirculation system, enhanced proprietary electronics and software as well as the development of green and short processes, such as the EFI Reggiani TERRA pigment and EFI Reggiani IRIS direct-to-fabric sublimation, are going in the direction of improving productivity and sustainability.
Listening to our customers and delivering superior solutions to the market for business growth is EFI Reggiani's winning strategy in exceeding textile market requests.
What are the various products on offer for the textile industry? What are its USPs?
EFI Reggiani delivers an overall solution for the whole textile process, starting from yarn treatment to fabric printing and finishing. With the high quality and performance of our machines and outstanding service to our customers, today EFI Reggiani represents a one-stop-shop for textile customers as the premiere manufacturer of analog and digital printers and pre-post treatment machines, such as denim dyeing lines, washing systems, bleaching, etc.
We have just completely renewed our digital printers' line up, including products that give users improved productivity and reliability, and the ability to move to greener processes.
We of course need to mention the EFI Reggiani BOLT single-pass printer because it is one of our biggest achievements – the fastest digital textile printer available on the market. This advanced, ultra-high-speed digital single-pass printer is a revolution to the textile printing market, providing users with high uptime and reliability, outstanding performance, superior printing uniformity and accuracy, long print heads life, and minimal maintenance needs.
The EFI Reggiani COLORS is another powerful machine that can print up to 12 colours and offers unmatched printing quality and uniformity with an extended colour gamut, superior colour depth and increased penetration into fabric.
EFI Reggiani is not only about printing, in fact we have a complete range of pre and post-treatment lines for textile known under the Mezzera brand, including washing lines that merge tradition and innovation into reliable and versatile machines with the utmost care to reduce polluting agents and water consumption. We also have Denim technology, a continuous indigo rope and loop dyeing line to make denim dyeing greener than ever, reducing up to 40 per cent chemical usage and increasing indigo intensity and colour fastness.
What are your views on India as a potential market for Italian machinery industry in the next few years?
India is one of the primary textile markets worldwide and of course it is and will be a crucial market for Italian machinery industry also.
COVID-19 has for sure impacted the market significantly, but the prompt action of the Indian Government to support the textile sector as well as the energy of the Indian entrepreneurs will be able to overcome the situation.
With a wide range of solutions able to satisfy a world of requests, from small businesses to complex industrial plants alike, EFI Reggiani will be glad to partner with Indian textile players to grow their business ensuring cost competitiveness and productivity, high product reliability and uptime, after sales support through the different phases of the product life cycle and new green processes for a more sustainable textile industry.
How flexible are the Italian companies to adapt to changes in the textile industry?
Adaptation to a fast-changing environment is not always easy. That's why EFI Reggiani spends a lot of effort in R&D – it is one of our business pillars in the company. Listening to the customers has always been our best approach to deliver successful solutions to better support their businesses for a win-win cooperation. The continuous development of productive systems and processes with lower environmental impact in each segment of the supply chain for full textile workflow is definitely one of our big goals. An eye to the future development of the industry and always listening to the voice of the customers are our recipe to be ready for a continuously evolving market.
How has been the going for your company during 2019-2020 in terms of performance? What are the pluses & minuses in the prospects for 2020 globally?
The year 2019 was a great year with several successes. It saw the first sales and installations of our next generation textile single-pass, EFI Reggiani BOLT. Moreover, with the acquisition of the Turkish ink manufacturer BDR, we integrated our product range and gained market share in the reactive ink arena, to provide to customers high quality but also competitive ink solution.
The year 2019 has brought with it stronger and stronger adoption in the market of our EFI Reggiani pigment solution, which eliminates the need for steaming and washing on direct-to-fabric applications using a greener, more-efficient polymerisation process that takes place as the printed fabric goes through the printer's dryer.
Later in the year, we also put a lot of effort on our direct-to-fabric sublimation solution. This ensures superior colour brightness and penetration as well as fast turnaround time, while increasing sustainability, by avoiding transfer paper waste. The core of the process is EFI Reggiani IRIS sublimation inks range, a dual use ink suitable both for transfer paper as well as direct-to-fabric printing, combined with the wide range of our highly productive and reliable digital printer.
COVID-19 has impacted the entire industry in the first half of 2020, but we are confident with the outlook provided by the International Textile Manufacturers Federation (ITMF), that foresees a pre-crisis levels are reached again between end of this year and mid 2021.
Since most the exhibitions are cancelled due to COVID-19, what are the new strategies your company may be exploring to boost their investment and collaborations in India in the near future?
These times have accelerated the adoption of virtual channels as the new normal. Webinars, virtual demos and events, online resources and social media have helped a lot to stay in touch with customers and nurture new opportunities. These tools will more than likely remain a significant channel also in the next months and years.
Moreover, the presence in the market of Regional Sales Representative as well as the great coverage ensured by our agents both in terms of sales and after sales service are definitely helping in these conditions and the key element to build collaborations in India in the near future.
What kind of challenges are you anticipating post-COVID?
Digital printing is the fastest growing printing technology in textile, where today it represents only 7 per cent of market, with big opportunity over time to grow significantly.
Moreover, consumers' behaviour trends are moving in the digital direction: design to shelf speed has reduced due to multi season trends and shorter collections and in that environment, the fast turnaround time of digital compared to analog is undisputable. Moreover, we cannot ignore that green is no more only a slogan; the textile industry is demanding concrete actions, and digital is a real solution, with less energy, less water and less waste generated.
COVID-19 has showed some limits of the industry. It has complex supply chains that are often centralised in few geographies far away from end-consumers.
Also, after the health emergency and economic slowdown related to the crisis, green and sustainability, nearshoring and reshoring, as well as growth of online shopping will be the rising trends, and all those trends finding their perfect answer in digital printing.
Were there any special efforts mounted in recent times to boost Italian machinery industry's presence in India? What were the results?
To engage the Indian market during the COVID lockdown, we conducted various webinars to cover a wide variety of EFI Reggiani digital textile printing solutions. Feedbacks from customer have been outstanding and this generated a lot of interest in our products and in turn potential prospects. EFI Reggiani is also working aggressively in all directions with customer requirement to provide the cost effective solutions so customer can cater the now demand in COVID scenario market. So far, results have been more than expected with a strong buzz in the market. We have all the EFI Reggiani tools in place with a more local regional approach for the growing Indian market.