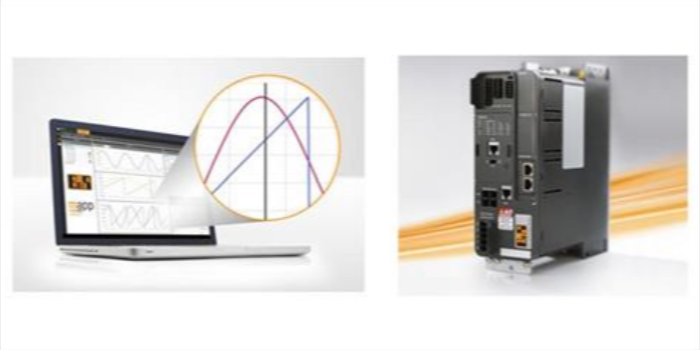 Detailed machine analysis with mapp Cockpit from B&R
B&R's mapp Cockpit is an advanced yet easy-to-use tool for commissioning and troubleshooting machines. Based on standard web technology and OPC UA communication, it's ready to use at the push of a button with no additional programming.
B&R's mapp Cockpit is an advanced yet easy-to-use tool for commissioning and troubleshooting machines. Based on standard web technology and OPC UA communication, it's ready to use at the push of a button with no additional programming.
Information is exchanged between mapp Cockpit and the automation project via the vendor-agnostic OPC UA communication protocol, and displayed in a web-based user interface. As a result, performing diagnostics with mapp Cockpit and a B&R automation system is not just extremely flexible, but also compliant with an established standard.
Axes and axis groups, for example, can be controlled directly in the clearly organised mapp Cockpit dashboard. The commands for the components – which are otherwise available as function blocks – are easily executed with the simple push of a button. How the components react can then be observed in real-time in the Watch window, where all relevant values are displayed in graphic form. You therefore have everything you need without having to install an extra tool.
Frequency inverters for broad range of applications
The ACOPOSinverter P86 is a series of frequency inverters for three-phase synchronous and induction motors, with or without encoders. It covers a wide power spectrum from 0.75 to 75 kW and is particularly well-suited for packaging, conveyor system, material processing and hoisting gear applications.
B&R's P86-series inverters already comply with the IE efficiency factors standardised in EN 61800-9-2. The future-proof inverters are easy to configure and exceptionally flexible. The new ACOPOSinverter series is also equipped with the dual-channel safety function Safe Torque Off (STO) in accordance with SIL3/PLe.
The frequency inverters are particularly well suited for dynamic applications. They can deliver up to 220 per cent of the nominal output torque for two seconds. They can be used for open-loop or closed-loop control of induction motors (IE2, IE3), synchronous motors and reluctance motors. An integrated POWERLINK interface, numerous I/O channels, and embedded encoder and optional interface cards offer maximum flexibility in plant design.
The ACOPOSinverter P86 series has an exceptionally rugged design, and is built to perform under harsh conditions. They easily cope with vibrations, shock, dust and temperatures up to 60°C while maintaining consistent performance.
The new P86 series further expands B&R's ACOPOSinverter portfolio. Together with the P66, P76 and P96 series, they cover a range of drive technology profiles for three-phase induction motors and synchronous motors with a voltage supply from 200 to 600 V and a power rating from 0.18 to 200 kW. With easily scalable functionality and full integration into the B&R automation landscape, the ACOPOSinverter family is suited for a wide range of applications, from small machine modules to complex plants.
Maximum productivity with a compact footprint
B&R now offers a wider 180-degree curved segment for its intelligent SuperTrak track system. The new curve enables greater holding and propulsion forces. The shuttles can travel at higher speeds and accelerate faster. This boosts the productivity of the system.
At 838 mm, it is significantly wider than the previous variant. The curve is particularly suitable for automated assembly lines, where larger assemblies interact with the track system. The assemblies can be placed inside the SuperTrak oval to reduce the machine's overall footprint.
The curved segment fits seamlessly into existing machine layouts, replacing elements such as a rotary indexing table with a diameter of 1 m. The machine gets a substantial productivity boost in a minimal amount of space. In order to allow more design freedom in the machine layout, the track system is now also available with power supply cables in various lengths.
B&R's SuperTrak enables advanced manufacturing concepts that deliver flexible, efficient production at any batch size. The track system was designed specifically for 24/7 operation under harsh industrial conditions. It is highly reliable and safe. Individual segments and shuttles can easily be replaced without having to disassemble the track. Downtime for mechanical changeover can often be eliminated entirely. The impact on overall equipment effectiveness (OEE) is substantial.
B&R is an innovative automation company with headquarters in Austria and offices all around the world. On July 6, 2017, B&R became a business unit of the ABB Group. As a global leader in industrial automation, B&R combines state-of-the-art technology with advanced engineering to provide customers in virtually every industry with complete solutions for machine and factory automation, motion control, HMI and integrated safety technology. With industrial IoT communication standards like OPC UA, POWERLINK and openSAFETY as well as the powerful Automation Studio software development environment, B&R is constantly redefining the future of automation engineering.