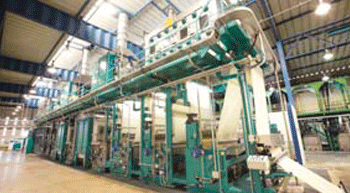 Denim meets sustainability
Originally conceived as hard-wearing work trousers, jeans have become a real cult object of the fashion industry over recent decades. Whether young or old - almost everyone owns at least one pair of jeans and, over time, jeans labels have come up
Covolan Indústria Têxtila Ltd. is OEKO-TEX® Company of the Month for September 2014.
Originally conceived as hard-wearing work trousers, jeans have become a real cult object of the fashion industry over recent decades. Whether young or old – almost everyone owns at least one pair of jeans and, over time, jeans labels have come up with countless classic styles. The Brazilian company Covolan Indústria Têxtila Ltda provides the material for the fashionable jeans look with an important added extra: the company was the first textiles company in Brazil to be awarded STeP by OEKO-TEX® certification based on their proven sustainable production conditions and social responsibility.
The clearly defined objective of Covolan is sustainable development, which comprises, on the one hand, the continuous improvement of quality and productivity and, on the other hand, a reduction in the use of natural resources and minimisation of waste generation. Frederico Maziero, Industrial Director at Covolan, explains: ¨In our fast-moving industry, it is essential that we use innovative products to meet our customers´ demands for new trends. Ideally we can even pre-empt them.¨ These customers are well-known jeans labels located mainly in Columbia, Mexico, Peru and Spain who, for their part, also adapt to their requirements of their customers. Given the increasing awareness of increased product safety for clothing textiles, Covolan was thus quick to take this opportunity to have their manufactured fabrics inspected in accordance with the human-ecological requirements of the OEKO-TEX® Standard 100. ¨With the certification of all of our articles in accordance with the OEKO-TEX® Standard 100, we can offer our customers reliability; with the STeP by OEKO-TEX® certification, we can demonstrate responsibility.¨
Covolan Indústria Têxtila Ltda. was founded in 1966 as a producer of materials for the clothing industry. The company still manufactures at the two Brazilian locations of Santa Barbara D´Oeste in the state of Spo Paulo and Petrolina in the state of Pernambuco. With around 1000 employees and a capacity of five million metres of fabric per month, Covolan is one of the leading companies in the Brazilian textile industry. The company´s range includes denim material from pure cotton, cotton-polyester mixes with and without elastane as well as textiles with special treatments such as printing and finishes. All processing steps from yarn to finished fabrics are carried out in-house. All processes in weaving, dying and textile finishing are subject to a highly effective quality and environmental management system. Optimisation measures are constantly implemented throughout the whole company in the context of sustainability. These primarily include the avoidance of harmful substances in production, strict controls for waste water and exhaust air, optimised energy usage and health and safety.
The concept of sustainability is even considered in product development within the company. This is also apparent with the general use of sustainably produced BCI cotton, which, amongst other things, excludes the use of child labour. At Covolan, particular pride is taken in the product line ¨Denim Genius which uses an innovative process technology for dying and finishing. ¨The ´Genius´ system from Italy is our showpiece and it guarantees savings in water usage of around 40 per cent and of up to 70 per cent in chemical usage¨, stated Maziero. ¨In addition,¨ he adds, ¨around one fifth of total production can currently be manufactured in an even more environmentally friendly way using the ¨Genius¨ method – and this trend is increasing.¨ Sustainability is becoming increasingly important and is already realised in diverse ways in many companies. Maziero provides some information on sustainability at Covolan.
What value does your company place on sustainability?
Frederico Maziero (FM): Sustainabilit