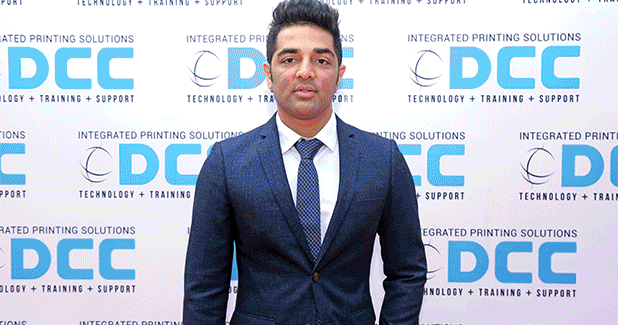 "DCC provides all 3 types of printing technologies"
DCC group of companies, provides the entire range of solutions under one roof; including modern printing technologies, inks and consumables, software, service support, tech consulting, hands-on training and application support.
DCC group of companies, provides the entire range of solutions under one roof; including modern printing technologies, inks and consumables, software, service support, tech consulting, hands-on training and application support.
Dhaval Dadia, Executive Director at DCC Print Vision Pvt LLP—in an exclusive interaction with the Senior Sub Editor of The Indian Textile Journal, Karthik Muthuveeran—speaks on the journey of the company over the years, and the fierce competition in textile printing arena.
Please take us through the journey of the company over its 40 years of being in the business.
Narendra Dadia, the current chairman, founded the company. It began with trading chemicals used in the industry. But he soon realised that the chemicals were getting commoditised and offers no real value addition unless it is integrated with other products. This spurred the firm to change its trajectory towards providing complete end-to-end integrated printing solutions adding machinery, software, application knowledge, all at once. Eventually, we reached a point where we could supply services for entire projects as a single point contact. For e.g. we serviced Alok Industries, who are into garments and had no printing capability initially. Soon we realised that in order for our customers to be truly successful and competent on a global platform, we'd have to provide training to them. Despite it not being linked directly to our business, we set up our training facility. Now customers were able to operate but were still not aware about the possibilities. So the next logical step was to set up the 'Xperience' zones to walk in and discover new applications and help them diversify their businesses.
Textile market is booming and everyone is moving into digital printing. How do you tackle this competition?
At DCC, we do it on two main differentiators: Firstly, we have all the best brands from the technology point of view. Product wise, we have the best portfolio. Secondly what we believe is no matter how great the products are, even with the world's finest technology, buying a product in itself is not the solution. There is something called product technology and something called solutions. These are two different things. Solutions is the training offered to combine two different products to get a final finished product. Buying a machine is just one step of the process. Similarly buying the collaterals such as the ink best suited for your machine.
Backing the entire process with R&D and trials, we know the combination of products and how to integrate the entire process which is a key and none of our competitors do this at present. They all sell individual products. Post the providing the integrated solution, the customers still require training and technical know-how for maximum utilisation. Our Kaizen training academy in Tirupur, is headed by David Permenter, a printing guru with over 30 years of experience in the industry in the capacity of the education director. He is the architect behind the academy's entire curriculum and the hands-on training methodology deployed, which is unlike your run of the mill classroom training where only theory is emphasised upon. For e.g., if a customer walks in we make them print a design by themselves using different processes such as pre press, post press and finally printing. So then the customers can experience firsthand what their staff will be learning. This is the second differentiation since no one provides this kind of training.
Thirdly, we have a showroom where potential customers can undergo a demonstration and even interact with the finished products helping them to make a decision to buy the product. We encourage them to bring in their own fabrics, design it and can get a sample done at a meager cost and even submit the same to their partners like Nike, Tommy Hilfiger, etc. and confirm that the quality of the sample is up to their benchmark.
Given that the industry is dynamic as fashion is constantly evolving, plenty of our customers require application support where we come in. Thanks to our constant R&D and emphasis on innovation, we're always tweaking our methods to optimise the efficiency of the processes. For e.g.: Since we also provide ink solutions at times, we may also discover more optimal methods for the same machine. We constantly keep sharing this know-how with the customers to update their processes with the market changes.
This is particularly important since the industry thrives on exclusivity which limits the scope to outsource these processes to a third party. Hence, a lot of brands and designers whom we work with directly or indirectly enjoy the experience of personal attention and training to replicate the work in-house and keep their designs safe. Even with the vendors dealing with MNC brands, we help to bridge the gap of technical expertise to ensure the needs of the brands are met forming a comfortable triangle to operate within. With constant exchange of knowledge and industry trends, we also get involved in the product development stage with these brands. Being a manufacturer as well a supplier of ink with our JV with Ruthland, we have a factory in Vasai that ships to customers across the world and gives us an edge over our peers in the space.
Printing in particular unlike other mechanical one-step processes such as sewing or dyeing is a multistage process. Integrating the machine, the ink and the software are being sourced from different providers is a challenge. Even the pre-and-post printing processes play a large role in the process. Without a wholesome specialisation at each stage, the final product is susceptible to being compromised.
Hence, over the 40 years of us being in the business, we have moved on from only providing the machines to empowering our vendor across the entire value chain with complementary services to better address their brands who collate and curate the collections we work upon. A few of these brands are also produced in-house and we are onboard with them directly as service providers and consultants.
Apart from MNC brands who are the major clients for DCC?
The firms to whom the brands outsource the printing are our main customers. Across fashion, sports, high end luxury to modest retail, we're onboard with all the big names either directly or indirectly covering the entire spectrum of brands, their buying offices and e-tailers. Top five customers include Surya synthetic, Ludhiana; Bhoomi Textile, Ahmadabad; Jay Jay Mills, Tirupur; HP Cotton, Kolkata; and Pratibha Syntex Limited, Indore.
What are the various technologies and machines offered by DCC for the Indian market?
We provide three technologies to print for textiles:
Screen printing: From inks, machines, pre press and post press.
Sublimation printing: Printing on paper and then transferring it to other media like wood, fabric, etc. depending upon the application.
Digital printing: Printing directly on textiles
In today's time, any company needs to be able to provide at least two technologies to cater to the changing demands of customers as per the prices and dynamics of the market. Having all three technologies, makes it easier for our existing customers to approach us when they are looking at expanding their technology requirement portfolio.
The firms focusing solely on single technologies will still focus on individual products. For e.g. in sublimation, there are five products: printing machine, paper, ink, transfer machine and software, each being provided by separate companies. Hence, the integration is missing and then the customer is running from one pole to another to resolve and troubleshooting required. But we become the one point of contact for the entire process since we supply and service through all the stages. We support it via IT tools, our app on the Google PlayStore, after-sales call service, etc.
What are the services offered by DCC?
We do preventive maintenance, installation services, holistic training going beyond operational training for the printing process not necessarily limited to products purchased for both pre and post.
How would say is the scope for printing in the Indian market?
There is tremendous scope. Specifically, with screen printing, a large part of it is still happening manually which will get automated with cheap labour availability decreasing and consumers becoming more quality conscious. With the economy faring better resulting in higher disposable income and more global brands now entering the Indian market, the consumption frequency has quickened.
While textile will always be a labour-intensive industry, it has been moving across geographies from the US, to Europe, to China and now to Bangladesh, Cambodia and Vietnam and may even move to Africa eventually in order to save cost at stages like sewing and dyeing. However, printing is a local demand and will not shift. Buying the fabric can be done from any country for any brand, but the final garment will be needed to be printed upon locally. Hence, even in the US the size of the printing industry is still substantially big. The printing industry is not expected to shrink in size any time soon and will always grow in the Indian market.
Why only Bangladesh, why not other markets that are growing too?
Bangladesh is the first among other markets we're eyeing to expand to. We do aim at establishing our presence in other markets as well.
How do you look at the competition from China?
China is a brilliant competitor to measure against when it comes to textiles, especially if we consider the fabric quality and the prices they are offered at and even printing. However, the US and Japan have an upper hand when it comes to printing technologies.
Do you think the government is doing enough for the printing industry to come up? If not then what would be on your wish list?
Some processes in printing have different technologies resulting in different type and levels of waste generation. However, the government has implemented a blanket rule for the sector and not laid individual guidelines, which would have been ideal for ease-of-doing business. Often a printer using permissible levels of waste too will have to procure permissions from the pollution board despite not really causing any harm.
Secondly, we also have tough laws for technology upgradation scheme, which are confusing and should be made simpler to claim and process. It is a great initiative with superb benefits but it needs to be made more accessible easily.
What are your future plans?
Immediately, we are focusing on bringing up the Kaizen academy to international levels, adding more printing technologies to our portfolio, enhancing our services to the brands we cater to, emphasise on R&D and market research efforts centric to end consumers and play our part of the technical solutions provider to the maximum to help brands achieve new heights.
Any plans for diversification or expansion?
We have just expanded to Bangladesh and currently we're focusing on adding more products to our portfolio in both the domestic and international markets.
Which are your major markets?
It varies basis the product and technology we're offering. For screen printing, the South market is the biggest market for us in India. But for digital West and North are bigger markets than south.
What has been the impact of the union budget?
Fairly neutral. The Rs 6,000 crore package that has been announced has not yet been detailed out. There are plenty of incentives given to weaving and spinning but the maximum value addition happens majorly through printing. The only way for India to compete with other markets like China, Cambodia and Vietnam who have an advantage in terms of scale of work, is through value addition through printing. Special enhancements and incentives towards printing would be much appreciated.
Why only Bangladesh, why not other markets?
Bangladesh is the first among other markets we're eyeing to expand to. We do aim at establishing our presence in other markets as well.