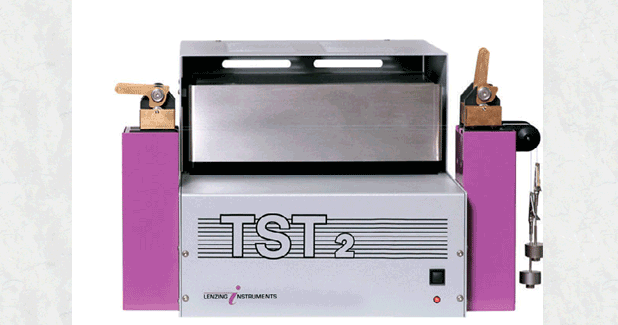 Customised quality control systems from Lenzing
Lenzing Instruments booth offers an update on available systems for quality- and process control of staple fibre, filament, nonwovens, woven fabric, composites and plastic film
Hall 1, Booth B-11

Lenzing Instruments? booth offers an update on available systems for quality- and process control of staple fibre, filament, nonwovens, woven fabric, composites and plastic film.
The Textechno Group member, Lenzing Instruments is an internationally well-known manufacturer of quality control equipment for online, at-line and laboratory applications.
The exhibits range from already well-proven and established testing instruments to new innovations, thereby giving visitors a chance to directly experience how Lenzing Instruments various systems could contribute to their future quality control.Lenzing Instruments is presenting a range of online sensors for real time monitoring of filament yarn. This includes detection of yarn diameter variations, interlace, twist, tension, spin finish, colour as well as all kinds of yarn defects such as broken filaments and fluff. The applied sensor technology allows for precise distinction between broken filaments and fluff for advanced defect analysis. Combined sensor and camera systems offer online image analysis of detected yarn defects. All online systems feature state of the art communications technology with immediate access to real time measurement results.
Thermal shrinkage properties of filament yarn are tested with Lenzing Instruments TST series. TST is available in three versions depending on the requested amount of samples to be tested in one and the same test run: TST 10 for up to ten samples, TST 2 for two samples and TST 1 for one sample of larger width.
Exhibited at ITME India is TST 2 , which features two independent measurement channels for automatic and objective testing of percent shrinkage and/or shrinkage force. The shrinkage behaviour can be observed either at a constant temperature over a certain period of time or during a temperature slope. TST 2 is also available as TST 2 HD, which was especially designed to withstand the higher forces developed in coarse yarns of higher denier during the shrinkage force test.
The newcomer of the at-line instrument series RAPID 600 for entanglement testing, RAPID 600 V, completes the offer for fully automatic interlace testing of filament yarn. Additionally to information about number of interlace, node distance and their tenacity, the new instrument also measures the absolute maximum distance between detected interlace nodes. A new feature of the displayed RAPID 600 V is the optional optical sensor, which allows for high-speed testing.
Also to be used at-line, directly in the production, is the exposed DTI 600 for determination of draw tension, respectively draw elongation on the running yarn. It features a flexible design together with state of the art technology, which allows for standard tests as well as for non-routine test cycles. The measurement yields detailed information about the filament yarn?s behaviour and possible defects in further processing steps such as texturising and dyeing. With OPUMETER, spin finish testing becomes quick and easy: OPUMETER measures the spin finish level online, directly in the production on the running yarn. The measurement result is generated just a few seconds after the light-weight and handheld instrument has been presented to the yarn. Vibroskop 500 and Vibrodyn 500 measure the linear density (den/dtex) and tensile properties of single staple fibres of any kind. Vibroskop and Vibrodyn have, since their first development in the 1960s, set standards all over the world and are highly appreciated for their accuracy and automated operation. The versatile evaluation software provides extensive data analysis. The above described exhibits only make out a small part of Lenzing Instruments wide product range, which also includes further advanced online and at-line control systems as well as high precision laboratory instruments for filament, staple fibre,- nonwovens and film. Moreover, Lenzing Instruments is the partner to turn to for customised quality control systems adapted to the specific needs of each customer.