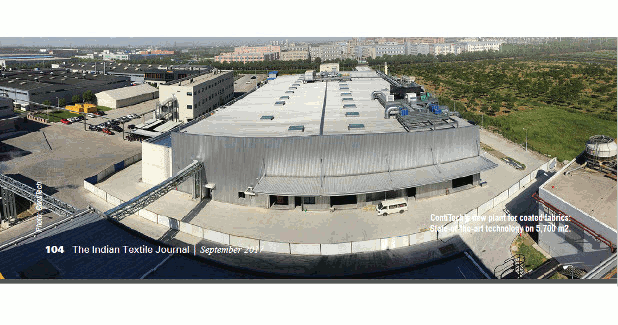 ContiTech opens new plant for coated fabrics
It is the first international production site for elastomer coatings outside Germany. The opening of ContiTech's new facility for coated fabrics marks a special milestone in the companies' history in China
It is the first international production site for elastomer coatings outside Germany.
The opening of ContiTech's new facility for coated fabrics marks a special milestone in the companies' history in China: It is the first international production site for elastomer coatings outside Germany. "The investment into that new plant underlines our commitment within and to the Chinese market. It allows us to better meet our Chinese customers' demands in different industries," emphasises Dr Peter Scholtissek, Head of ContiTech Elastomer Coatings. With a total investment of more than 20 million Euros, the plant produces high-performance coated materials for a variety of applications. The product range includes robust concertina wall materials, which connect railway carriages together, or fabrics for protective equipment, dry diving suits or life rafts.
"It's a special moment for me and my team, because we are putting a long-pursued plan into action. We established an ultramodern and climate-friendly facility equipped with leading production technology that can only be operated by a few companies worldwide," Dr Scholtissek added. Located at ContiTech's well-established central hub in Changshu, the business finds best fitting conditions such as the use of central services and compound supply from the raw material mixing next door. It already supplies calendered material and other semi-finished goods for air springs and transmission belts.
Furthermore, the plant sets benchmarks for an ecological and energy-friendly manufacturing. Based on cutting-edge facilities for waste air treatment, the site stays below Chinese emission limits more than ten times. Its thermal insulation systems also helps to save energy at a uniquely high level. Series production has been running since beginning of 2017 with an approximately 25-strong workforce that will be doubled over the next few months. ContiTech supplies customers in China and further Asian regions from its new base in Changshu and is already successfully selling coated fabrics in China such as diaphragms for automotive fuel management or robust and weatherproof materials for folding bellows used in railway vehicles. With the new plant, the customers benefit from local production possibilities, expertise and local service capability.
Continental develops intelligent technologies for transporting people and their goods. As a reliable partner, the international automotive supplier, tire manufacturer, and industrial partner provides sustainable, safe, comfortable, individual, and affordable solutions. In 2016, the corporation generated sales of €40.5 billion with its five divisions, Chassis and Safety, Interior, Powertrain, Tires, and ContiTech. Continental currently employs more than 220,000 people in 56 countries.
As a division in the Continental Corporation, ContiTech is one of the world's leading industrial specialists. Its customers can be found in key industries such as machine and plant engineering, mining, the agricultural industry, and the automotive industry. With around 43,000 employees in 44 countries, the company uses its development and material expertise for products and systems made of rubber, polyamide, metal, textile, and electronic components to combine these with individual services. ContiTech always thinks in terms of customer-friendly and environmentally-friendly solutions – going well and truly beyond its roots as a producer of rubber products. With preliminary sales of approximately €5.5 billion (2016), this international technology partner is active with core branches in Europe, Asia, North and South America.