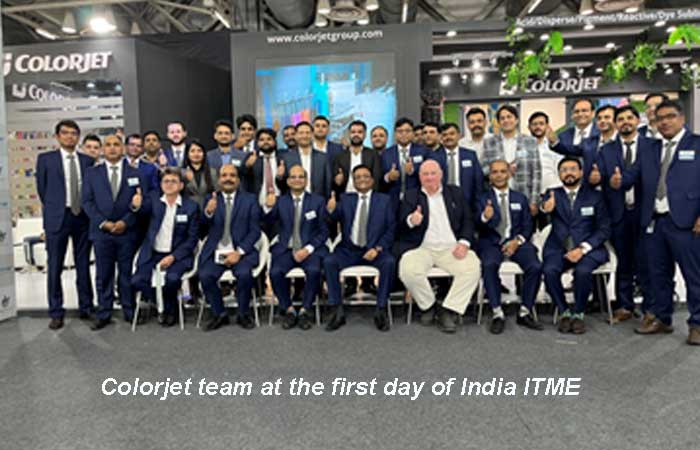 ColorJet unveils sustainable Earth Series printer
India ITME Society also declared ColorJet India as the winner of textile engineering in the service of the textile industry at the trade fair.
ColorJet Group launched sustainable Pigment printing solution – Earth Series on the the India ITME 2022. ColorJet EARTH Series is an advance sustainable textile printing solution in digital textile printing segment. This new process does not require additional equipment for pre and post treatment. By way of eliminating pre & post treatment, this has led to huge saving of water and energy, and provides competitive edge in sustainable direct-to-fabric printing category.
Madhu Sudan Dadu, Chairman, ColorJet Group, along with Seiji Nakashima, Vice President, Inkjet Components Division, Konica Minolta Inc & Shu Watanabe Group Leader of Inkjet Components Business Unit, Konica Minolta Inc inaugurated the new Colorjet Earth Series Textile Printing solutions.
Nakashima further commented, "It's a pleasure to be a part of this mega event India ITME 2022 and inaugurating the new launched Earth Series by Colorjet Group based on Konica Minolta Print heads. We see that worldwide textile industry is moving towards sustainable production model to optimise usage of resources like water, power, microfiber & we are glad that Colorjet has been constantly releasing future ready solutions for sustainable environment in textile industry, we look forward for a promising relationship"
The Earth series comes with 3 models – 32, 16 and 8 inkjet powered by Konica Minolta print heads.
Inspired by the success of pigment solutions, operating successfully across the globe including India, Germany, Brazil, Vietnam, Pakistan and at other leading textile clusters. ColorJet is now all set to lead the sustainable Pigment printing category with its new futuristic Earth series.
The Colorjet Earth Series will provide sustainable print solution in textiles to fashion apparels, kids wear, home furnishing and many other segments. "Global textile brands are looking for sustainable solutions for achieving their green goals. At the same time, the government is implementing stringent environment norms for the industry to follow; forcing companies to adopt eco-friendly processes. Our ColorJet EARTH Series will be a turning point for the Indian as well as global textile industry, as it offers a sustainable printing solution," said Arun Varshney, Vice President & Head – Textile, Colorjet Group.
Colorjet receives India ITME Society award
During the ITME exhibition, an award was organised to felicitate the brilliant minds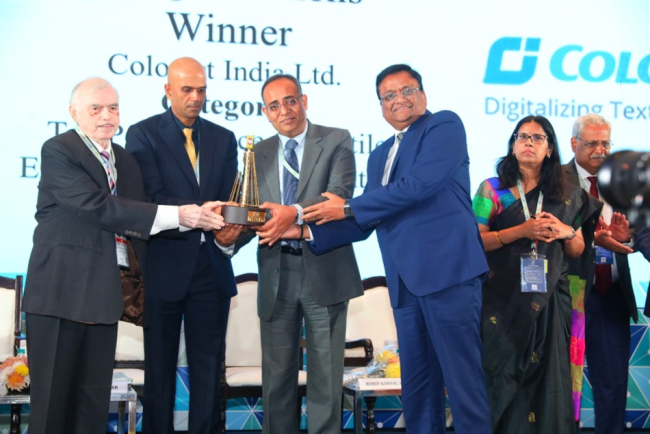 in Indian textile industry. A highly accomplished ITME jury declared ColorJet India as the winner in textile engineering in the service of the textile industry.
Rohit Kansal, Additional Secretary, Ministry of Textiles, GOI; Prajakta Verma, Joint Secretary, Ministry of Textiles, GOI; P Sathasivam, retired Chief Justice of India and S Hari Shankar, Chairman, India ITME Society, handed over the award to Dadu.
On receiving the award, Dadu shared, "Delighted to receive the award in recognition of the valuable contributions that the ColorJet Group India has made in Textile Engineering Industry. With this award the ColorJet Group reinforces its technological Innovation Strength of ColorJet's R&D department."