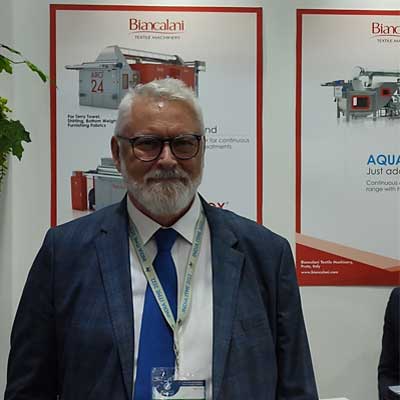 Biancalani's Aquaria is ideal for creating a full washing line
Biancalani Textile Machinery designs and manufactures with advanced technology 100 per cent made in Italy machines for finishing and enabling fabrics for the textile industry and for the non-woven and technical textile sectors, shuttle and knitted. Rossano Biancalani, President, Biancalani Textile Machinery, discussed about his ITME Expo exhibits and the projects his company is now working on.
Kindly brief us about your company. And what are you highlighting/focusing on at India ITME 2022?
The headquarters of Biancalani Srl are in Prato, Italy, a major textile hub where all types of textiles, including fibre and knit fabric, are produced.
Our knowledge is naturally derived and once you are in close contact with your customer, you are far more able to comprehend their requirements and demands.
This year, we are showing the entire line-up of equipment we offer, but perhaps most notably the AIRO®24, which is well-known in the Indian market.
In addition to AIRO®24, we are proud to offer a continuous open-width washing system, called AQUARIA®, which is at the heart of our newest developments. AQUARIA® can be supplied as single machine or as a full and complete washing range.
AQUARIA® is something truly unique, because it exploits the working principle of AIRO®24 for washing, making it the only washing device capable to offer a combination of intense mechanical action and long (and variable) dwelling time.  This allows to apply new treatments and effects, as well as to perform traditional washing processes with a higher efficiency and lower water usage.
For example, fibrillation, intensive enzyme biopolishing, scouring, soaping, and the 100% sustainable eco-bleach treatment which can be performed with zero water discharge. Only AQUARIA® makes this possible and convenient.
What is your current opinion of India textile industry, especially in light of government initiatives like PLI, PM Mitra Park, etc.
As far as the economy and ties to India are concerned, I am aware that the Modi government strongly supports the textile sector. The textile industry is important in many regions of the world. But it's crucial over here in India. Additionally, we received a sizable number of orders in 2022. I have some concerns about 2023 because of a number of issues that are well-known to everyone. Beginning with the pandemic, this is nearly but not entirely over. Then the inflation. War between Russia and Ukraine. However, we are actually very hopeful. Given the size of the Indian market, we anticipate positive outcomes.
Sustainability with circularity and automation with digitalisation are the current buzzwords. How is your company contributing in this initiative?
Well, we have obtained the Green Label, certified by Rina, an internationally recognized certification organisation, after having successfully passed all the exams.
Consequently, our machines are wholly sustainable. Speaking specifically of the AIRO®24, we have sold more than 100 units in India and it is well-known.
In terms of circularity and digitalisation, we have been working on these areas for a very long time. All of our machines can be connected, so we can perform upgrades, checks, services, and even start-up a machine from our offices. It is also possible to offer a remote management system to be installed at the client's corporate headquarters.
This is really vital and greatly benefits the clients.
How do you assess the present status of the industry?
As I previously mentioned, the sector is severely impacted by the Russia-Ukraine war, the inflation problem, other crisis, and the pandemic, but I remain very optimistic. After a big crisis, there is always a very big boost and new beginning.
What are Biancalanis growth plans for India?
We have always sent the most recent versions of our machines to our Indian customers as the Indian customers are exigent. The desire to utilize the latest technology is constant and providing customers with the best technology solutions is one of our goals. Last but not least: we really love India and we are on the Indian market since 1992, and we expect to continue playing a relevant role on this very important market.
For ITMA Milan, what plans do you have?
Four years are always a short time for a mechanical industry to prepare novelties because of back-to-back shows. It costs a lot and takes a lot of labour. However, this time we have something new and we invite all of our Indian customers to stop by since there will be some great innovations on the side of the tumble dryers and the washing ranges at ITMA Milan in June 2023.