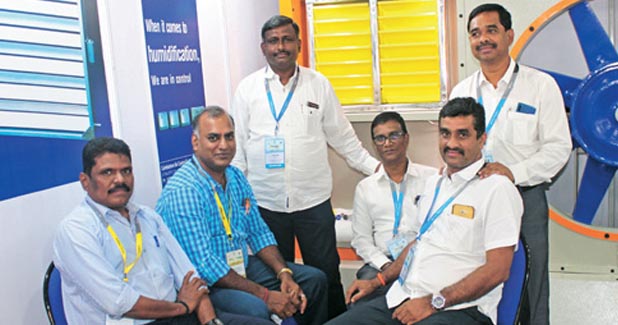 Coimbatore Air Control Systems: The humidification expert
Humidification is rapidly gaining importance in textile industries. And when you consider that high speed machines generate heat, the need for humidification is all the more important.
Humidification is rapidly gaining importance in textile industries. And when you consider that high speed machines generate heat, the need for humidification is all the more important. "That's where we come in," says V Rajasekar, Director of Coimbatore Air Control Systems, which has vast experience in humidification systems for various applications and specialised in textile humidification. "Over the years, we have established our reputation as the leading solution provider in the field of humidification."
Coimbatore Air Control Systems take up projects on a turnkey basis from preliminary design through final engineering and fabrication to on-site installation of humidification plant for spinning and weaving. The company is a humidification specialist for spinning, weaving and knitting, and ventilation specialist for textile and leather processing plants, hotels, hospitals, cement and steel plants, among others.
He adds, "In the manufacturing process of textile yarns and fabrics, the importance of atmosphere control especially in respect to temperature and humidity can never be overlooked. In fact, moisture regain – the ratio of the moisture to bone-dry weight of the material expressed as a percentage – directly impacts properties like dimensions, weight, tensile strength, elastic recovery, electrical resistance, etc."
The company is not only to the design and development of humidification systems but to giving customers complete solutions through highly evolved service and support. Says V Rajasekar, "Our customer base speaks for itself, leading textile mills both in India and abroad trusts us to deliver on the promise."
Coimbatore Air Control Systems can offer good technical support and services after installation. The customer support department works round the clock to solve any queries that may arise after installation. The company gives you a guarantee for a period of 12 months after installation. The experienced designers of humidification plant can provide services in preliminary design, fabrication, on-site installation, testing and commissioning, etc.
The range of products offered by Coimbatore Air Control are:
Automatic rotary drum filter: A clean environment contributes to better performance and higher productivity, especially in textile mills. Heavy dust and fibre fly can have a direct impact on the quality of the yarn. Air Control, in answer to this need, has introduced rotary drum filter with high filtering efficiency and low maintenance. This filter is made of perforated MS sheets with sturdy MS supporting arrangements. The drive for the drum filter is through 0.5 HP gear motor and the suction nozzle is connected to 5 HP high pressure suction fan. The dust removed from the filter is collected in the collection bag.
Axial flow fan: Impellers are placed in MS casing and directly coupled with motors. These impellers are made out of aluminium alloy die-casting and specially designed for high static pressure and high efficiency. The blades are adjustable and the impellers are dynamically and statically balanced. The different range of high efficiency axial flow fan starting ranges from 600 mm to 1600 mm.
Damper: Aerofoil aluminium extruded leaves hosed in sturdy powder coated MS box with ABS linking arrangements for smooth operation to suit auto control activator. The linking arrangements are designed for opposite blades operation to precise control of air flow.
Air washer: Air washer has single/multiple bank spray systems to suit high saturation efficiency. Also available with high pressure fog nozzles with high pressure pump to save the power of up to 50 per cent of conventional type. Heavy duty rigid PVC piping to avoid corrosion. The spray nozzles are made of ABS/Poly carbonate materials with S.S. orifice and S.S. Clamp for easy maintenance. They are specially designed for higher saturation efficiency.
The company has already extended their services in India and overseas. The company is managed by well qualified and experienced professionals having 30 years of experience in the humidification and ventilation systems and is also equipped with highly skilled work force to meet the ever growing demand for its products. The Company is having Intertek 9001 – 2015 ISO certification for its products.