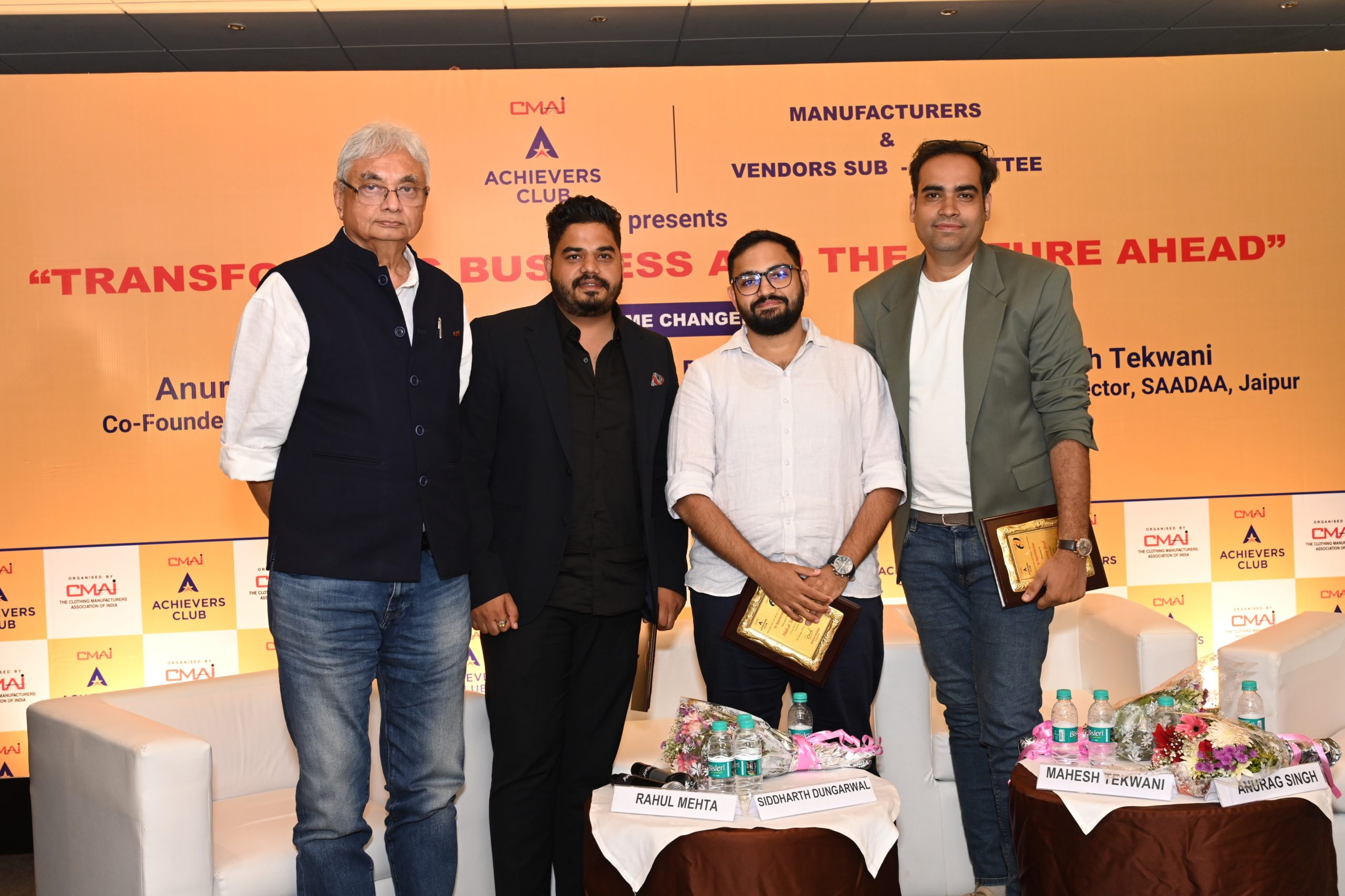 CMAI achievers club features winning strategies of D2C brands
Snitch, Aachho and SAADAA share key insights on how to grow 300 per cent.
The remarkable success of Direct-to-Consumer (D2C) brands in India is a testament to the innovative and dynamic young entrepreneurs who have disrupted traditional business models. The recent discussion under CMAI's 'Achievers Club' initiative brought forth invaluable insights from Anurag Singh of Aachho, Siddharth Dungarwal of Snitch, and Mahesh Tekwani of SAADAA.
The captivating discussion on 'Transforming Business and the Future' was moderated by Rahul Mehta, Chief Mentor, CMAI, and revolved around pertinent business issues and debunking myths for traditional business that are looking to transform.
The highlights of the insightful discussion to achieve success in today's dynamic business landscape were these principles that served as a roadmap for the three young and dynamic entrepreneurs while looking to carve out their path to success:
Initiating the business journey, even with the possibility of errors, is paramount as starting outweighs having a flawless initial plan.
Consistent efforts are fundamental for long-term success, fostering brand trust and customer comfort.
Prioritising simplicity and focus while eschewing distractions and overthinking allows for adaptable growth and market relevance.
Embracing innovation and adjusting to shifting market dynamics enhances competitiveness and sustains market relevance.
Effective inventory management, crucial in the apparel industry, can be optimised through strategies such as promoting slow-moving inventory and embracing technology for data-driven decision-making, streamlining operations and reducing deadstock.
Trusting data over instincts is pivotal, enabling informed decisions and yielding better outcomes in inventory and overall business management.
The 'Achievers Club' by CMAI is an initiative aimed at uniting a consortium of similar-minded apparel brand owners and manufacturers, collectively aspiring to elevate their respective brands to new heights. Participants within this group have the privilege of gaining invaluable knowledge from industry's foremost thought leaders, change makers, and innovators, enabling them to glean crucial insights for the expansion of their individual businesses.
Additional notes from the Achievers Club discussion:
The first round of the conversation emphasises that small brands can thrive and compete effectively in the market by focusing on customer-centric strategies, leveraging expertise, and positioning themselves strategically.
Supply chain optimisation was a focal point, with the brands successfully streamlining the production process from months to just 20-25 days through targeted bottleneck improvements.
Additionally, an emphasis on e-commerce expansion underscored the significance of not only leveraging marketplaces but also establishing brand-owned platforms to maintain control over profits and foster direct customer relationships. Offline retail also retained its importance, reducing return rates and supporting a multi-channel retail approach.
Prioritising the customer experience emerged as a fundamental rule, emphasizing the need for a customer-centric approach and a deep understanding of customer pain points.
Furthermore, managing product quality and returns effectively through data analysis and proactive measures was recognised as critical for maintaining a healthy bottom line. Small brands were encouraged to compete with larger counterparts by strategically positioning themselves within market segments and prioritizing quality that matches customer preferences.
One of the key lessons from these discussions emphasised the significance of leveraging expertise. Acknowledging that one doesn't need to possess all the knowledge, the advice highlighted the importance of bringing in experts and learning from their insights to bridge knowledge gaps. Surrounding oneself with capable individuals was seen as an effective means of enhancing one's own abilities and fostering a culture of continuous learning and growth.
The second round of the conversation touched upon necessity of being a D2C brand and importance of social media. D2C may be one route, but it's not the only path. Depending on one's circumstances and vision, other avenues like traditional retail or partnerships with established stores might also be viable.
In the modern business landscape, social media has emerged as an indispensable tool for brands, serving as a vital bridge for effective customer engagement and brand storytelling. Whether operating as a manufacturer, B2B trader, fabric supplier, or accessory provider, social media presents a powerful avenue to swiftly communicate brand narratives to a diverse audience. Leveraging influencer marketing further amplifies brand reach, serving as a contemporary manifestation of traditional word-of-mouth promotion.