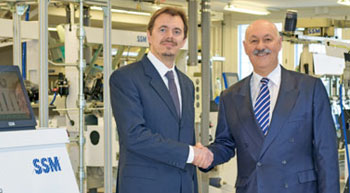 Changes in SSM top management
The Swiss-based SSM Schärer Schweiter Mettler AG, Horgen is the one brand and trend-setter that drives the global market in winding technologies
The Swiss-based SSM Schärer Schweiter Mettler AG, Horgen is the one brand and trend-setter that drives the global market in winding technologies. It is the leading manufacturer of winding and texturing machines as well as sewing thread finish winders. SSM is the inventor of todays' commonly used electronic yarn guide system. Apart from its Headquarter in Switzerland, SSM operates two subsidiaries, one in Northern Italy and one Southern China.
On April 1, 2016 the top management of SSM will experience some changes.
The actual CEO, Ernesto Maurer, is stepping down from his operative business functions and takes on the duties of the Chairman of SSM. His successor as CEO will be the actual Head of R+D and MD of SSM GIUDICI, Dr. Davide Maccabruni.
Dr Maccabruni has been with SSM for the last 10 years and has strongly contributed to the development of the company over the last years. With his move to the top of SSM, we ensure continuity in the successful management of this leading manufacturer of textile machinery in Switzerland.
For further information:
www.ssm.ch or contact:
SSM Schärer Schweiter Mettler AG,
Neugasse 10, CH-8810 Horgen / Switzerland
Phone: +41 44 718 33 11,
Email: info@ssm.ch